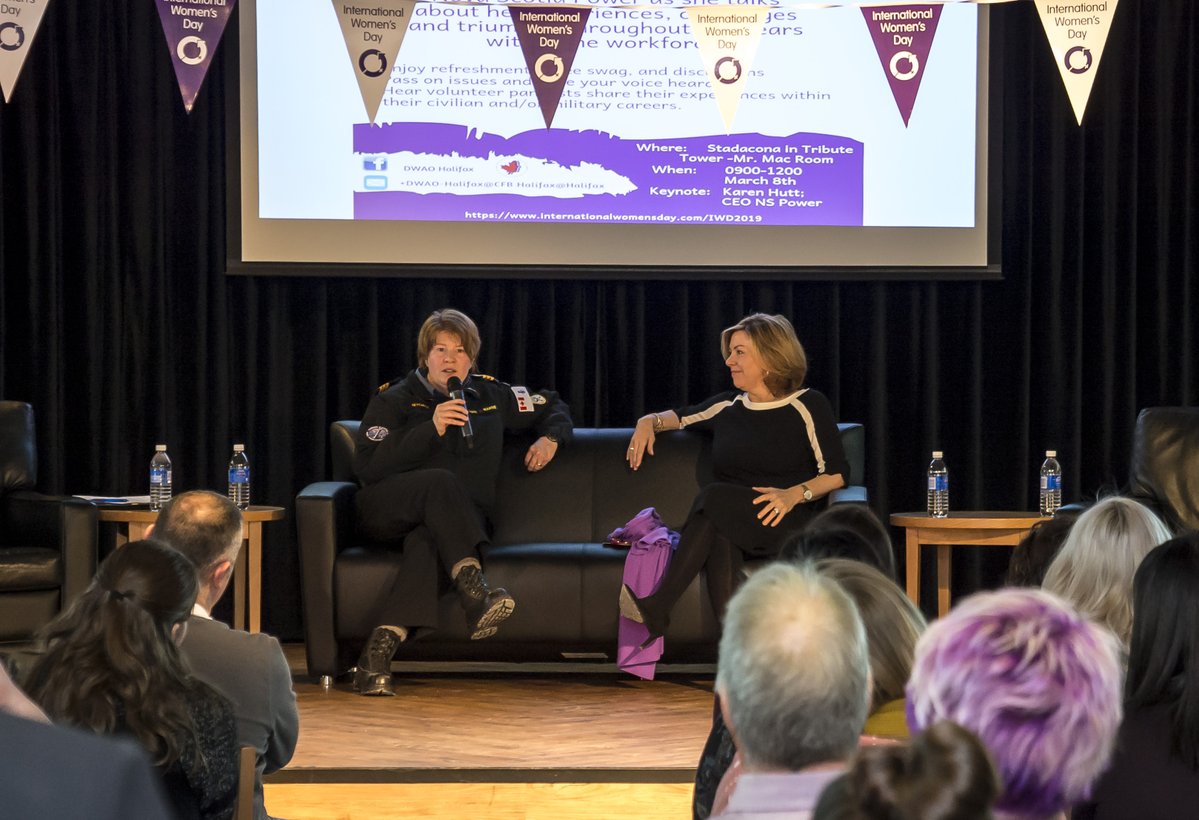 Keep pushing for equality, female leaders tell crowd on International Women's Day
By Ryan Melanson,
Trident Staff
As the Commanding Officer of HMCS Charlottetown, Cdr Nancy Setchell is an example of a woman excelling in a leadership role in the Canadian Armed Forces. She's found opportunities and successes throughout her career, and because of that, she said, the need to continue pushing towards equality for women in the CAF, or the importance of observing events like International Women's Day, wasn't always clear to her.
"I thought women had already made it," she said.
"I naively assumed that equal opportunity would mean equal outcome, but I realize now there are a number of personal and policy barriers that still exist. I think it's important to talk about these things, but we can also celebrate the successes at the same time."
That theme of celebrating successes, while highlighting the work still to be done, continued throughout the day on March 8, as CFB Halifax and the MARLANT Defence Women's Advisory Organization (DWAO) hosted an International Women's Day event and panel discussion at Tribute Tower.
Cdr Setchell shared the stage with guest speaker Karen Hutt, CEO of Nova Scotia Power, and the two were later joined by a panel of women who work in a variety of military and civilian roles in Halifax or Shearwater, including DWAO co-chairs LCdr Dawn Macdonald of NFS(A) and Employee Assistance Program Coordinator Holly Scothorn.
The women spoke about the evolutions in roles of women in the workforce in different industries, the highs and lows of their careers, juggling demanding jobs with home and family life, and their hopes for the next generation of female leaders, along with offering advice and answering questions from the audience.
As the CEO of Nova Scotia Power, which is owned by Emera, Hutt said she's benefited from the learning and mentorship that comes with being part of a network that includes strong female leadership at all levels.
"We're a billion dollar corporation that has women who run our biggest operations, and I'm fortunate enough to be one of them," she said, adding that Nova Scotia Power had created a diversity and inclusion strategy that aims to ensure those same opportunities are open to women and other marginalized groups at all levels of the company.
A number of the day's speakers noted that both women and men will need to be part of the solution to eliminate barriers like the wage gap and continue the push for equal opportunity within their respective organizations. That's one the reasons Hutt said her advice for women beginning their careers isn't much different from her advice to men.
"Put your head down and do good work, show up, treat people respectfully, help others be successful, and use your voice. That's what we need people to do," she said.
Booths were set up around the room with information about the various Defence Advisory groups, Health Promotion, the Employee Assistance Program, and other services available to CAF members and DND/CFMWS civilians. Donations were also being accepted, at the event and in the weeks leading up to it, of feminine hygiene products in support of Dignity. Period., a local group that helps get these essential supplies to people in Nova Scotia who struggle to afford them. More than 13,000 individual pads and tampons were collected, enough to supply 40 people for an entire year, along with an additional $300 in cash donations.
CFB Halifax Base Commander Capt(N) David Mazur thanked the DWAO and all of the day's participants for putting the spotlight on an important issue and giving helpful advice to a room full of their colleagues and other local CAF/DND leaders.
"This is a great way to recognize the diversity and strength that women bring to the Canadian Armed Forces and the Defence Team, and to remind us that there's more work to be done," he said, referencing current statistics that put women at 15.3 percent of current CAF members. This represents progress compared to 11 percent in 2001.
"But it needs to go further. Fifty percent of our population is not being leveraged to their maximum capacity, and we will never achieve the most that we can achieve as Armed Forces if we don't correct that," he said.