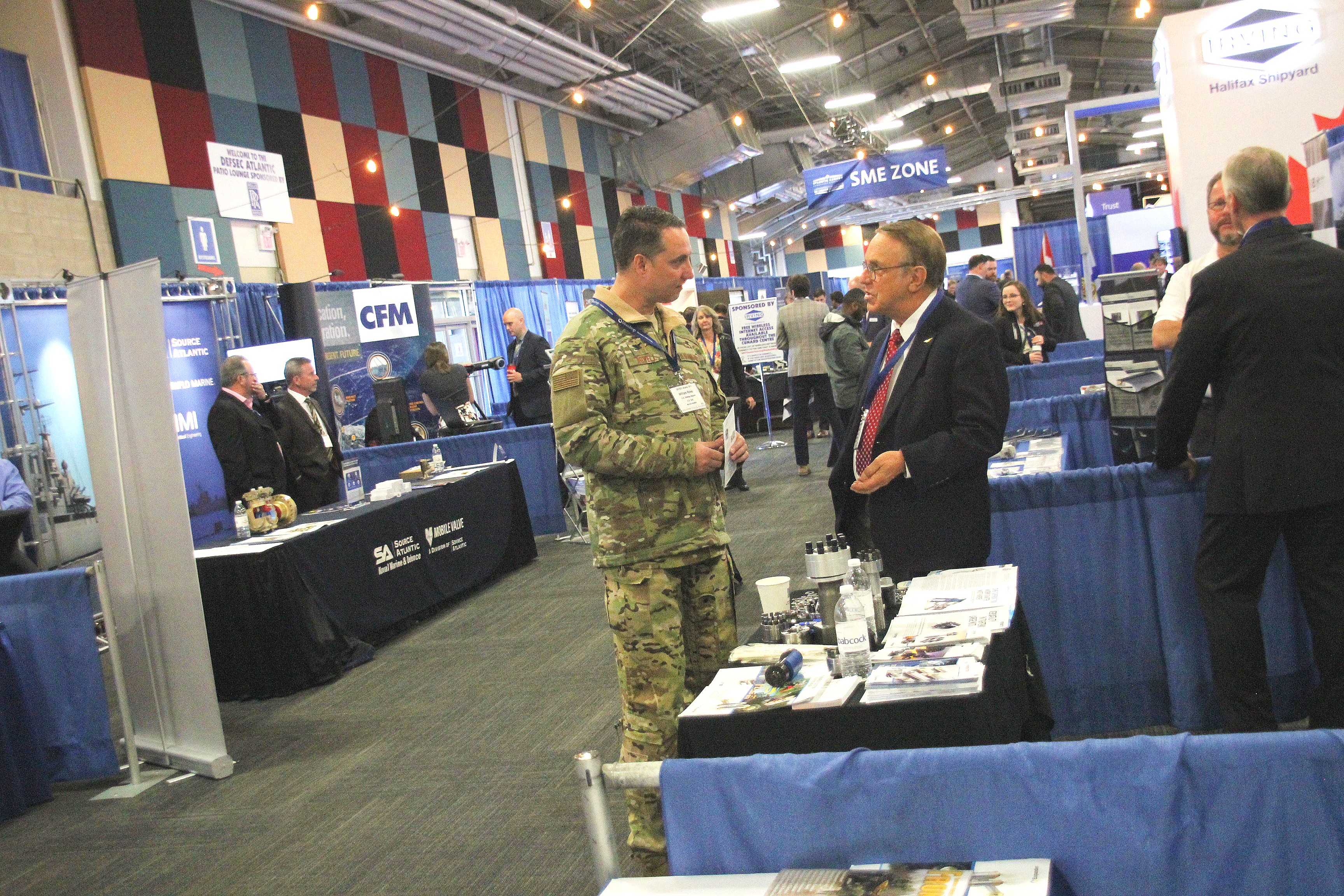 Innovation in the spotlight at DEFSEC Atlantic 2019
By Ryan Melanson,
Trident Staff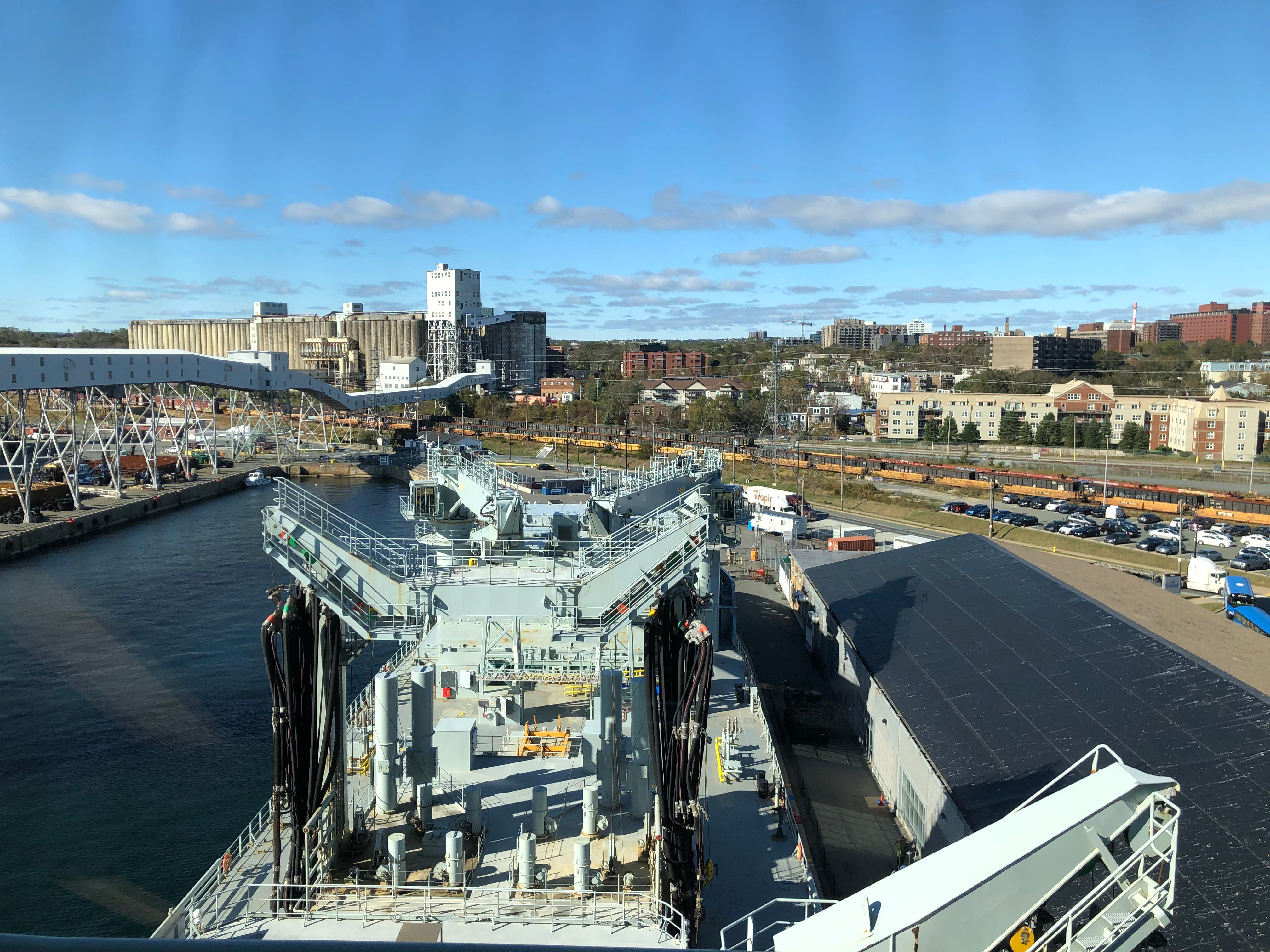 As the second largest defence trade show of its kind in Canada, the Canadian Defence Security and Aerospace Exhibition (DEFSEC) Atlantic plays host to a variety of small and medium-sized businesses each year – many hoping to pitch their new defence-related products or technologies.
This makes the annual exhibition a perfect venue to present the Government of Canada's Innovation for Defence Excellence and Security (IDEaS) program, says Eric Fournier, who is the Director General, S&T Strategic Decision Support, and one of the leads for the IDEaS program. Fournier gave an overview of the program on the main stage at DEFSEC, which ran from October 1-3 at the Cunard Centre in Halifax.
IDEaS was created in 2017 as part of the Strong, Secure, Engaged defence policy, with the hope of identifying new solutions to defence industry problems from Canadian innovators, as well establishing a wider network of firms to take on those tasks. The program issues "challenges" to the private sector based around existing problems.
"For example, if the Canadian Army needs to buy 16,000 pairs of boots, they go buy the boots, there's nothing to solve there. But if the Army finds volcanic rock in Mali is chewing away the soles of their boots, then that's something we can push out to Canadian innovators," Fournier said.
Through its first year, IDEaS issued 25 defence and security challenges and awarded 160 contracts off of 750 received proposals. These contracts are initially worth $200,000 over a six-month period, with potential to extend and receive further funding. The program also includes other initiatives like the Sandbox challenge, which recently brought 12 companies to Suffield, Alberta to demonstrate existing prototypes in counter-drone systems.
"Our next sandbox will be coming in the late spring or early summer of next year, and the focus will be on protecting our ships from corrosion," Fournier said.
Other government presentations through the week at DEFSEC included an overview of the Defence Procurement – Sustainment Initiative, targeting new in-service support options for military equipment. Private industry presentations took place from large players like Irving-owned Fleetway and Thales Canada, along with smaller companies like Toronto-based Kepler Communications.
Kepler VP Jeffrey Osborne pitched his firm's High-Bandwidth Satellite Communication system for Arctic operations. As the North grows in terms of commercial interests, the potential for adversarial conflict also grows, meaning Canada has greater obligation to maintain and enforce Arctic sovereignty, he said. Canada also has a mandate to do the difficult work of generating reliable maps of the seabed floor in the region.
"Connectivity is one of the consistent challenges for the public sector in being able to deliver these capabilities."
His solution involved repurposing existing antennae on vessels to connect via modem to Kepler's low-orbit satellites, creating a high-speed file transfer system for sending data to shore. He said they already have private-industry clients from the shipping and tourism industry, with hopes to branch out.
Off the presentation stage, the exhibition floor was lined with booths and prototypes ranging from simulators and augmented reality technology to fitness and health-monitoring equipment. One of the Navy's newest assets was also on display, with MV Asterix tied up at Pier 23 next to the Cunard Centre – the privately-owned ship was open for tours for the duration of the exhibition. The week also included the Atlantic Canada Aerospace & Defence Association annual dinner and networking reception, as well as the Clash of Titans Hockey Game between the RCN Titans and Esprit de Corps Commandos.