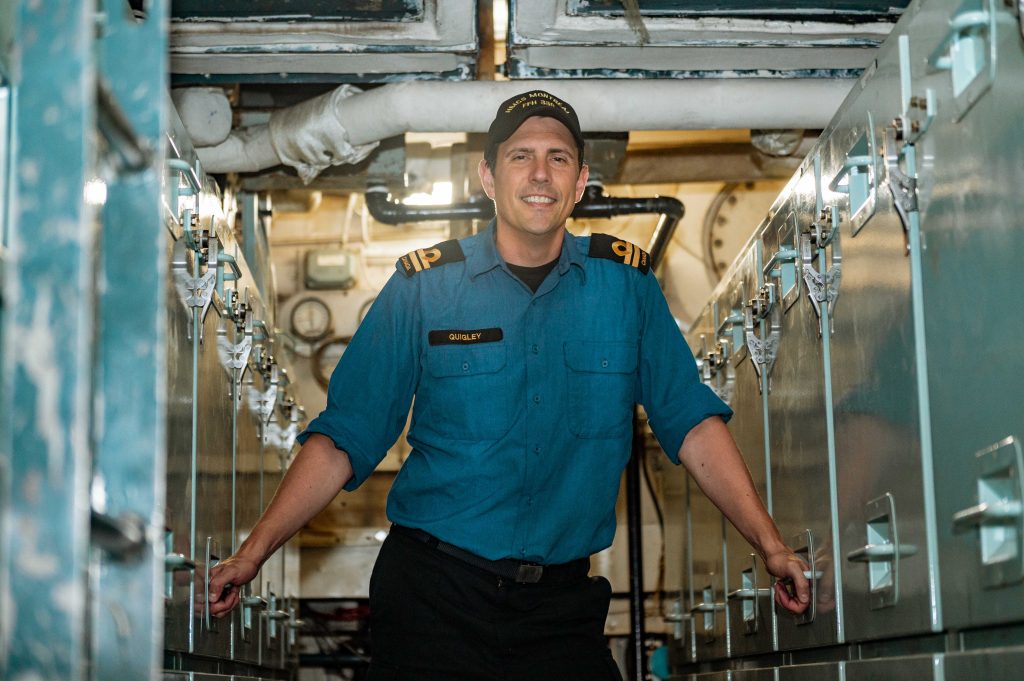 Indo-Pacific deployment both a challenge and a career highlight: Engineering officer
By Capt Trevor Young,
HMCS Montréal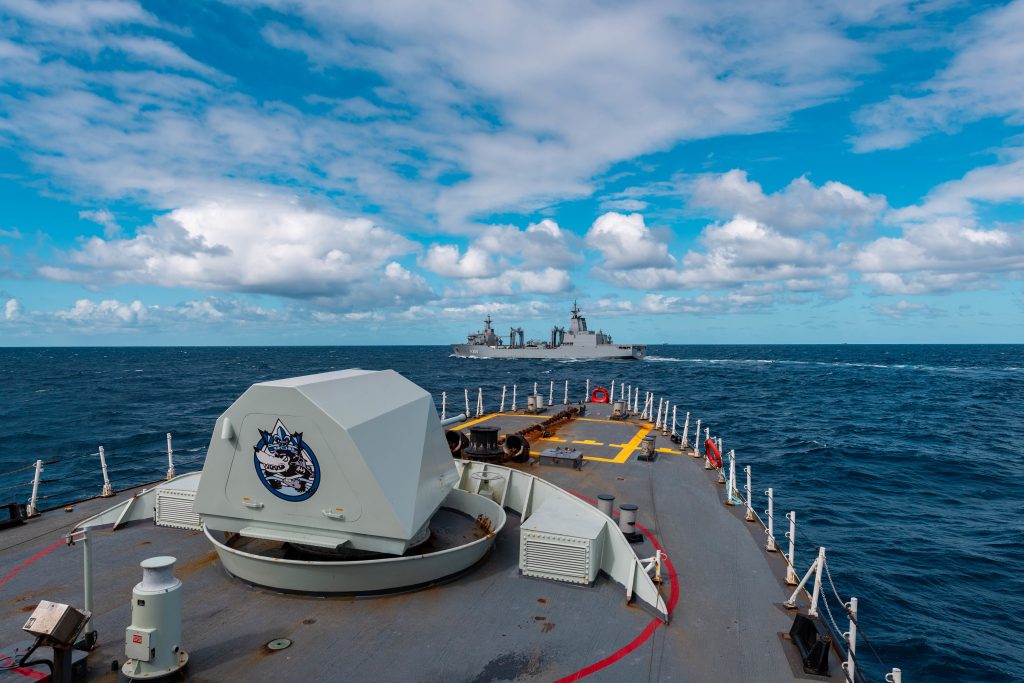 Lieutenant (Navy) Chris Quigley, originally from Augustine Cove, Prince Edward Island, is the head of the Marine Systems Engineering (MSE) Department onboard His Majesty's Canadian Ship (HMCS) Montréal. The department comprises about 55 people who are responsible for the propulsion, electrical, auxiliary, and main engine plant of the ship or, as Chris describes it, he helps make sure that "the boat floats and moves." As one of the two officers of one of the largest departments, Chris often finds himself buried in administrative paperwork, but he also keeps himself busy as the primary point of contact for all damage control and firefighting activities that may need to occur on the ship — something that the crew prepares relentlessly for by conducting drills and exercises.
Chris joined the Canadian Armed Forces in 2004 as a clerk and began his career at HMCS Queen Charlotte in the naval reserve. His initial plan was to join, get a paid education in mathematics, do "boot camp," and get out to become a teacher. But the allure of the sea was overwhelming, and the pay as a Sailor 1st Class—the Royal Canadian Navy's (RCN) equivalent of the army's corporal—was too good to make the change. Instead, he leveraged his degree in mathematics to commission as a naval intelligence officer, and then later on became an engineering officer.
For the last three months, Chris and his team have been making HMCS Montréal "float and move" to places like Lisbon, Singapore, and Okinawa in support of Operation Projection—the RCN's contribution to security and stability in the Indo-Pacific region. "This head of department tour is the pinnacle of my career so far," he said, "I take a lot of pride in it." But he also says that getting the ship seaworthy and ready to sail to the other side of the world is "an overwhelming amount of work." Between the deployment itself and leading the charge on all shore-side repairs prior to departure, Chris is feeling the pressure of a long deployment. He will be celebrating a total of four family birthdays while at sea—including his own.
But there have been many positives too, Chris says. "I get so many fewer emails out here! And way more sleep than at home. It allows me to be a lot more focused." And by focused, he means that he has more leeway to mentor the junior members of his department, and more time to train and practice for emergency situations—something that each member of his department must be competent with before their next promotion.
With almost 20 years served, Chris is now looking towards retirement within the next few years, for which he has grand ambitions. In the summers, he wants to work at a golf course picking up wayward golf balls and, during the winters, he wants to be a Zamboni driver "at the rink." "Realistically," he quickly admitted, "I'd like to work in technical administration with the Department of National Defence," a position at Halifax Dockyard that frequently welcomes former members of the RCN.