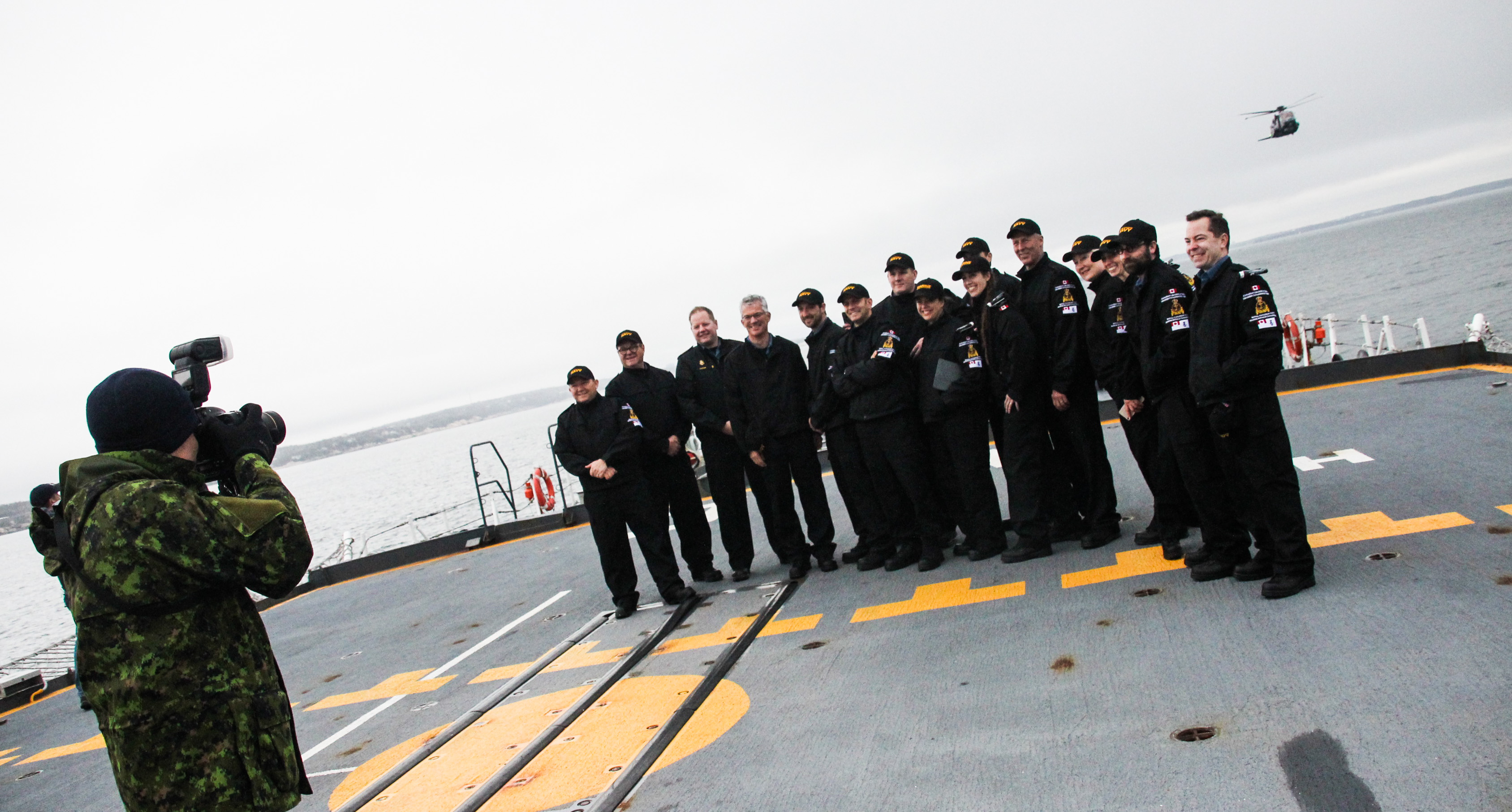 Sailors leave big impression on CLaS guests aboard HMCS Ville de Québec
By Ryan Melanson,
Trident Staff
As a researcher who focuses on security issues, Dr. Jamie Levin says he's often found that a "firewall" can exist between academia and military practitioners. So during a recent trip to sea with HMCS Ville de Québec, as part of the Royal Canadian Navy's Canadian Leaders at Sea (CLaS) program, he was expecting more of the same.
"I was expecting to have that firewall retained; I thought I would have a great time, but learn relatively little. That hasn't been the case; I cannot believe how candid the people have been, at every rank," said Levin, who recently relocated to the Maritimes to join the political science department at St. Francis Xavier University. While his research has focused on areas like terrorism, counter insurgency and civil wars, Levin said working in this region could lead to a further interest in maritime security. Having access to the crew and command team of Ville de Québec for two nights off Nova Scotia was a good introduction to that world.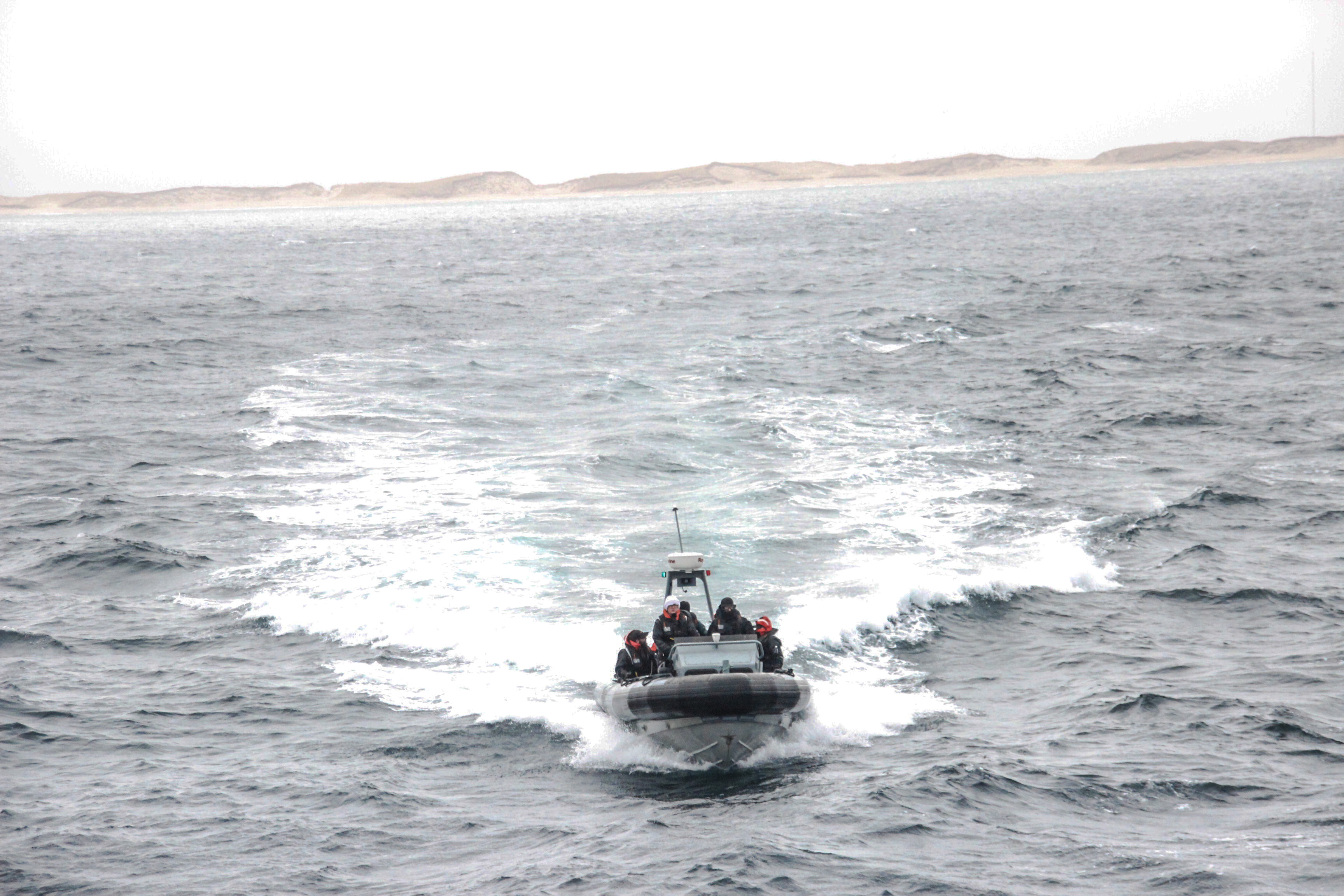 "I was really not expecting this experience, and because of this, I'm coming away with a lot more than just a couple fun days at sea," he said.
Levin was just one of 15 participants in the latest edition of the CLaS program, which has been ongoing since 2015 and allows influential Canadians from the areas of academia, business and government to experience a taste of life aboard Navy warships and submarines.
The most recent trip took place from April 24-26, with Ville de Québec departing Halifax and heading southeast toward Sable Island National Park Reserve, where embarked Parks Canada staff were waiting to accompany the guests on a rare tour of the small horse and seal-populated island. Unfortunately, foggy weather and waves at the beach prevented the CLaS participants from reaching shore, but the ship was still able to conduct RHIB tours near the island through the morning of April 25. This was in addition to all the usual activities included in the CLaS experience, including a small arms shoot, interactive force protection and damage control scenarios, a CH-148 Cyclone flypast, ""Spiffy Dinner" in the Wardroom, and briefs and tours through each ship department, with plenty of chances to meet with sailors and learn a bit about day-to-day life on a modernized Halifax-class vessel.
Having recently returned from a six-month deployment to Op REASSURANCE in the Mediterranean, Ville de Québec is winding down its readiness level, and currently has a number of inexperienced sailors among its crew who'll be taking part in important training off Halifax in the months ahead. CLaS guest Michael Bielecki, a partner with consulting firm Bielecki & Associates, said learning about the relatively low experience levels made the conduct of the crew all the more impressive.
"I would have never known that any of the sailors were short any type of qualification. They were ready to engage with us, educate us about their jobs, and they seemed exuberant to do so."
Mary Turner, president of retail chain The Shoe Company and Designer Shoe Warehouse, said she was struck by the ability of sailors to fill multiple roles on a ship, with huge responsibilities as part of things like firefighting or boarding parties placed on top of their main jobs.
"They have their main competency or expertise, but then also these other occasions where they may have to jump right into the action… I think there a very few examples of people doing something like that in the private sector."
The group was accompanied by CFB Halifax Base Commander Capt(N) David Mazur, representing senior RCN leadership, who said he wasn't surprised that despite all the impressive technology on display, most guests described interacting with sailors as the highlight of the experience.
"They (the sailors) work away from their families, they're professionally trained to the level they're supposed to be, and nobody ever gets to see what they do," Capt(N) Mazur said.
"When we've got people on board, and the sailors know it's an important group of influential people, they're actually quite excited to speak frankly about their jobs and show off a little bit."