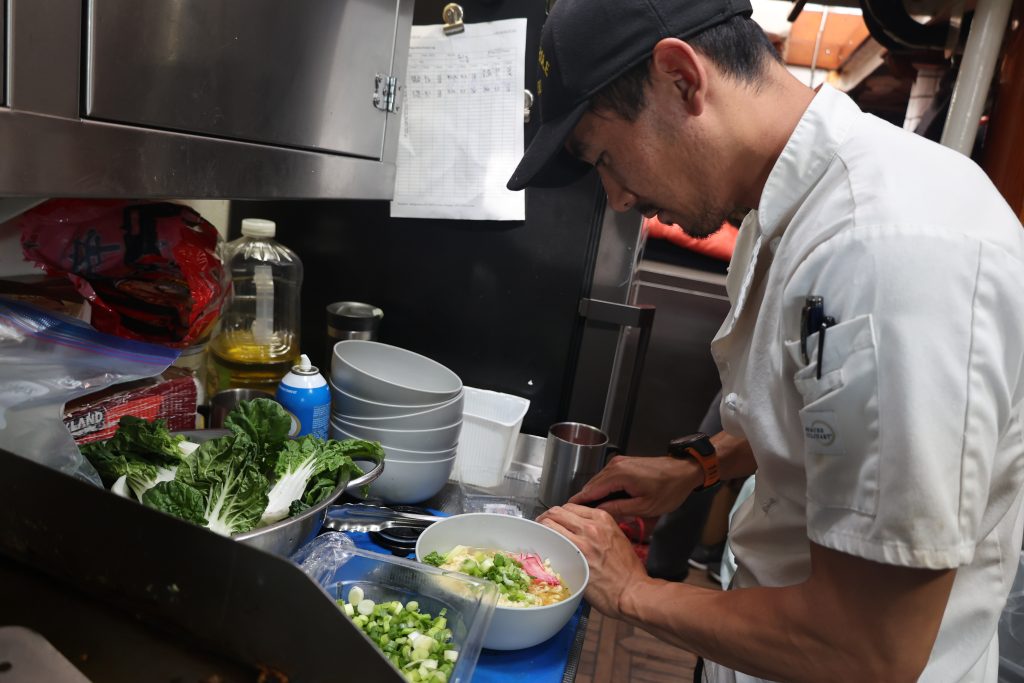 HMCS Oriole's PO2 Gabriel Lau creates big flavours in small spaces
By SLt Wilson Ho,
HMCS Oriole
Making a hearty and nutritious meal at home can be difficult at times, but preparing and cooking meals at sea is a whole other challenge! Working in a galley that can only fit one person comfortably at a time, with the ship rocking back and forth due to the sea state, Petty Officer Second Class (PO2) Gabriel Lau created nourishing and filling meals three times a day to feed all the crew members aboard His Majesty's Canadian Ship (HMCS) Oriole while the ship was participating in the Royal Canadian Navy's annual Great Lakes Deployment over recent months.
Originally from St. Johns, Newfoundland, PO2 Lau joined the RCN in 2009 at HMCS Cabot as a Reserve Naval Communicator. At the time, he was a first-year university student studying Computer Engineering.
"It was my first summer off, and I wanted to do something interesting. One of the places that I applied to was at my local Recruiting Centre, and they took me in right away." said PO2 Lau. In 2015, PO2 Lau made the switch to become a Cook in the RCN.
During the Great Lakes Deployment, PO2 Lau has made over 200 meals for the crew. One of the best and most complex meals that PO2 Lau said that he has done on this deployment was poke bowls. 
"Poke bowls was the hardest meal to do on Oriole because of all the flavours and components. There are multiple complexities and techniques to a poke bowl, such as making the rice, what protein to add to it, the greenery, the garnishes, the sauces, etc. Depending on how many toppings you want, it can be a multi-step process," said PO2 Lau.
"Making these individual components in my small galley, and then combining them to create a poke bowl was a challenge, but it was rewarding to see the end product and see everyone enjoy my work."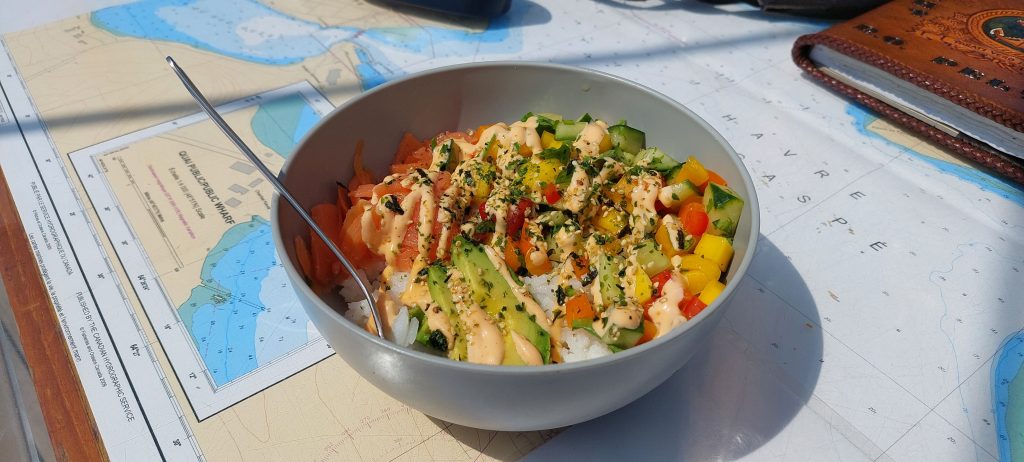 PO2 Lau was contacted last year by HMCS Oriole and was asked if he would like to be the Chief Cook onboard. Unfortunately, he was on a Professional Leadership Qualification (PLQ) Course at the time and was unable to sail. However, PO2 Lau has had a consistent desire for challenges. "Things that interest me are working on different platforms (in the Navy) and in different locations. I like things that are out of the mundane, and if it is novel, I will probably say yes to it." Therefore, early this year PO2 Lau contacted the Coxswain of HMCS Oriole to see if the position of Chief Cook was open again. Fortunately for him, it was, and he was offered the opportunity to sail soon after.
Besides his primary duties as Chief Cook, PO2 Lau takes time to also learn and help with evolutions on the upper decks on his breaks. "When I have the opportunity to go up and work with the sails, or with evolutions such as departures and coming alongside a jetty, I always make an effort to go and help. We only have a maximum of 21 people onboard, and complex evolutions onboard HMCS Oriole require every available person to help where and when they can."
After being the Chief Cook onboard HMCS Oriole for this year's Great Lakes Deployment, he says the best advice he can give and the best lesson that he has learned from this experience is to pack light and to remember to take breaks. 
"Mental health is important," said PO2 Lau. 
"On a 102-foot long ship, there is limited personal space. It is therefore essential to take regular breaks to avoid burnout!"