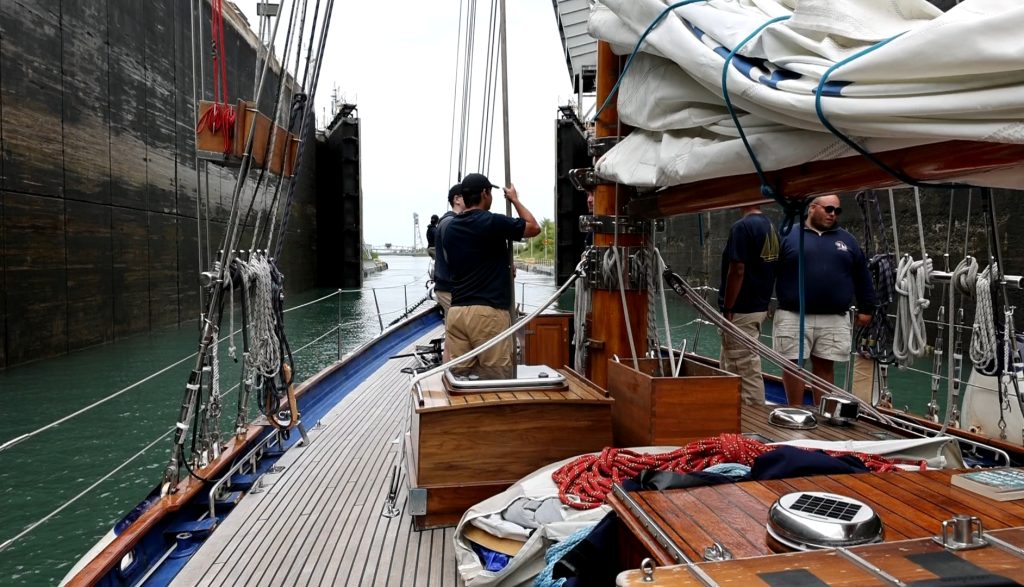 HMCS Oriole transits Welland Canal during GLD 2023
By Slt Wilson Ho,
HMCS Oriole
On September 8th, 2023, His Majesty's Canadian Ship (HMCS) Oriole transited through the Welland Canal, which connects Lake Ontario to Lake Erie, while participating in the Royal Canadian Navy's (RCN) annual Great Lakes Deployment. There are eight locks in the Welland Canal – raising and lowering vessels approximately 100m between the water levels of Lake Ontario and Lake Erie – and was originally constructed in 1829 to offer ships a safe detour around Niagara Falls.
The transit of the Welland Canal was an all-day evolution for the crew of HMCS Oriole and took over twelve hours to complete. Throughout the transit, there were "Lakers" (ships that only transit between the Great Lakes) and other "Salties" (sea-going ships) that passed by, their size dwarfing the 102ft long and 102ft tall HMCS Oriole. "Transiting the Welland Canal was an amazing experience," said Lieutenant Commander (LCdr) Gregg Morris, the incoming Commanding Officer of HMCS Oriole, who was given control of ship's movements through the transit of the Welland Canal by the current Commanding Officer of HMCS Oriole – LCdr Robert Pelton, "everyone had a part to play, and it required the teamwork of the entire ship's company to accomplish. I am incredibly proud of the entire team's hard work throughout the transit."
HMCS Oriole is taking part in the Great Lakes Deployment (GLD) 2023. The GLD is an annual deployment to bring the RCN closer to non-coastal Canadians, who are traditionally not exposed to navy personnel and operations. This opportunity provides Canadians to speak to sailors and recruiters to find out more about a career in the RCN. The GLD serves as an opportunity to pique interest in maritime life, service at sea through ship tours, outreach activities and presence in Canadian communities.
Now that HMCS Oriole is back sailing in Lake Ontario, the ship will continue its Great Lakes Deployment and will visit multiple coastal ports in Ontario, Quebec, and eastern provinces of Canada before finally returning to Canadian Forces Base (CFB) Halifax in early October. For more information, and to follow HMCS Oriole along its Great Lakes Deployment, visit: https://www.canada.ca/en/navy/campaigns/hmcs-oriole-great-lakes-deployment.html