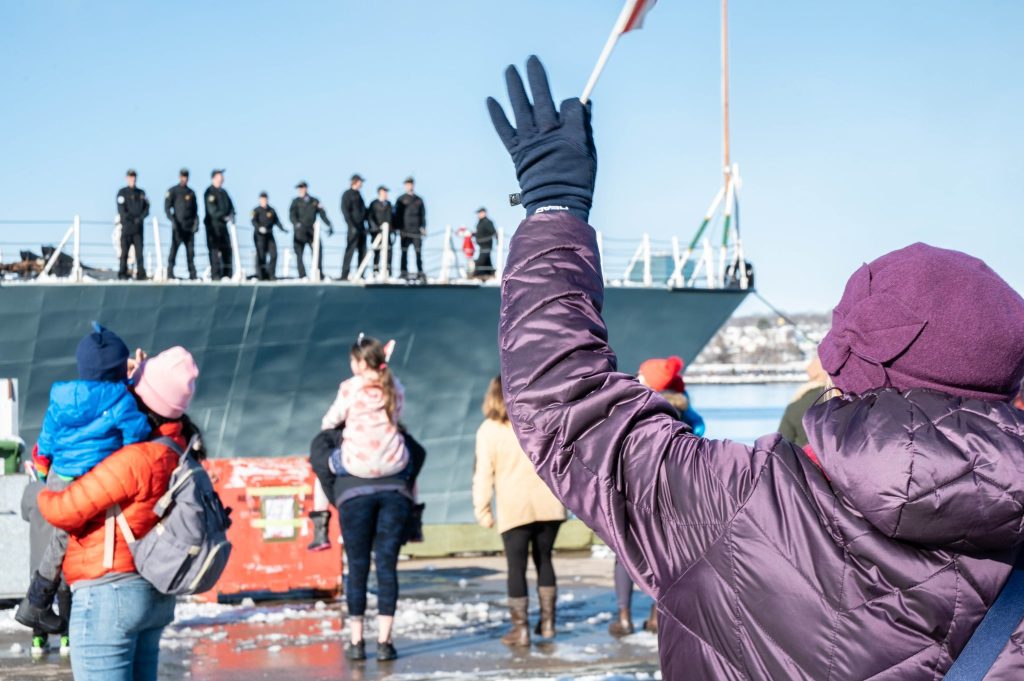 HMCS Fredericton joins NATO allies on Operation Reassurance
By Ryan Melanson,
Trident Staff
The Royal Canadian Navy has once again sent a Halifax-class frigate to join NATO allies in Europe as part of the maritime component of Operation Reassurance, at a time when the mission is more important than ever.

Speaking in Halifax just after HMCS Fredericton left the jetty on January 22, Rear-Admiral Brian Santarpia, Commander of Maritime Forces Atlantic and Joint Task Force Atlantic, noted that the ongoing Russian invasion of Ukraine, which began in early 2022, has altered the dynamic of Op Reassurance.
"Each ship that goes now has to be more ready than they were before that invasion, because the threat is higher," he said.
Fredericton will join Standing NATO Maritime Group 2 alongside American, Italian and French counterparts and will mainly operate in the Mediterranean Sea for the next six months.
"They'll be monitoring Russian activity on a daily basis, and they'll also be doing exercises to ensure that we're interoperable with our allies and that we're ready for any crisis or emergency," RAdm Santarpia added.
Fredericton left Halifax accompanied by HMCS Montréal, which is currently conducting workups ahead of a deployment this spring, as well as MV Asterix. The three ships will sail together across the Atlantic before Montréal and Asterix make their way home, along with a small team of fleet staff who are accompanying Fredericton for the first leg of the trip.
For the 256 sailors who make up Fredericton's ship's company, the departure marks an exciting moment – the beginning of a challenging mission on behalf of Canada – but also comes with the difficulty of leaving family members behind.

"They're proud of the work they'll be doing, but there's no doubt that they're going to miss their family members, it's hard to be away for six months," RAdm Santarpia said. He added there will be extra work done to ensure as many crew members as possible get mid-deployment breaks to either travel home or bring family members to Europe.
Op Reassurance began in 2014 as a response to the Russian annexation of Crimea. As the name suggests, the deployments are meant to reassure NATO that Canada will be there to support its international partners when needed. The mission has also included land and air components, with Canadian Armed Forces personnel deployed to Latvia, Poland, and Romania.
This deployment is the 21st rotation for an RCN frigate on Op Reassurance since the mission began in 2014, and this is the fifth time for HMCS Fredericton. Though there are options to extend the deployment past the six-month mark if needed, it's expected that Fredericton will return to Halifax in July.