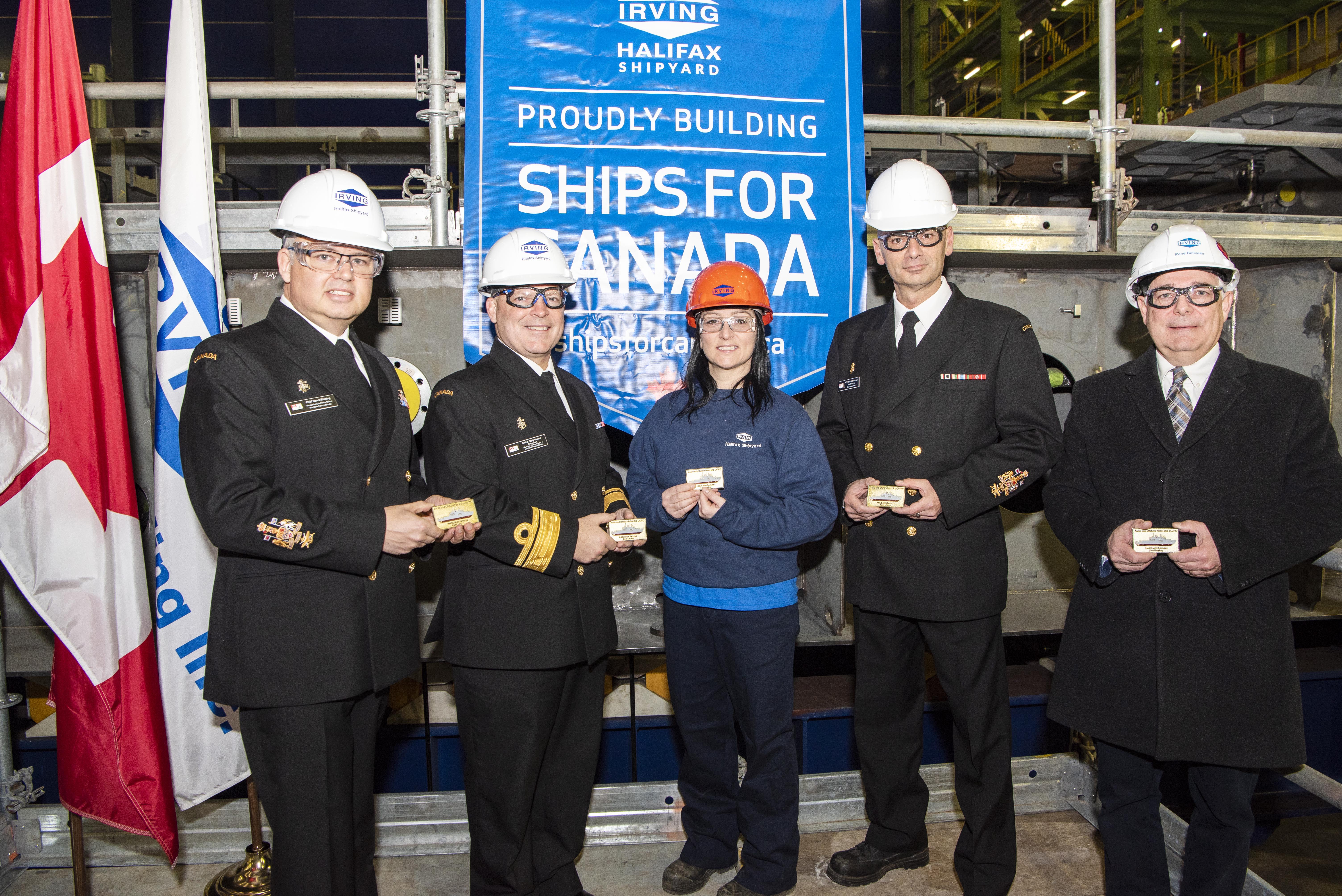 Max Bernays keel laying marks another milestone for AOPS program
By Ryan Melanson,
Trident Staff
Construction has officially begun on the third of the Royal Canadian Navy's new Arctic and Offshore Patrol Ships (AOPS). A keel-laying ceremony on December 6 at the Irving Shipbuilding Assembly Hall in Halifax marked the beginning of work on the future HMCS Max Bernays. The ship will follow the future HMC ships Harry DeWolf and Margaret Brooke, which are both currently under construction, with Harry DeWolf set for delivery in late 2019.
The keel laying is an important moment in the early life of a ship, marking its birth and the start of full production work. The ceremonial action itself was performed by Irving Shipbuilding welder Vicki Berg, who laid a Royal Canadian Mint Second World War Battle Series coin into the first keel unit of the future ship's centre module, and then announced the keel to be "well and truly laid." The coin will stay embedded within the ship through the duration of its life, and is meant to bring good fortune and luck to all those who sail in it.
The small, informal ceremony was attended by Irving Shipbuilding representatives including President Kevin McCoy, along with RAdm Craig Baines, Commander MARLANT and JTFA, MARLANT Formation Chief CPO1 Derek Kitching, AOPS Project Director Cdr Guillaume Cote and Deputy Director LCdr James Brun. As the future Max Bernays will be the first of the AOPS to join the RCN's Pacific Fleet following its delivery, the keel laying was also attended by West Coast Fleet Chief CPO1 Sylvain Jaquemot and CPO1 Mike Miller of the Naval Personnel and Training Group.
In naming the future ship after CPO Max Leopold Bernays, the Navy is continuing with the AOPS theme of honouring Canadian naval heroes. Bernays, originally from Vancouver, first joined the RCNVR in 1929 and was serving as the Cox'n of HMCS Assiniboine in August of 1942 during the Battle of the Atlantic; he was awarded the Conspicuous Gallantry Medal by the British Admiralty for his actions while engaging the German submarine U-210. Under heavy fire and while breathing in smoke, Bernays famously ordered his junior sailors to safety and manned the helm on his own, steering the ship and eventually getting in position to ram and sink the U-boat. Only one sailor from Assiniboine was killed during that battle, with 13 more injured, and Assiniboine's fate could have been very different if not for the heroic actions of Max Bernays.
In addition to the honours he's already received, Bernays' legacy will now live on through the ship that will bear his name.
"It is fitting that an Arctic and Offshore Patrol Ship has been named in the honour of Chief Petty Officer Max Bernays, a hero renowned for his valour and dauntless devotion to duty," said VAdm Ron Lloyd, Commander RCN, in a media release.
"The keel-laying of the future HMCS Max Bernays is another notable milestone on the road towards Canada's future fleet. The Harry DeWolf-class will enhance the Royal Canadian Navy's ability to safeguard the interests and security of all Canadians."