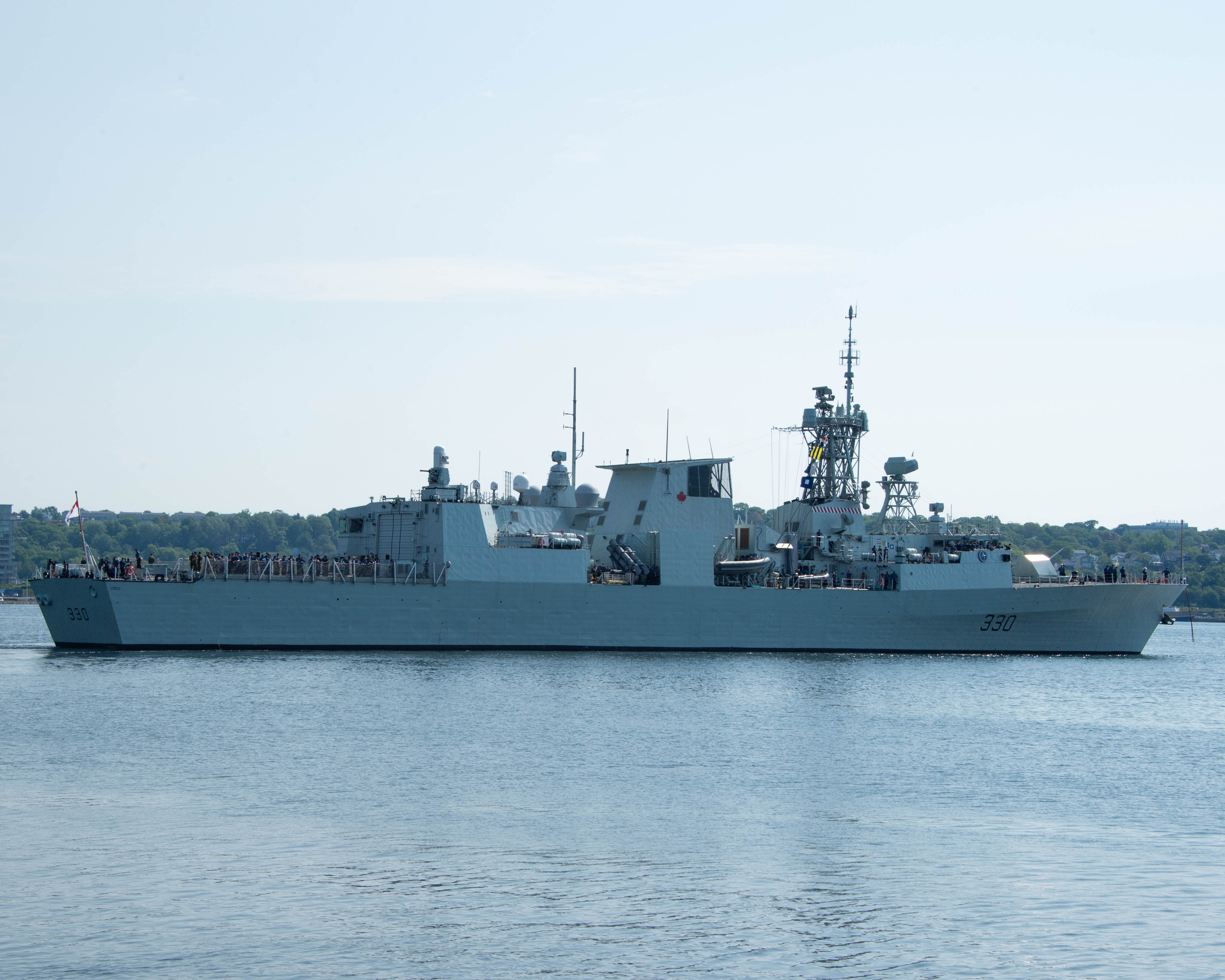 HMCS Halifax departs for Op REASSURANCE
By Mona Ghiz,
Maritime Forces Atlantic Public Affairs
After months of preparation, HMCS Halifax and the Cyclone air detachment from 423 squadron, 12 Wing Shearwater departed Halifax on Sunday July 14 en route to a six-month tour on Operation REASSURANCE, Canada's support to NATO assurance and deterrence measures in Central and Eastern Europe.
Despite some mechanical issues with the ship that delayed its departure for approximately a week, Halifax and all hands on board were well prepared to embark upon this important operation. "The ship's company have worked incredibly hard over the last 9 plus months and more, to get ready for this deployment. They have exceeded the standards that we have set out to every step," said Commodore Skjerpen, Commander, Canadian Fleet Atlantic.
During the deployment, Halifax will replace Toronto and assume the role of flagship for the Standing NATO Maritime Group 2 (SNMG2), a NATO-led mission to promote security and stability in Central and Eastern Europe.
Halifax's commanding officer, Cdr Scott Nelson, said, "Op REASSURANCE is Canada's mission with NATO in various waters that connect to Europe. Canada commits a ship consistency in the region to assure our NATO alliance allies, Canada is there to support the endeavours of NATO's mission overseas."
This is the first time Halifax will deploy on Op REASSURANCE and the 12th time a Royal Canadian Navy (RCN) ship has taken part since 2014. Cdr Nelson added, "A lot of work has gone into getting the ship ready. From the sailors on board, to shore establishments like Fleet Maintenance Facility Cape Scott, Base Logistics, and Sea Training. We also have the support of our families."
Another first is that during this operation, Standing NATO Maritime Group 2 is being commanded by a Canadian woman, Commodore Josée Kurtz, Royal Canadian Navy. She is currently onboard Toronto and will join Halifax on their arrival in theatre.
Halifax sets sail with 196 sailors and 20 members of the air detachment. On arrival in the region, Cmdre Kurtz and her international NATO staff will join the ship, which will bring the crew compliment to 253 personnel.  During its time on Op REASSURANCE, Halifax will lead and execute a range of missions across a broad spectrum of operations to enhance interoperability and cooperation with our allies and NATO partners in the region.