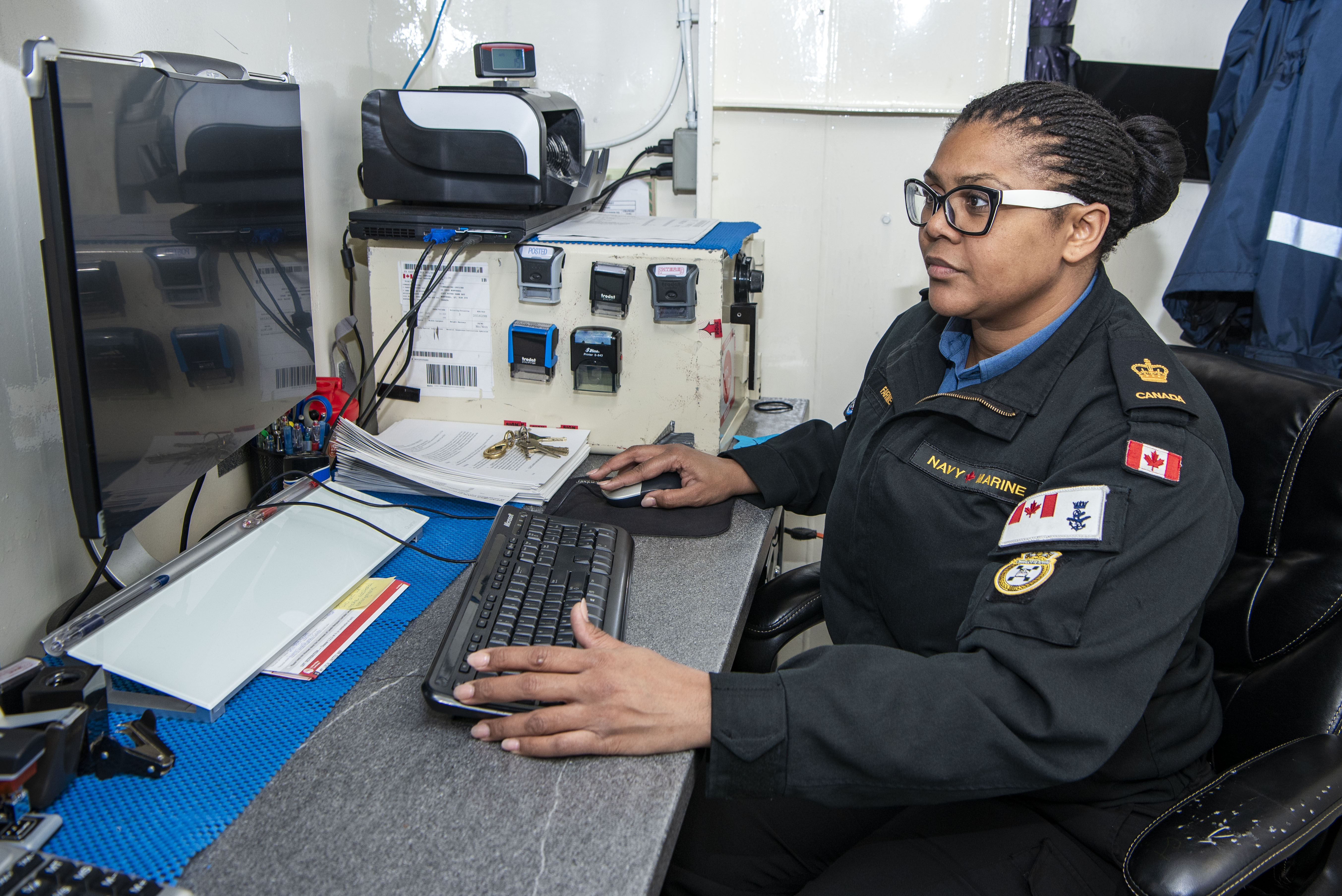 HMCS Charlottetown steward proud to serve her country
By Ryan Melanson,
Trident Staff
After 23 years of service and more than 1,200 days at sea, the Senior Steward aboard HMCS Charlottetown said she's proud of a CAF career that has allowed her to serve her country, help others, and see the world.
PO1 Joyce Farmer, originally from Glace Bay, Nova Scotia, first joined the Canadian Army Reserve in 1996, inspired by her father and his Army service with the former Canadian Guards regiment. But after five years in an infantry role, including a deployment to Bosnia in 1998, she found her way to the Navy, where a background in accounting led her to consider the steward trade.
Since then, PO1 Farmer has progressed to the top of her trade and deployed internationally with multiple ships, including in operations off the coast of Libya, in Canada's North, and in the Mediterranean sea.
"I love what I do, and I wouldn't be here if I didn't love it," she said.
Stewards serve an important function on a warship, looking after things like canteen and bar supplies, hosting receptions and VIP events on board, and making sure the ship's bills are paid, just to name a few tasks. It's demanding work, with the department often busy while other sailors enjoy downtime, but PO1 Farmer said good cooks and stewards boost morale, and she enjoys giving her shipmates access to some of the comforts of home while at sea.
"There are some long days for my stewards and I, and our feet get tired, but it's nice when we see how much people appreciate the work we do."
As an African-Nova Scotian woman who has excelled in her naval career and holds a key role within the ships' company, PO1 Farmer is happy to be a success story and a mentor to those who come after her, but she doesn't focus on being a minority among the ranks.
"I don't put myself into any special category, that's not the way I was raised," she said, adding she's been encouraged by the RCN pushing strong and capable female personnel to make the most of their CAF careers, and that she tries to do the same with the junior members under her supervision.
"I try to stay out of the limelight. As a senior member, I can teach my stewards how to do their job well, and how to be strong and have confidence in what they do. I love to see my people succeed and get credit for their hard work."
In her free time, PO1 Farmer said she enjoys spending time with her friends, family and her Maltese Shih Tzu Apollo, who gets his name from a love of Greek mythology. She's also been working on connecting with her lineage; she's searching for records of her father's ancestors entering the country through the slave trade, and also hopes to eventually connect with maternal relatives in Barbados for the first time.
It hasn't always been easy. She's long struggled with keeping her work and family life in balance through postings around the country, and tense moments came on operations as well, including a 2003 at-sea rescue in the Arabian sea that involved casualties with serious burns covering their bodies. But PO1 Farmer said she has no regrets after more than two decades of service. As she prepares for an intensive French course later this year, likely to be followed by a posting to a new ship, she's excited for what will come next.
"I'm ready for it because the Navy has always encouraged me to push myself forward, and they've always made me feel like no task is too difficult to take on. I've always felt very supported," she said.
"It's been the experience of a lifetime."