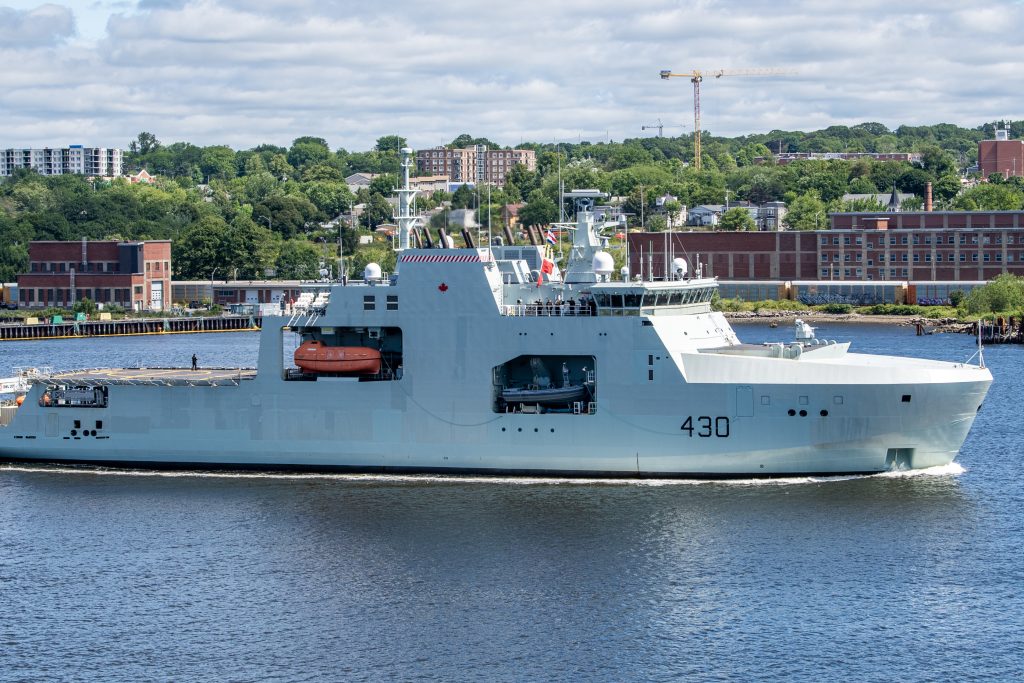 Harry DeWolf heading back to sea on Operation Nanook
By RCN
After ten months of an operational hiatus for necessary repairs and extensive sailor training, His Majesty's Canadian Ship (HMCS) Harry DeWolf departed Halifax on August 10 for the 2023 iteration of the annual Arctic sovereignty deployment, Operation Nanook.
"From a ship driver perspective, this drives nothing like anything I've driven in the last thirty years," said the ship's Commander Guillaume Côté. "It's completely different. Everyone aboard, including myself, have to learn how to operate such a large ship."
For Cdr Côté the most daunting feat is operating a vessel of Harry DeWolf's size. More familiar with operating the Halifax-class frigates, Cdr Côté describes vessels like the Kingston-class Marine Coastal Defence Vessels as comparable to driving a sports car. Harry DeWolf on the other hand, weighing about 7,000 tonnes with a diesel-electric motor, drives more like an 18-wheeler.
This reality requires more Marine Technicians (MARTECH) aboard who bring a collective knowledge of the Navy's technical trades and an openness to taking on new challenges.
"There's an entire development process to change the skillsets of every single sailor serving in this ship," Cdr Côté said. "They have to take what they have learned or what they know and apply it in a different way."
Until mid-July the crew of 87 sailors was focused solely on training, earning qualifications, and gaining experience to be best prepared for future deployments.
Despite the lengthy training for personnel, Cdr Côté himself is bracing for the new adventure of sailing in the arctic.
"It's a daunting task, sailing that farup North. I'm not too sure how to prepare myself emotionally, psychologically, operationally for this," he said. "This is going to be a complete change."
The upcoming deployment on Operation Nanook is an exercise of Canadian sovereignty in the arctic region. It's a joint effort coordinated with our northern partners that helps respond to security issues in the North. Cdr Côté says Harry DeWolf will be the only Canadian navy vessel participating in the operation this year, collaborating, and conducting exercises with the Canadian Coast Guard, the United States Navy, the United States Coast Guard, and other national and international partners to improve the Navy's ability to operate in the unique environment.
Cdr Côté also noted this operation is not only important to demonstrate Canada's presence in our territorial waters, but for sailors to experience sailing in the arctic.
"The Royal Canadian Navy (RCN) has limited knowledge and experience in our own backyard," said Cdr Côté. "So, every time we go up there, we learn new things."
The significance of Harry DeWolf's presence in more isolated regions and untouched natural environments is not lost on the ship's Commanding Officer or ships company. He says climate change is top of mind and they are all prepared to uphold the RCN's mandate to reduce environmental impacts.
"With climate change things are constantly shifting," he said. "What was once rock is just mud, coastlines are changing with erosion, so there's a bit of survey work, but we are a self-sustaining unit. We are trying to have as little negative impact on the local communities, and on the environment."
Beyond the challenges that Op Nanook may bring, Cdr Côté is eager to head out to sea with his skilled and talented crew.
"We're just starting this journey of discovery and we are really looking forward to that challenge," he said. 
"Over."