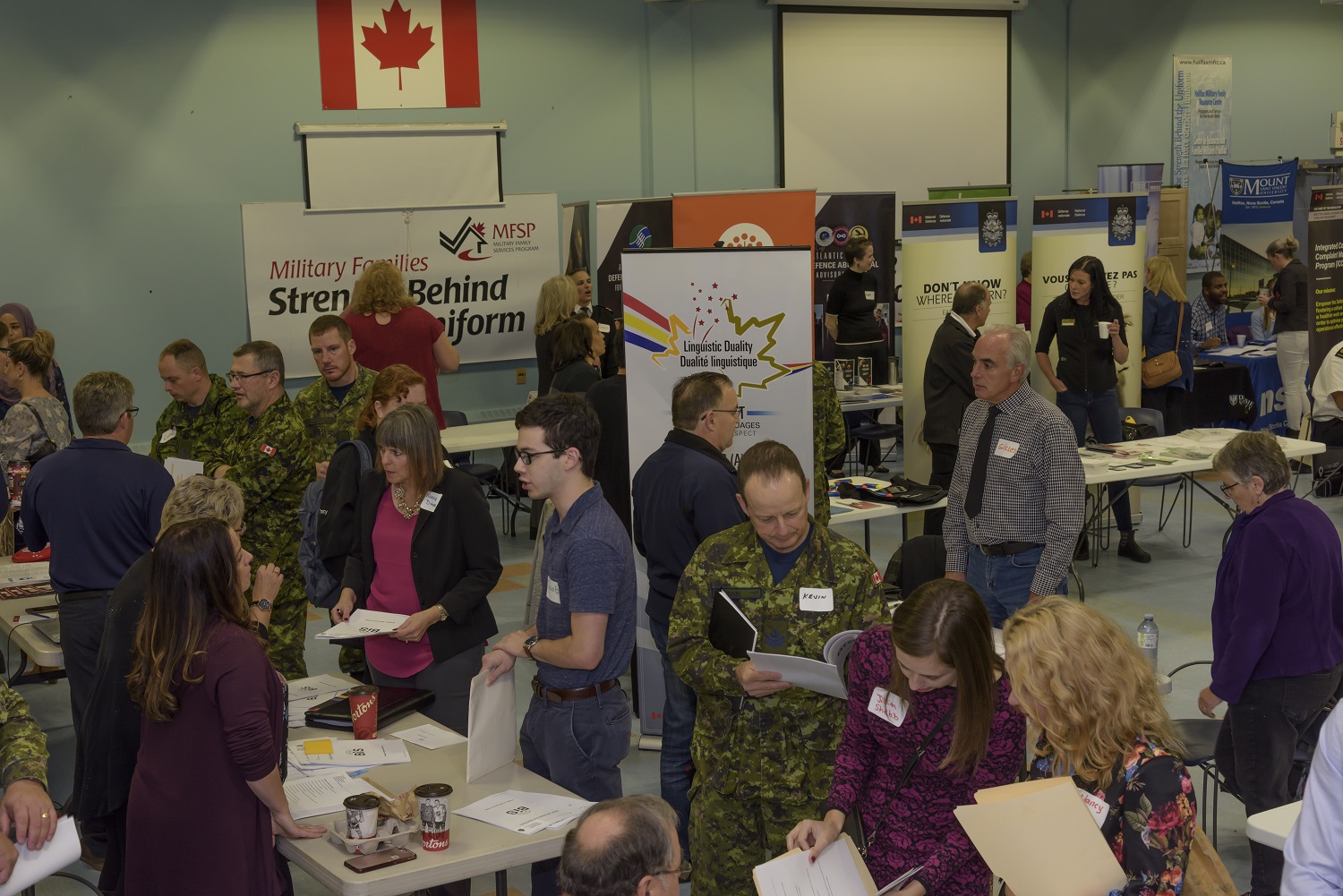 Halifax region DND Career Fair set for May 8
By CFB Halifax,
Get your resume ready! Hiring managers and supervisors from Maritime Forces Atlantic (MARLANT) and other CAF and DND organizations in the Halifax region will be hosting a career fair on Wednesday, May 8 at the new Willow Park Armoury, 3225 Husky Drive.
"This career fair provides a unique opportunity for our serving DND employees and CAF members to explore other areas of MARLANT wherein their skills and talents can be used and expanded upon to further their professional development and career goals," says Capt(N) Guillaume Lafrance, MARLANT Chief of Staff and the senior leader championing this hiring initiative. "The career fair will also enable us to attract excellent talent external to the Public Service that will help to renew and strengthen our workforce," he adds.
DND is one of the largest federal government employers, providing services and support to the CAF. Here in Halifax, DND is looking to fill civilian positions in many areas ranging from clerical/administrative services and information technology/information management to skilled trades and French language services. Jobs are also available for ships' officers, ships' crew, storespersons and more. Representatives from Personnel Support Programs, CAF Reserve units and other DND-affiliated organizations will also be on hand at the career fair and looking to fill positions within their respective establishments.
Current DND civilian employees, CAF members and CAF Veterans are invited to attend the career fair from 8:30am to 3:00 pm, while members of the general public will be welcomed from 10:30 a.m. until 3:00 pm. Parking will be located across the street from the Willow Park Armoury at Windsor Park, however accessible parking will be available at Willow Park. Persons with physical or other limitations who require accommodation should contact DNDCareers-CarrieresMDN@forces.gc.ca so appropriate arrangements can be made. Presentation of photo identification is required for entry.
Those attending the career fair should bring along a current résumé and can expect to network with supervisors and hiring managers. On the spot interviews may even be held.
A career with DND offers exciting benefits including interesting and challenging work; professional development; opportunities for advancement; an awards and recognition program; work-life balance and well-being culture; and health and wellness programs.
DND is also committed to building a skilled and diverse workforce that reflects the Canadians we serve. As a result, employment equity is promoted and those attending the career fair are encouraged to indicate on their résumé if they are a woman, an Indigenous person, a person with a disability or a member of a visible minority group.
Registration for this event is not required. Questions? Please contact DNDCareers-CarrieresMDN@forces.gc.ca. See you on May 8!