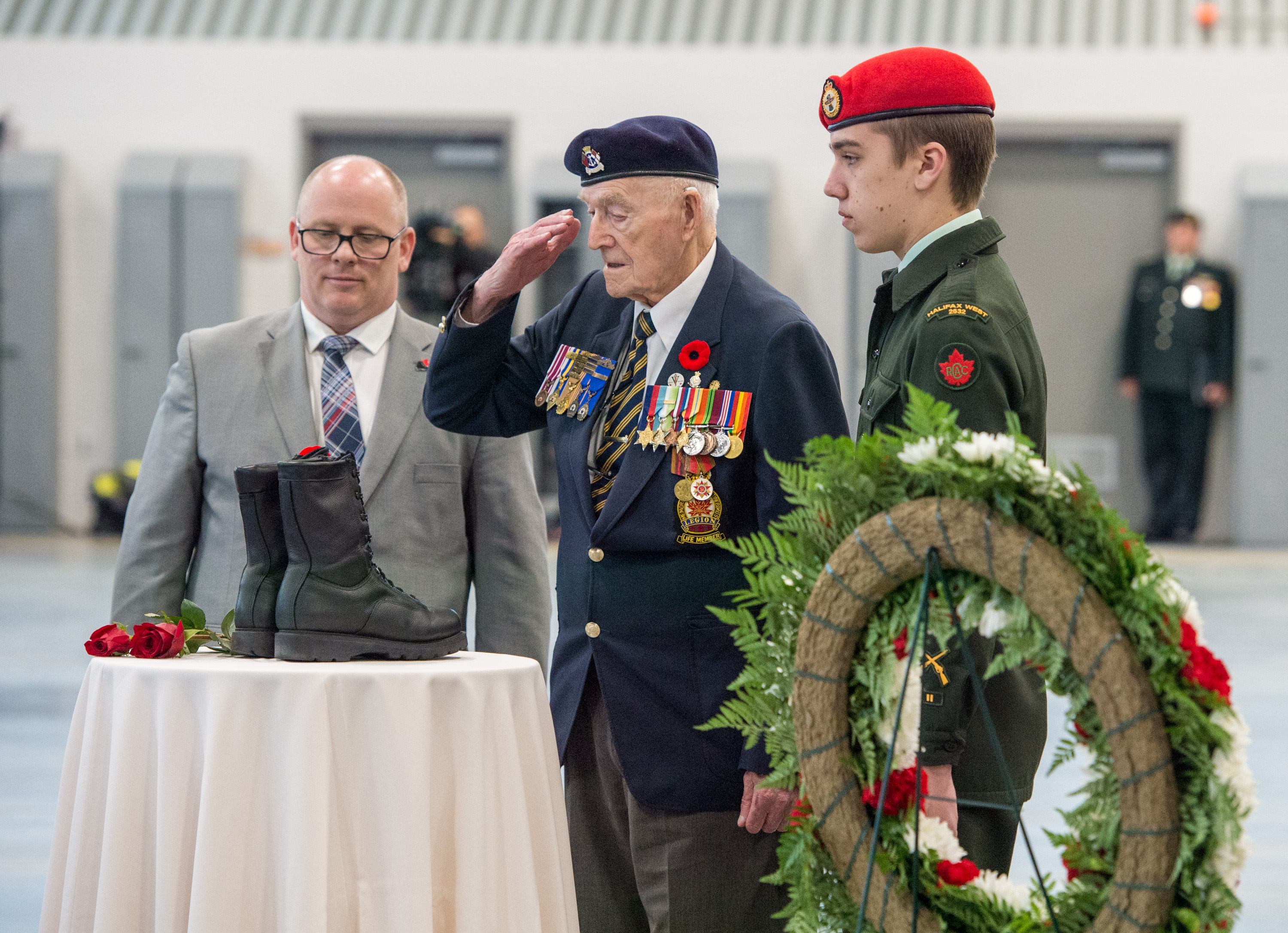 Service and sacrifice honoured as Halifax marks 75 years since D-Day landings
By Ryan Melanson,
Trident Staff
It was May of 1944 and a young SLt Harold Tilley was preparing for leave, after completing his technical courses, when he learned that "something big was about to happen."
Soon after, his son Richard said, SLt Tilley found himself volunteering to be the navigator for a formation of three large landing craft, with the goal of getting ground troops to Juno Beach, the beginning of a massive campaign to liberate France during the Second World War.
It was a daunting task to guide the 158-foot long landing craft through a battle zone, with bombs falling from the sky, mines and shellfire all around, and about 200 seasick men on board.
"These weren't small boats. Dad was a good navigator, but these landing craft were the only vessels on which he had no training," Richard Tilley told a crowd assembled at the Willow Park Armoury on June 6 to mark the 75-year anniversary of D-Day.
Despite the difficulties, his father's crew successfully landed a first wave of troops, and attempted to go back for more, before holes in the hull forced them to head to shore instead. They later realized they had been in the water with live mines just feet away on either side of the boat.
"He was a good navigator, but I think he was also a lucky navigator on that day," Tilley said.
His father rose to the rank of Captain(Navy) through his 39-year Navy career, and though he died in 2013, his photo is featured on this year's Veterans Affairs D-Day poster. His son wears a Memorial Cross in his name, recognizing that Capt(N) Tilley's death was attributable to his military service.
"Dad's story is just one of thousands of D-Day stories, but I hope it can still give others a small personal window into what happened that day," he said.
The ceremony in Halifax was the Government of Canada's national D-Day commemoration event, and was attended by Her Excellency the Right Honourable Julie Payette, Governor General of Canada, as well as other dignitaries, political representatives, senior military leadership, and community members.
Seven living veterans of D-Day were in attendance – Albert Hubley, Russell Hubley, Havelyn Chiasson, Fred Turnbull, George Couture, Charles Starkes and Henry Ardwell Eyres provided a link between those commemorating the actions in 1944 and those who actually experienced the horrors on the beaches of Normandy.
"From the bottom of the hearts of a very grateful country, thank you," Payette said to the veterans during her address.
The Governor General also spoke about the terrible cost of victory, and of those who sailed to France for Operation Overlord and never returned. Of the tens of thousands who served on land, in the air, and at sea during the Battle of Normandy, 5,000 Canadians would end up paying the ultimate price.
"They did not lose their lives in vain. We all benefit from their sacrifice and we have a duty to remember them," she added.
Also on display during the ceremony were pairs of combat boots that have made their way across Canada by Via Rail train in recent months, meant to symbolize the journey of the Canadians who travelled from all corners of the country to sail out of Halifax on D-Day. A ceremony was held earlier in the week to mark the end of the journey and the boots' arrival in Halifax. Each of the D-Day veterans in attendance, accompanied by young cadets, placed a rose next to a pair of boots, commemorating colleagues who died overseas.
HCol Donald Julien, representing 5th Canadian Division Training Centre and the Confederacy of Mainland Mi'kmaq, spoke at the commemoration to specifically highlight the Mi'kmaq experience in D-Day operations, which he said included more than 125 who volunteered to serve and at least five deaths.
HCol Julien focused on the story of Pte Charles Doucette of the Membertou First Nation in Cape Breton. He was one of at least 18 Canadians who were captured by the 12th SS Panzer Division on June 7 and summarily executed.
"They thought that they would spend the rest of the war in concentration camps. Instead, they were shot in the back of the head."
Pte Doucette was one of many who answered the call to serve his country and fight tyranny despite facing significant racism and discrimination at home, he added. Pte Doucette's youngest daughter Marie and his two grandchildren were on hand to hear their father's story shared on the national stage.
"We're honoured to have his family members here with us, and we thank them for their sacrifice, as we honour his memory and the memory of others who served and died in the Second World War and on D-Day," HCol Julien said.
The ceremony at Willow Park was just one of many held across Canada and around the world marking the 75-year anniversary of D-Day, with Prime Minister Justin Trudeau and other world leaders gathering at Juno Beach itself in France for the largest commemoration event.