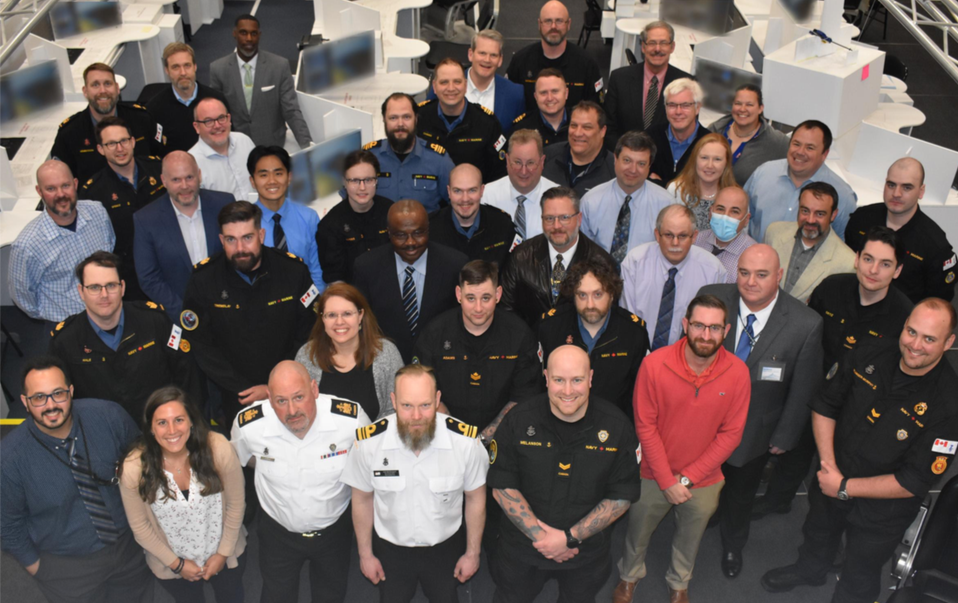 Future fleet being shaped by today's sailors
By the CSC project team
The Canadian Surface Combatant (CSC) project recently achieved another major design milestone. In April, 16 sailors from coast to coast arrived at the Human Performance Lab in Dahlgren, Virginia, where they participated in the validation of a full-scale mock up of a selected Operations Room layout. This exercise was the culmination of a detailed design process, and the CSC Project is happy to report it resulted in a "locked in" Command Information Centre (CIC). The RCN is adopting the United States Navy's CIC to replace the more commonly used Operations Room, to be more inclusive to all the activities and personnel who will operate in CSC's CIC.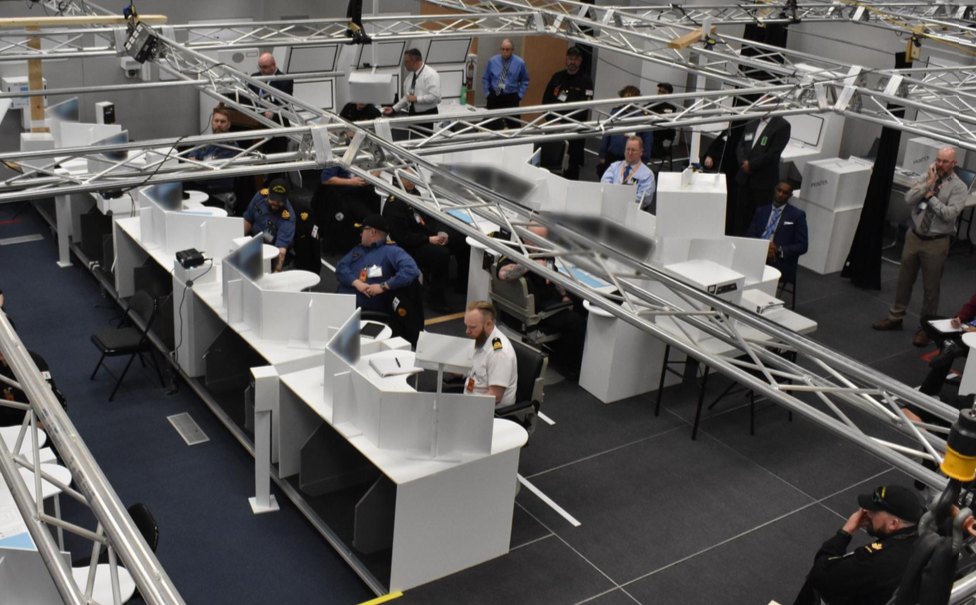 The design process was conducted over 19 months, predicated on the decision to join the Aegis enterprise. Representatives from PMO CSC, joined by partners from the RCN, Canadian Industry and Aegis design specialists from the Naval Surface Warfare Centre Dahlgren Division (NSWCDD) followed a five-phase approach to optimize the console layout of the CIC Complex. This approach included over 175 interviews with sailors from the ranks of Sailor, 3rd Class to Captain (Navy). The intent of these interviews were to align existing RCN trades and skills with those within the Aegis enterprise, creating a "USN to RCN" dictionary.
Once this data was collected and analysed, a tabletop exercise was conducted in Halifax in October 2022. This exercise was a collaborative approach between the operational community and warship designers, where a 1:12 scale model with 3D printed consoles was used to brainstorm layout options for the three spaces that make up the CIC, Sonar Display Room and the Operational Planning/Command Planning Room aboard a ship. More than 75 designs were created from this event, with 18 being deemed viable for further evaluation. These 18 designs were studied by NSWCDD human factor engineers and scored against a complex scorecard focusing on communication flow, personnel adjacencies and other criteria.
A cadre of RCN personnel then selected a final design to be stress tested at a Cognitive Walkthrough validation exercise in April 2023. To stress test the model, selected operators were provided with a week of instruction describing the new aspects of the CSC Combat System suite of weapons, sensors, and new positions. After this orientation training, the validation exercise was a three-day event where various warfare scenarios were exercised with the CIC watch, who sat their positions within the CIC mock-up. Each sailor was shadowed by a human factor engineer who gathered detailed feedback as different scenarios, from reading warning to conducting engagements, were executed.
While CSC belongs to the future fleet, crucial design work is happening now, with sailor input being critical to get it right. CSC will be the backbone of the combatant fleet, and will be a warship designed by sailors, for sailors.