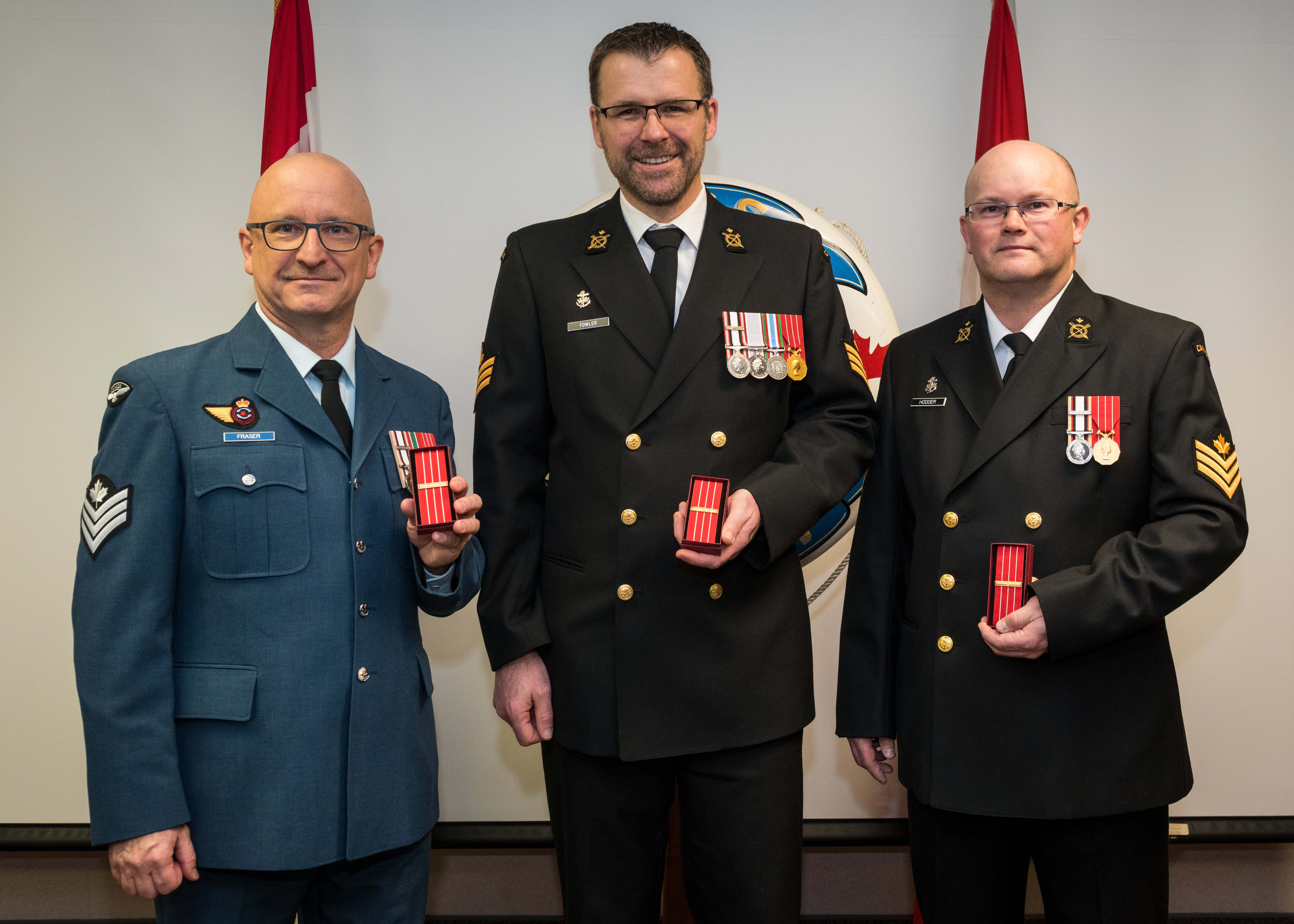 From recruits to Senior NCOs: friends reunited thanks to Trinity posting
By PO2 Maurice Hodder,
TRINITY MOSIC
PO2 Maurice Hodder, PO2 Ed Fowler and Sgt Paul Fraser first met in 1996 in St-Jean-Sur-Richelieu, Quebec, at the Canadian Forces Leadership and Recruit School (CFLRS). All three members arrived as Ordinary Seaman (OS) and they were excited to begin their military careers. Two were Naval Acoustic Operators (NAC OPs) and one was a Naval Communicator (NAC COMM); regardless of occupation, their first challenge was the Basic Military Qualification (BMQ) Course otherwise known as Boot Camp.
Upon graduation both Maurice and Paul were posted to CFFS(E) at CFB Esquimalt in British Columbia for their QL3 trades training, while Ed remained in St-Jean. He was injured during training and once fully recovered would be subject to a re-course. Ed arrived in Esquimalt for his trades training a few months behind his two friends; however, the trio who met and quickly formed a friendship were separated.
Maurice and Paul remained in contact with each other, making time to play golf and tennis until Paul decided on an occupational transfer (OT) that not only changed his trade to Air Traffic Controller (ATC), but also his DEU to Air Force. When Paul departed for trades training they lost all contact with each other, until recently when they found themselves posted to the only possible location that ATCs and NAC Ops (now SONAR Ops) would ever be employed together on the coast – Trinity MOSIC – in February 2018. The posting re-united Paul and Maurice, and then much to their surprise they realized that Ed was there too.
The friendship was brought home on February 11, when the three were officially reunited in the same room during a Trinity Honours and Awards ceremony, where the three now Senior NCOs, were awarded their Canadian Forces Decoration 1st Clasp by Cdr Corey Steiro. It was a celebration of service within the CAF and a celebration of friendship, 22 years in the making.