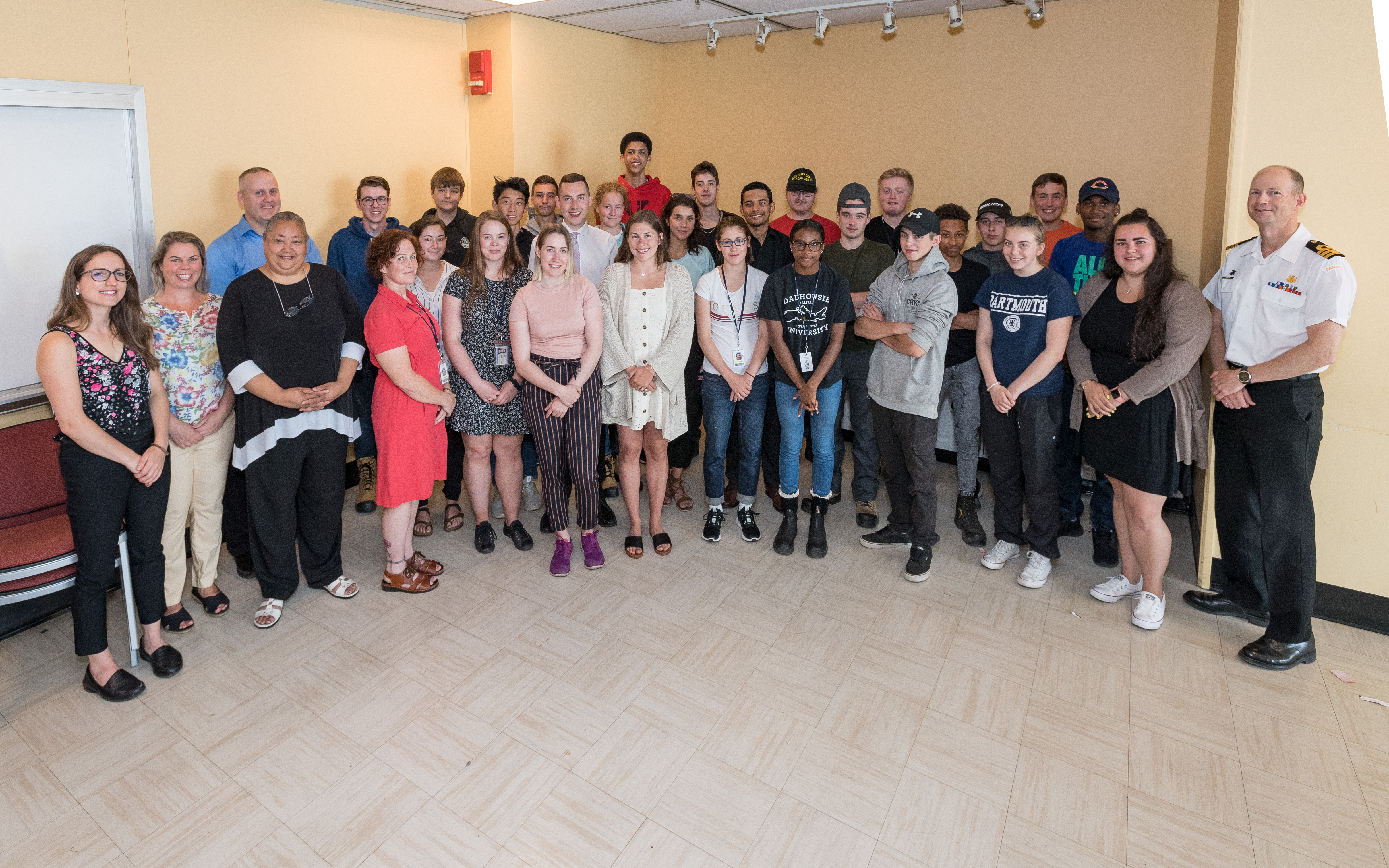 Canada's best kept secret: What students need to know about the Federal Student Work Experience Program
By Darnell Skinner,
CFB Halifax FSWEP student
Many students in Canada have never heard of the Federal Student Work Experience program (FSWEP).  Introduced through the Public Service Commission in 2003, FSWEP is a federal initiative dedicated to helping full-time students secure paid, full-time summer employment in the federal public service.  Whether you're in high school, college or university, don't let working for the federal government or applying to the FSWEP program intimidate you. The application process may seem lengthy but the professional development opportunities, education and experience are well worth the preparation if you end up being selected for a position. Here are some benefits of the program, tips and tricks and what you need to know if you are considering applying for the program!
Interesting and rewarding work. The FSWEP program enables full-time Canadian students to gain valuable real world work experience and marketable skills that can be applied in the classroom and in their future careers. Students from across the country come to work at CFB Halifax each year; this summer, 53 FSWEP students are employed on Base. Our FSWEP students hail from Western provinces such as Saskatchewan and Alberta, as well as Central and Eastern provinces such as Ontario, New Brunswick and Nova Scotia. Many students attend Dalhousie, Saint Mary`s, Mount Saint Vincent, Memorial and Carleton University, as well as the Nova Scotia Community College and are studying business administration including accounting, finance and marketing, as well as automotive trades, environmental studies, engineering, law, and so much more. They are working in a range of positions such as financial analyst, automotive technician, administration assistant, team building coordinator, public affairs liaison as well as general laborer, retail service, and much more.  Unlike co-operative education students, FSWEP students are not required to work in their field of study, and are encouraged to apply for work in any areas that may interest them!  
All students can apply. FSWEP is not just a program offered to college or university students; high school students who meet the minimum age requirement in their province/territory of work as well as mature post-secondary students with full time Canadian student status are eligible to apply as well! 
Full time and part time employment opportunities are available. College and university students have an opportunity to work a four month paid employment position during the summer, while high school students are eligible to work a paid position spanning two months. Graduate students pursuing a full-time graduate degrees are also encouraged to apply!  There are sometimes part-time job opportunities available during the school year as well. This gives students great incentive to apply!
Potential to work two, three or more terms. The FSWEP program is not a one-time program. As long as you are a Canadian citizen, and are returning to school in the fall to resume full-time student status, you're eligible to apply every year all the way up to graduation! Your name and profile remain in the FSWEP database; all you need to do is keep your resume updated every three months and upload it to the FSWEP website. Student inventory is ongoing, as all Federal Government departments pull from the database throughout the year and begin pulling from the FSWEP database for summer students starting in February. As the summer months approach, departments post specific student job posters. Visit the FSWEP website for details.  https://www.canada.ca/en/public-service commission/jobs/services/recruitment/students/federal-student-work-program.html
Financial stability. FSWEP helps to ease some of the financial burdens often experienced by students, by providing an opportunity for paid summer employment in a field of interest, at a rate of pay related to your level of education. These rates are often more competitive than average private-sector summer jobs. FSWEP students use their earnings to save for school in the fall, pay down some debt, or to simply enjoy the summer with friends and family! 
Opportunities for future employment and student bridging. Exposure to the federal public service through FSWEP provides you with potential opportunities for future full time employment! The FSWEP program provides students with an inside track to getting hired, as previous students have been known to be hired after graduation. Known as "student bridging", this opportunity happens when a manager has a position available and the budget to fill it. Did you know Canadian students are bridgeable for up to five years after graduation? When applying to positions or opportunities on www.jobs.gc.ca, let your recruiter know that you're a former FSWEP student and are therefore bridgeable. Resumes of graduating students are kept on file in case opportunities become available. There are opportunities to work within other branches of the federal government as well, so interested students who are graduating should upload their resume into the post-secondary recruitment section on the FSWEP website. All branches of the federal government pull from these pools. Set up your GC jobs account and set alerts for jobs and locations! https://www.canada.ca/en/services/jobs/opportunities/government.html
 There are lots of perks to being an FSWEP student at CFB Halifax beyond the work itself. 
CFB Halifax amenities/events. Feel free to utilize the base gym and our various meal halls/cafeterias, visit the Naval Museum of Halifax, and attend events happening on Base! There's always lots to do!
Diversity is welcomed and encouraged. CFB Halifax is very much a community that supports diversity and inclusion, employing FSWEP students from every walk of life. Students are encouraged to join one of the Base's Defence Advisory Groups which include the Defence Visible Minority Advisory Group, the Defence Women's Advisory Organization, the Defence Aboriginal Advisory Group and the Defence Advisory Group for Persons with Disabilities along with the Maritime Defence Pride Network and the Positive Space Working Group.  
Mentors. Build your confidence and experience through mentoring with colleagues, networking with peers, and creating friends along the way!  
Permission to use social media at work! The CFB Halifax Facebook, Instagram and Twitter pages exist to share events and information about what's happening on Base and in the community. Students can share work experiences, provide interesting comments, share tips, or simply share pictures of their time and experiences while working on base. Tag CFB Halifax and hashtag #SummerontheBase, or submit your images and content to P-HFX.PA@forces.gc.ca to have them shared on Base social media! 
Facebook: @BaseHalifax 
Instagram:  cfbhalifax_bfchalifax
Twitter: @CFBHalifax
Are you convinced yet? Set up an account and apply now! Visit the Federal Student Work Experience Program website for more details on how to apply. (https://www.canada.ca/en/public-service-commission/jobs/services/recruitment/students/federal-student-work-program.html)  
For more information regarding the FSWEP program at CFB Halifax, contact Student Services at DND-BESStudentSvcs@forces.gc.ca. Will you be the next FSWEP student on Base?