Faces of Health Promotion Halifax
By the Health Promotion Team
Health Promotion Services has been supporting the CAF/Defence team for over 20 years. In addition to delivering programming and developing resources on nutritional wellness, addiction-free living, active living and injury prevention, and social-mental wellbeing, each team member has specialized and unique skills in many areas that help us support you.
Meet the faces of health promotion…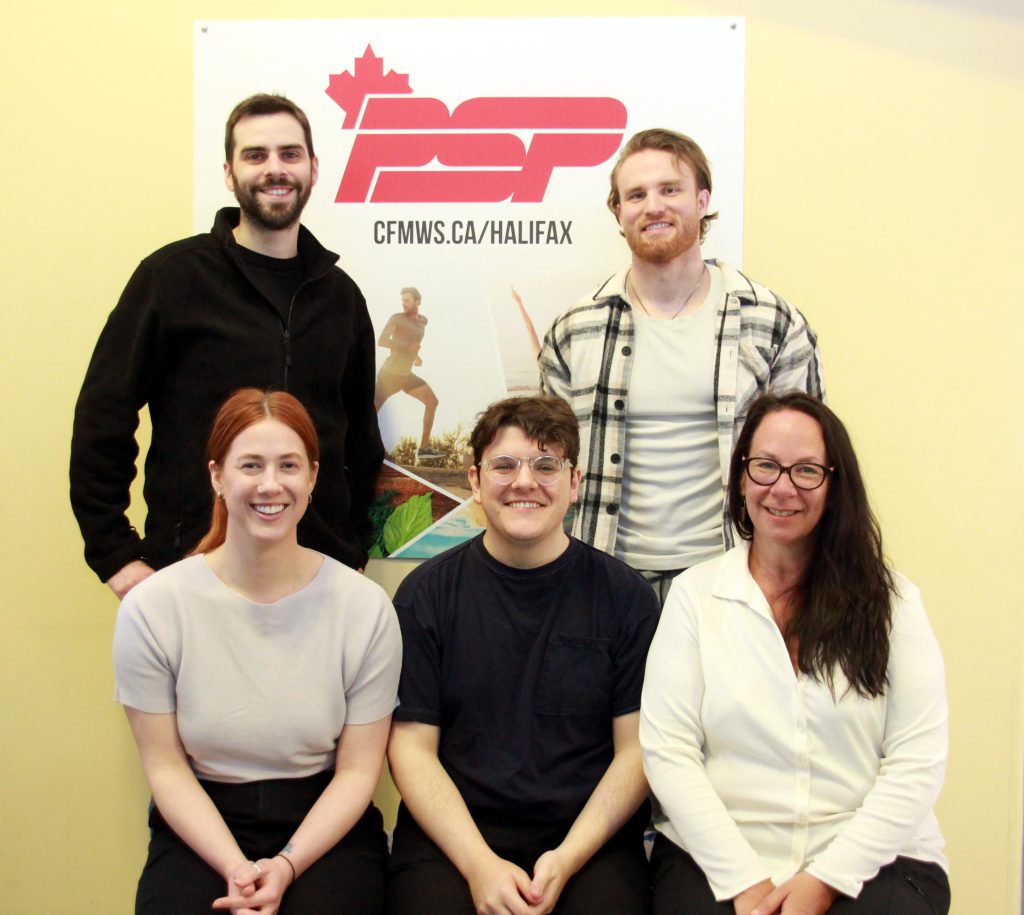 Joy Geizer is one of the Health Promotion Specialists with 14 years in the department. Her passion stems from mental fitness and capacity building in community-based organizations. Joy completed her BSc Health Promotion at Dalhousie University, along with a diploma in Disability Management while working in Health Promotion, allowing her to apply her knowledge and skills to the programs, campaigns, and initiatives in health promotion as she progressed through her degree. Her role as a Medic in the Primary Reserves helps our team navigate many of the intricacies of the CAF.
Joy conducts weekly new recruit medicals for the CAF PRes, volunteers as a Team Lead with the Canadian Red Cross in Emergency Management, is a leader with Girl Guides of Canada with the Ranger program, opens her home to international high school students, and enjoys time with her four children sailing, cycling, and exploring.
Jake Shea completed a science degree from Dalhousie in 2019 and immediately moved into a Master's in Public Health from Memorial University. He held an internship with the Nova Scotia Department of Health and Wellness during the COVID-19 pandemic where he analyzed health policy within the context of COVID-19. It is during this internship where he uncovered his interests in health policy and policy development. Jake started with Health Promotion as a Specialist in 2022.
In his spare time, Jake enjoys playing badminton, volunteering with the NECHC and recovering from PSP lunchtime workout classes.
Luke Macmillan, A/HP Manager, pursued his graduate degree at the University of New Brunswick where he completed research with the Canadian Armed Forces on spine health and biomechanics. He is now studying for a Doctoral degree in philosophy and is also a clinical exercise physiologist and certified strength and conditioning specialist. Luke's passion is to encourage others through movement and health which is what led him to the field of health promotion.
Luke enjoys doing yoga, playing guitar, and training in his spare time. He is happy to be part of the Halifax Health Promotion team!
Mary Driscoll (she/her) has a bachelor's degree of Science in Health Promotion and a master's degree of Health of Administration from Dalhousie University. She has worked previously in residential settings supporting people with intellectual disabilities for five years, and then as a Health Promoter with the Mental Health and Addictions Program at Nova Scotia Health since 2020. Mary has experience working on policy development, mental health promotion, substance use disorder and addiction support, and community engagement. She is particularly passionate about asset-based approaches and focusing on relationships to promote mental wellness flourishing. In her personal time, Mary likes to be active and curls on a competitive women's team out of Halifax. Mary also really loves coffee, finding new locally made baked goods, and being close to the ocean.
Christian Allaire is the new admin assistant with Health Promotion. He comes from a background in marketing, with an education in graphic design. He has managed projects for various small to mid-sized businesses around Nova Scotia, and has even had some of his work brought onboard the ISS! Christian is excited to bring his organizational skills, and queer perspective, to the HP team.
In his spare time, Christian keeps busy with a seemingly endless list of hobbies. From weaving on his heirloom loom, to knitting and gardening, he is always making something. A self-proclaimed "nerd", he also regularly organizes Dungeons and Dragons campaigns for various groups of friends.