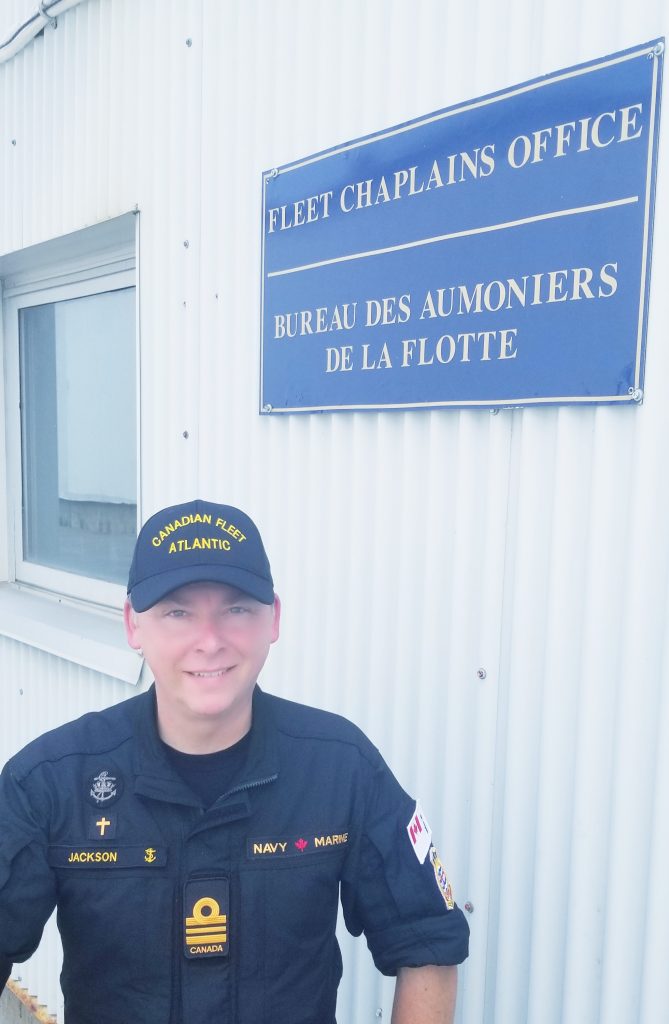 Face of Base: Lieutenant-Commander Reverend David Jackson
By CFB Halifax
For our newest Face of Base, we are proud to introduce you to Lieutenant-Commander (LCdr) Reverend David Jackson, the Senior Fleet Chaplain with Canadian Fleet Atlantic. LCdr Jackson is the son of a former Canadian Armed Forces (CAF) Chaplain and was raised across Canada on military bases in seven different provinces. He has been posted to Victoria, Halifax, and Edmonton and deployed with His Majesty's Canadian Ship (HMCS) St John's on Operation Reassurance in 2017.
In his current role, LCdr Jackson is responsible for supervising Fleet Chaplains in His Majesty's Canadian (HMC) Dockyard while ensuring that chaplains sail aboard HMC ships being deployed on exercises and operations. His career highlights so far include attending Fleet Week in New York City with the crew of the former HMCS Athabaskan in 2016; conducting a remembrance ceremony at the Canadian War Cemetery in Agira, Sicily in 2017; deploying with the Lord Strathcona's Horse Regiment to Latvia in 2020; and most recently participating in the naming ceremony of the future HMCS William Hall.
Outside of work, LCdr Jackson enjoys playing the trumpet and participating in sporting activities such as karate, canoeing and nordic skiing. He also volunteers at his civilian Lutheran Church. A fun fact about him? He appears very briefly as an extra in a brass band in season 13, episode 3 of Agatha Christie's Poirot!
For anyone considering a career in the CAF, he believes it is a rewarding life of service that will challenge you and give you opportunities, experiences, and new skills beyond what you expect.
Bravo Zulu, LCdr Jackson!