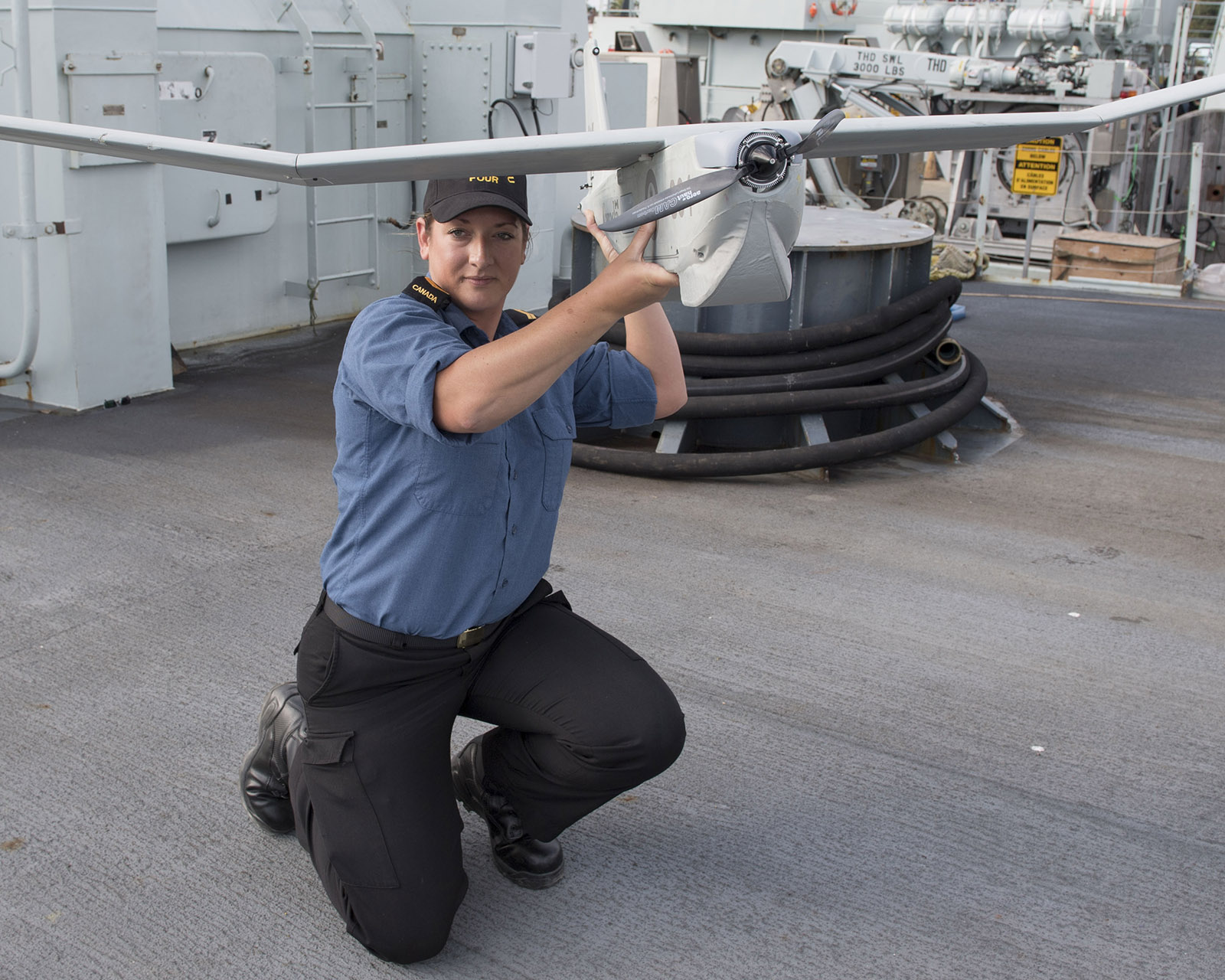 Advanced unmanned aircraft to provide eye in the sky for Kingston-class ships
By RCN
Kingston-class ships are equipped with a visual line of sight intelligence, surveillance and reconnaissance (ISR) capability, but have lacked a similar capability for vessels of interest beyond their visual line of sight.
Enter PUMA, a Maritime Miniature Unmanned Aircraft System (MMUAS) equipped with powerful enhanced optical and infrared cameras that are able to capture still imagery and video.
It is capable of staying in the air for approximately two hours and can fly at an altitude up to 10,500 feet with a range of 20 km (12 nautical miles) providing "over the horizon" intelligence and surveillance capability to the ship.
"With PUMA they're able to detect these vessels, get over the horizon intelligence and surveillance on these vessels so the crew is able to see if there's anything suspect," explained Lieutenant-Commander Atkinson.
It is also equipped with an infrared illuminator. "The infrared illuminator highlights a target of interest. At night, if you were to put on night vision goggles, it would appear as though someone had pointed a flashlight on the ship."
Additionally the system is able to provide higher quality intelligence such as the movement of personnel aboard a ship of interest using its infrared illuminator.
"It helps the Commander then make a decision on how they want to approach, if there any risks, and what the concerns may be."
Another advantage of PUMA is that it can be launched by hand. This is of particular use to the Navy as moving and setting up a launch platform aboard ships is more complex than on land because they need to be bolted to the deck before use.
Since PUMA will be deployed at sea, finding a system that could operate in both the cold and the heat was important.
"RCN ships including the Kingston-class sails in waters of widely varying temperature and solidity, from ice to tropical and desert coast lines."
PUMA will be operated by two new detachments with one on each coast.
The newly minted detachments, comprised of select personnel from the Naval Combat Information Operator and Weapons Engineering Technician trades, recently completed their initial training with Canadian Special Operations Forces Command personnel at 4th Division Canadian Support Base Petawawa.
The three-week course included theory of flight, mission planning, launch and recovery procedures, and flight maneuvers. Although most of the training was land-based, the theory and principals learned on course will seamlessly translate over to PUMA's intended shipborne operations.
"The training and experience gained on the course was unique and specialized," said LS Meghan Heal, of the west coast detachment.
"I'm enthusiastic about the capability that PUMA will now bring, and how we can employ these systems for intelligence, surveillance, and reconnaissance locally and abroad."