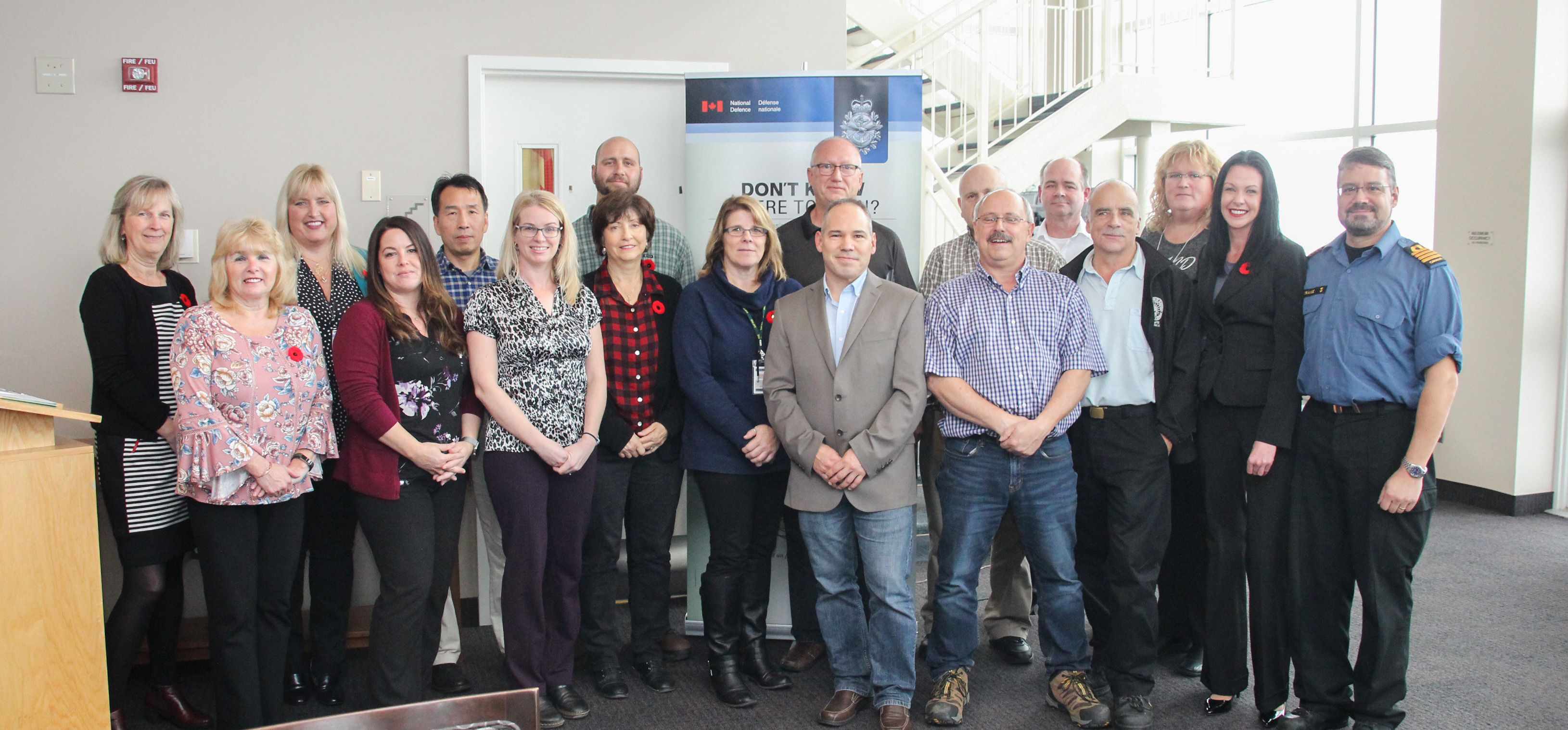 Employee Assistance Program team thanked for their volunteer efforts
By Ryan Melanson,
Trident Staff
The DND Employee Assistance Program has been supporting the wellbeing of civilian members of the defence team for 36 years, and an annual luncheon gathering was held on November 6 to thank the local members of the EAP team for their work over the past year.
"The program was developed by both management and unions, and is still jointly supported by all those who have a vested interest in its success. It helps contribute to a healthy and respectful workplace by taking care of our people," said EAP Coordinator Holly Scothorn, explaining the peer-referral services that are the main function of the program, and that they could not exist without the volunteer referral agents across the formation who take time to help their colleagues when requested.
"Our agents are deeply committed to the wellbeing of their colleagues, and volunteer to perform these referral agent tasks in addition to their regular jobs."
Along with the referral agents themselves, Scothorn also thanked the various managers, supervisors and Commanding Officers who support their people being involved in the program, as well as the unions who support EAP and fund the thank-you luncheon each year. The supporting unions include the Dockyard Trades and Labour Council East, Nova Scotia Union of Defence Employees, Professional Institute of Public Service of Canada, International Brotherhood of Electrical Workers, and Federal Government Dockyard Chargehands Association.
Scothorn also thanked Formation leadership, including RAdm Craig Baines, who attended the luncheon, and MARLANT Chief of Staff Capt(N) Guillaume LaFrance, who helped secure funding for this year's referral agent training, and has also agreed to act as the new local champion for the program.
"I've now become aware of the importance of EAP, and it's been a pleasure to work with Holly and her team to help energize and promote the program," Capt(N) LaFrance said.
"This is a critical function for supporting our employees and for allowing the successes we see across the formation to continue."
The two senior officers, along with union representatives, also used the occasion to sign the local EAP declaration, signifying ongoing support for the program through the next year. The declaration outlines the importance of maintaining the health and welfare of all DND employees, something that is heavily supported by the EAP's system of internal peer-referral services and external short-term counselling through Health Canada Employee Assistance Services.
"Through this Declaration, we wish to indicate clearly to the employees of DND that we endorse the intent and the objectives of the EAP. Together, we encourage employees to make use of these services," it reads.
Scothorn also presented individual plaques and certificates to people who've supported EAP through the year, including her team of a referral agents.
"The reason we do this event every year is to thank the people who work to make the EAP program a reality. We couldn't do it without them," she said.