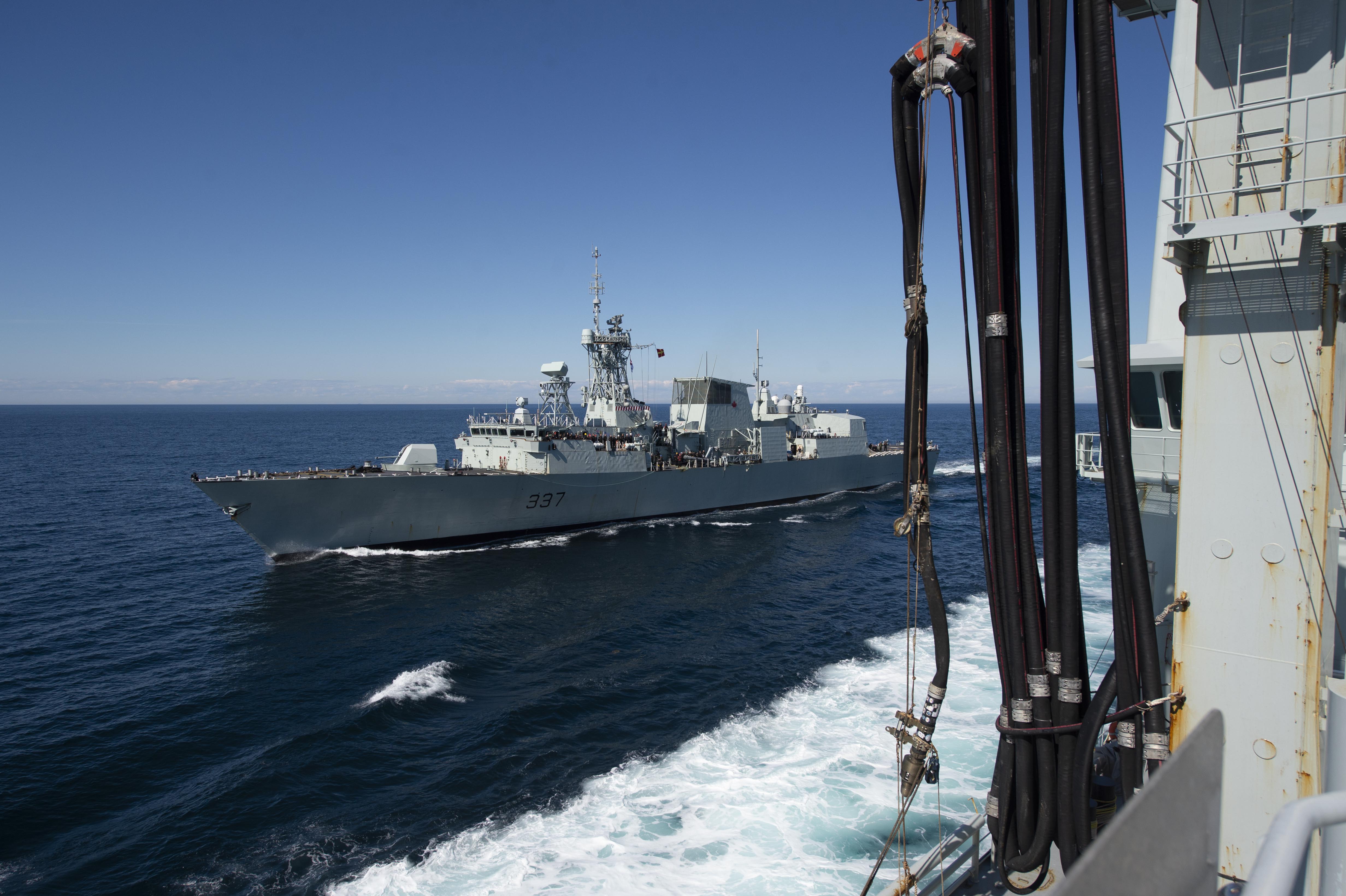 CUTLASS FURY 19 goes forward after storm cancels public events
By Ryan Melanson,
Trident Staff
Communities across Nova Scotia were impacted when the destructive post-tropical storm Dorian made landfall on September 7, and the CAF community was no exception.
The storm came at a particularly inopportune time for Maritime Forces Atlantic, with NATO partners from seven partner nations arriving just days earlier ahead of Exercise CUTLASS FURY, a joint multinational maritime engagement taking place off Nova Scotia and Newfoundland. Public events planned for the weekend, including ship tours and a soccer match, were called off as 15 ships headed to sea to ride out the storm in sheltered waters. Damage to the Halifax boardwalk and the scale of power restoration efforts meant the planned sail past and fly past on September 9 was also called off.
"There's disappointment on all sides. The staff I work with has been preparing for this exercise for more than a year now, and everyone was very much looking forward to this part of it, welcoming the public to the dockyard to see these ships," said Capt(N) Matthew Bowen, the Exercise Director for CUTLASS FURY 19. He added the changes to the schedule and cancellation of some activities was necessary to protect naval equipment, the sailors themselves, and members of the public.
The bulk of CUTLASS FURY, however, continued as planned. The exercise task group sailed out on the afternoon of September 9 to begin exercising off the coast of Nova Scotia. HMC ships Fredericton, Ville de Quebec, St. John's, Shawinigan, and Glace Bay are participating, along with MV Asterix, and RCAF aircraft including CP-140 Auroras, CC130T Hercules, CC-150T Polaris air-to-air refuellers, CH-148 Cyclone maritime helicopters and CF-18 Hornet fighter jets. Visiting ships include members of Standing NATO Maritime Group 1 from the Dutch, Portuguese, Norwegian and Belgian Navies, as well as others from the United States Navy, Royal Navy and Royal Danish Navy. In total, the exercise will include 2,800 participants, 20 ships and 36 aircraft.
Scenarios will be based around a multi-threat environment, with a strong emphasis on air elements; air-maritime integration and support, anti-air defense, air coordination, and air-on-air warfare, including participation in a NORAD exercise called AMALGAM DART 19-2.
Capt (N) Bowen said exercises at sea will also focus on sailors' and ships' ability to work with their counterparts from other countries.
"It's an opportunity to go to sea and practice not-only warfare skills and interoperability with our NATO partners, but also making sure all our procedures are aligned, making sure all our crew our prepared to work together, talk to each other, and understand each other, despite language barriers or potential differences in how different Navies do things."
CUTLASS FURY concluded on September 20 when participating ships come alongside in St. John's, Newfoundland.