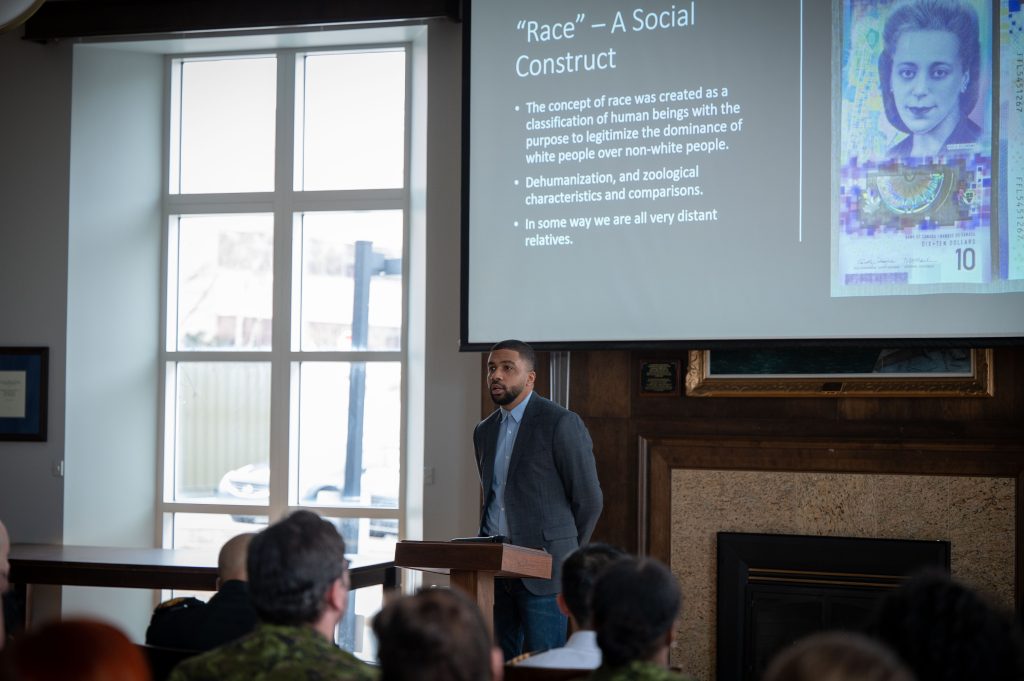 Crowd hears uncomfortable truths at base Black History Month event
By Ryan Melanson,
Trident Staff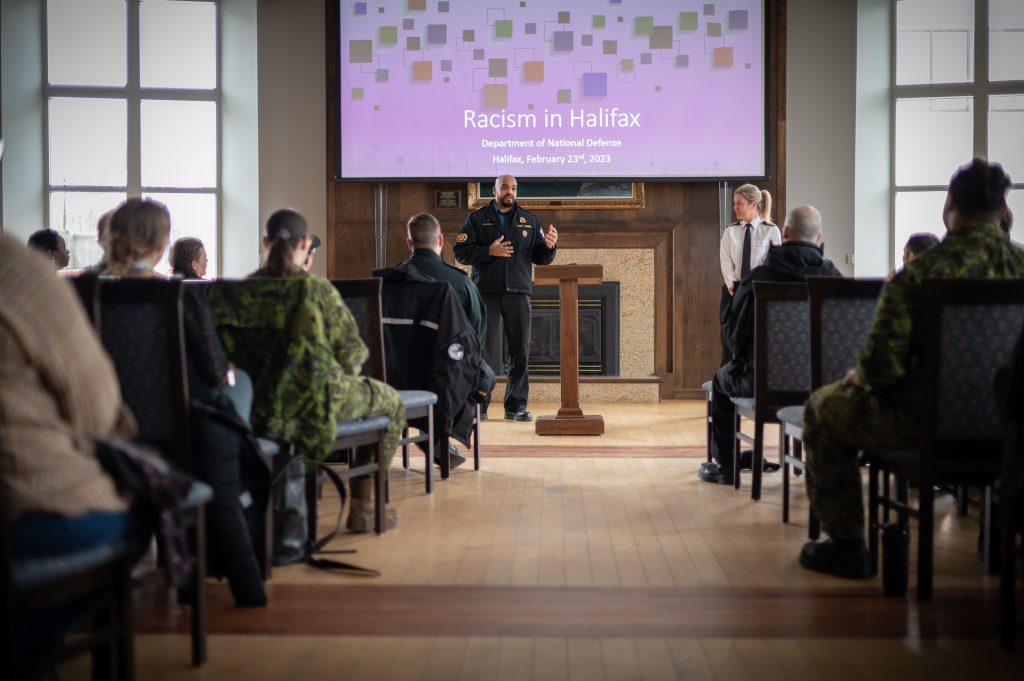 Mr. DeRico Symonds made no apologies for the uncomfortable, but necessary, information he was about to share as he took to the podium at Juno Tower.
Symonds, a well-known community advocate for racialized and marginalized groups in Nova Scotia, as well as current Senior Executive Advisor in Nova Scotia's Office of Equity and Anti-Racism Initiatives, was the keynote speaker at a Black History Month event held on February 23.
While his presentation, held in a packed room of CFB Halifax and MARLANT members, covered anti-black racism in Halifax today, it also included historical elements explaining the development of race as a social construct and the progression of racism in Nova Scotia. He outlined the waves of migration that increased the Black population in Nova Scotia beginning in the late 1700s, through to the forced displacement and other unfair treatment of Black people in Nova Scotia in the 20th century, including the infamous destruction of Africville.

He also delved into the experience of Black Nova Scotians today, which include the generational impacts of racism leading to things like high unemployment and poverty rates, as well as disproportionate targeting by police, among other issues. He encouraged all in the room to be aware of and stay engaged with issues impacting Nova Scotia's marginalized communities.
"There are folks in the room who have the privilege to dip their toe into this conversation, and if it gets a little uncomfortable, you never have to talk about racism again if you don't want to. I will be engaged, and experience racism, whether I like it or not," he said.
The audience also heard from members of the command team for the future HMCS William Hall, who introduced Symonds and gave a brief update on the ship, which is expected to be delivered to the Royal Canadian Navy later this year.
The ship is named after a Canadian naval hero and the first Black Canadian to be awarded the Victoria Cross. CPO1 Brent Williamson, the unit's cox'n, said receiving his posting to HMCS William Hall was a significant moment.
"For me, to be part of the crew and to be the Coxn of a ship named after such a historical figure, is a very proud moment for me in my career, and I hope the ship will bring proud moments for other Nova Scotians as well, particularly Black Nova Scotians."
The unit has been meeting with Black-led organizations in Nova Scotia for advice on decorations and memorabilia for the ship's interior. The hope is to highlight William Hall himself, but also to identify other individuals whose stories may be appropriate to showcase on board.

"We want our sailors to be walking through our ship and taking in information and seeing some important Black figures from Canadian or Nova Scotian history," added CPO1 Williamson, who was joined at the event by William Hall's Executive Officer, LCdr Danielle Lapham.
The Juno Tower event was put together by the MARLANT Defence Visible Minorities Advisory Group (DVMAG), and the group's civilian co-chair, Rene Gannon, was on hand to thank her DVMAG colleagues for helping to make the day possible, as well as thanking the large number of base personnel who attended.