Racers push through mud and rain at PO2 Craig Blake Memorial Fitness Challenge
By Ryan Melanson,
Trident Staff
It was a cold, wet and very muddy morning at MacDonald Beach in Shearwater, but that didn't stop more than 150 athletes from showing up and pushing their limits at the 2018 PO2 Craig Blake Memorial Fitness Challenge on September 28.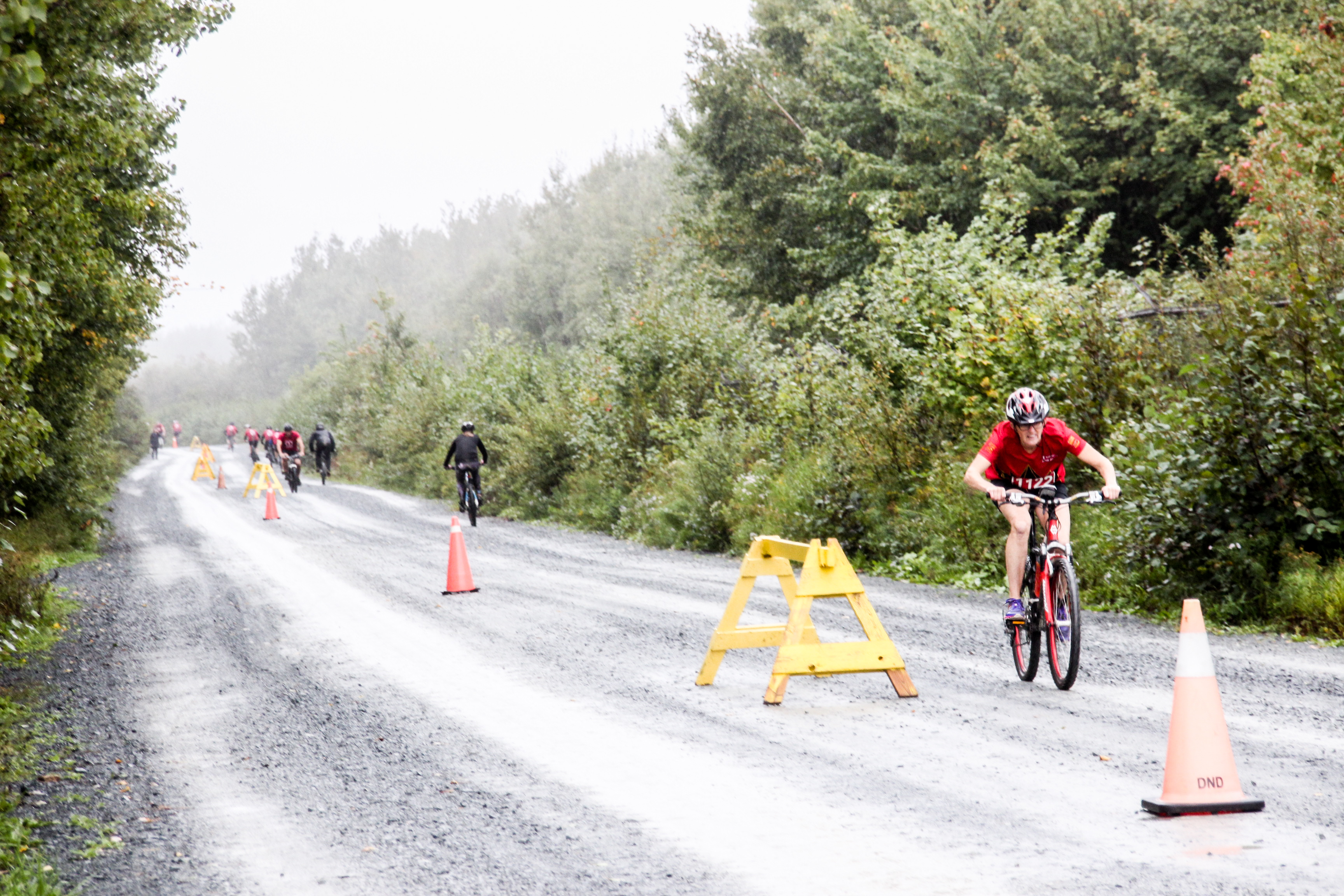 The mini-triathlon has been held each year since 2011 in honour of PO2 Craig Blake, a clearance diver who was killed in Afghanistan in 2010 by an improvised explosive device. He was known for being an avid athlete, and frequently competed in triathlons. The Memorial Challenge involves completing a 300-metre swim, a 6.5-kilometre mountain bike, and a two-kilometre run through the MacDonald Beach course. Many choose to split the three components up and compete as a team, while others challenge themselves to complete the entire race as an individual.
PSP Halifax's Wally Buckoski, who knew PO2 Blake as a regular at the Shearwater gym, was the emcee for the race. He described PO2 Blake a dedicated family man who was inspirational in his commitment to his career and his physical fitness. He also noted that that PO2 Blake was one of the founders of the local CFAST swim team.
"He loved fitness and he loved to work hard, that's why I know he's watching over us and decided to really make it a challenge this year with the rainy weather," Buckoski said.
PO2 Blake's wife Priscilla attends the race each year, and was joined this year by PO2 Blake's brother Chris, who travelled from Ottawa with his two sons for the event. Priscilla Blake and Chris Blake completed the race as a team together with friend Christine Cosgrove, while PO2 Blake's two nephews, Cole Blake and Aiden Blake, competed as individuals, finishing in 18th and 22nd place respectively.
As usual, members of Fleet Diving Unit (Atlantic) were out in force to pay tribute to their former colleague, and also logged the fastest finishing times in the team category with team Get Rich or Die Tri finishing the course in 28:34, as well as the COTW/COTF/Wing Cup category with the FDU(A) team finishing with a time of 29:40. Participants were all invited to a reception at FDU(A) following the event.
"It means a lot to us that so many people braved the weather and came out to participate," said LCdr Patrick Fournier, the Commanding Officer of FDU(A).
"Craig was an absolutely elite member for us at the Fleet Diving Unit. Anyone who knew him, ran with him, or got beat down by him in as an instructor, knows that he was a fitness machine."
Organizers thanked PSP Halifax staff for their hard work in successfully pulling off the event once again, as well as Tim Hortons and Subway for providing lunch, along with other sponsors including Lasik MD, Via Rail, Alexander Keith's, Babcock, and the Atlantica Hotel.
Top finishing times:
Individual male
LS Ryan Comeau (30:51)
LCdr Kharim Schliewinsky (31:59)
MS Stewart Riggs (32:18)
Individual female
Lt(N) Natalia Borszczow (40:19)
WO Charlene Arsenault (42:20)
NCdt Arina Bokov (43:32)
Team
Get Rich or Die Tri (28:34) – swimmer LS Chris Trufal, biker LS Dylan Parker, and runner LS Kyle Groinus.
2 Mechanics & an Eng (29:33) – swimmer Emily Secord, biker Jim Rankin, and runner Jonathan Conrad, all FMF Cape Scott employees.
Training Never Stops (29:37) – swimmer LS Evan Gilbert, biker LS Bradley Northrup, and runner PO2 Marcel Croteau.
Team – COTW/COTF/Wing Cup
Fleet Diving unit (Atlantic) (29:40) – swimmer LS Mark Littler, biker MS Josh Oldford, runner LS Mike Laphen.
HMCS St. John's (32.51) – swimmer Cdr Peter Sproule, biker PO2 Katarzyna Danigier, runner LS Cody Pearson.
Asterix (33:00) swimmer MS Ryan Macneill, biker MS Daniel Laurenti, runner LS Benjamin Busch-Ander.
RYAN MELANSON, TRIDENT STAFF
Caption 2
Swimmers hit the water at MacDonald Beach for the 300-metre swim portion of the mini triathlon.
RYAN MELANSON TRIDENT STAFF
Caption 3
WO Charlene Arsenault heads up the trail during the mountain-bike portion of the race.
RYAN MELANSON, TRIDENT STAFF
Caption 4
MS Corey Bilodeau, a member of the Tight Straps team, approaches the race finish line after completing the two-kilometre run.
-30-