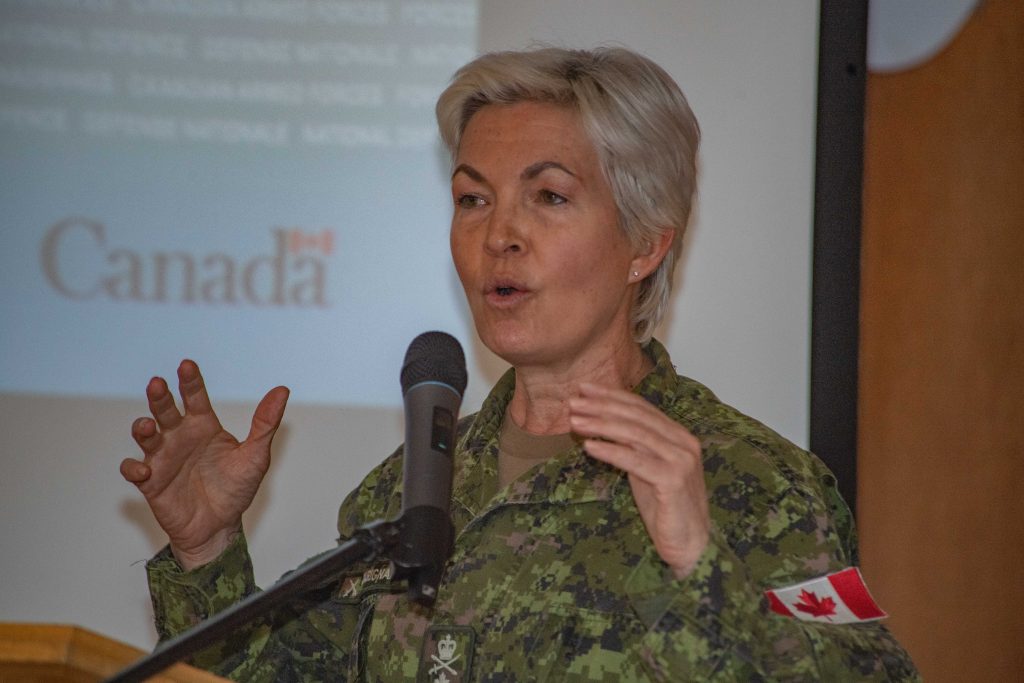 Conduct and Culture chief says 'culture is every one of us'
By Ryan Melanson,
Trident Staff
The command team for the group tasked with leading the Canadian Armed Forces' cultural transformation was recently in Halifax for workshops, group discussions and town halls with sailors and other local CAF members, while also highlighting current initiatives and work that has taken place over the last two years.

The Chief, Professional Conduct and Culture (CPCC) organization was stood up in April 2021. Under the leadership of Lieutenant-General Jennie Carignan, CPCC has been working since then to understand the factors that drive and shape CAF culture, and the work needed to modernize the institution.
News coverage may focus on instances of inappropriate sexual behaviour or harassment and how the CAF is changing its response to those situations, but LGen Carignan explained that CPCC's work is all encompassing and relevant to all CAF members.
"A key message for all is that culture is every one of us, and one of the biggest ways our culture impacts us is simply how people treat each other every day," she said.
The CPCC organization is unique, she added, because of its sole focus on culture, taking work that was once happening piecemeal across DND and steering it all under one focused umbrella.
The group's early work focused on extensive research and consultation, and those efforts will be ongoing. For instance, the recent sessions in Halifax explored differences in identity for members in various roles, and how that shapes both individual careers and the larger CAF culture.
But even with the continuing nature of the work, LGen Carignan noted that many initiatives and changes have already been established – they exist under multiple commands and across different areas of the CAF, but all are being monitored and evaluated by CPCC.

"CPCC is not doing this on its own," she said. "This is a whole defence undertaking – bottom up, top down, and horizontally across the CAF."
These include efforts like an expansion of restorative services for victims of inappropriate sexual behaviour; support teams to modernize our approach to training new recruits; expanding resources and strengthening the network of Defense Advisory Groups; and coaching programs for current and future leaders, focused on the people skills necessary to manage conflict inclusively, with empathy and compassion.
CPCC also had a role in developing the new CAF Ethos: Trusted to Serve. The new operational guide, released in 2022, puts a focus on the respectful behaviour required for the CAF to build and maintain credibility and trust among its members and the general public.
The Conduct and Culture page on Canada.ca includes a Conduct and Culture change progress tracker with a detailed account of all initiatives and their progress so far.
LGen Carignan stressed that despite progress made to this point, the work has only just begun. It's also her hope that the success of initiatives over time, and the evolution of CAF culture in a positive way, will help encourage those who might be skeptical of CPCC's mission.
"We have to include all voices, and hear from folks who are skeptical, as they should be. It's a good thing to take a critical look at the issues in front of you," she said.
"There is no end state to culture. We have to remain consistently vigilant, we need to have a feedback loop to understand the challenges, and we need to constantly adapt with the changing environment."