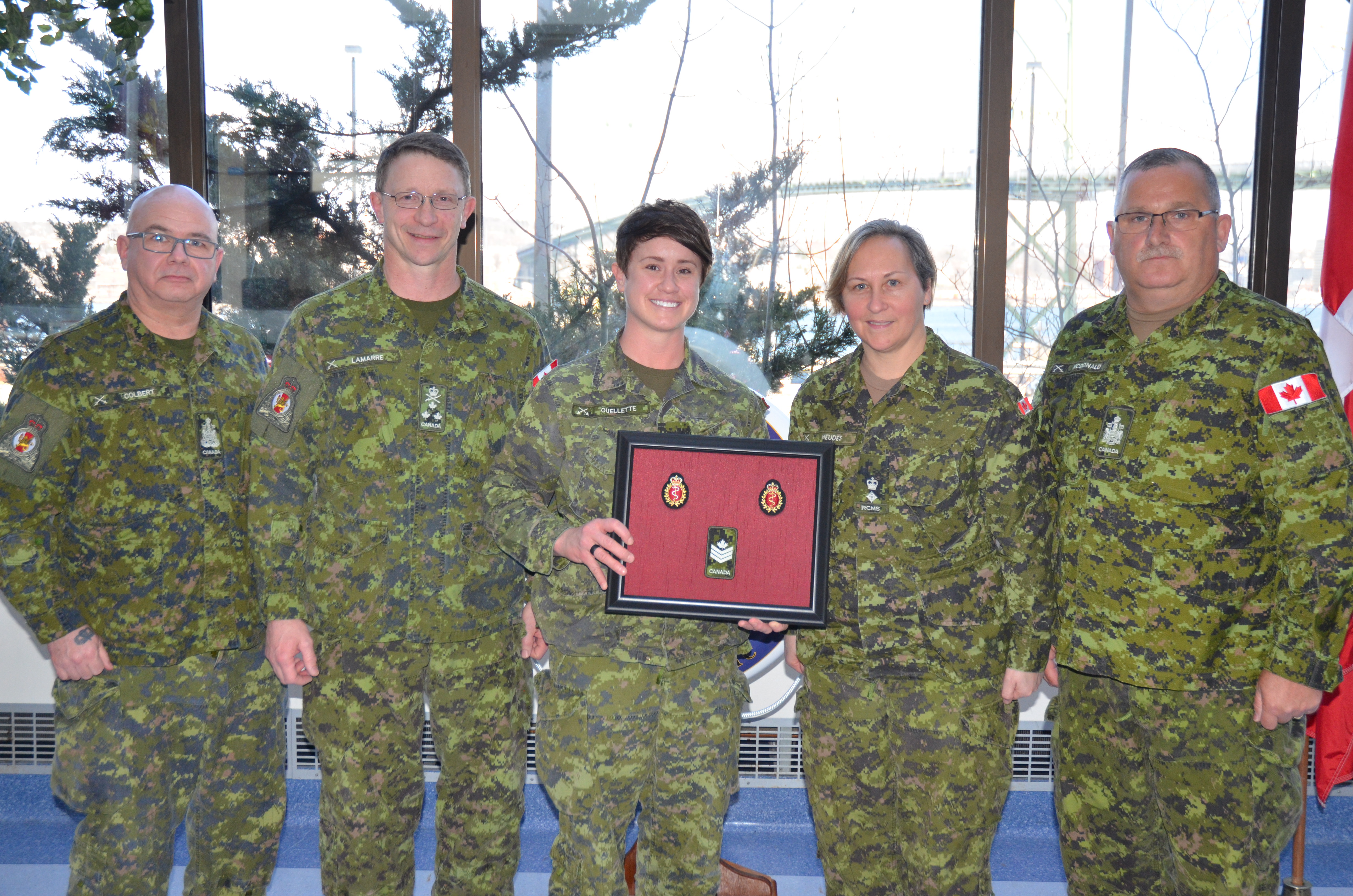 Commander Military Personnel Command visits CF H Svcs C (A)
By Lt(N) Kristian Cunningham,
CF H Svcs C (A)
On Monday April 29, CF H Svcs C (A) was honored to receive a visit from Commander Military Personnel Command (CMPC) LGen Charles Lamarre, CMM, MSC, CD. After a visit, which included a town hall, to Halifax Transition Centre LGen Lamarre had a tour of Halifax & Region Military Family Resource Centre, to gain a personal exposure to the units that support the professional, social, and personal well-being of CAF personnel and their families in the MARLANT Area of Responsibility.
On completion of these visits, LGen Lamarre proceeded to visit CF H Svcs C (A) at the Archie McCallum building (S80). LGen Lamarre then held a round-table discussion with the unit's Command Team including Commanding Officer LCol Heudes, MPC CWO CWO Colbert, and the unit RSM, CWO McDonald, to highlight the unit's initiatives to meet the challenges of providing health services to MARLANT.
Following the Command round table, LGen Lamarre was given a tour of the unit where he engaged various military personnel and public service employees. Throughout this tour health service subject matter experts were able to deliver a close up and personal knowledge of myriad health service related matters and operations such as Care Delivery Units, Mental Health, Preventative Medicine, Fleet Support, Diagnostic Imagery, Specialty Services, Pharmacy, Dental Care, Laboratory Services, and Physiotherapy.
LGen Lamarre concluded his visit by hosting a town hall which began with the promotion of three CF H Svcs C (A) personnel: MCpl Ouellette promoted to Sgt, Pte B Hickey promoted to Pte T, and Pte B Fortin promoted to Pte T. Following the promotions, LGen Lamarre addressed the unit during which he communicated the challenges Health Service Group faces and the changes its members can expect as CF Health Services moves towards a modernization program in the near future.
CMPC's visit served to ensure that MARLANT Health Service concerns remain a priority for CMP as well as facilitating CF H Svcs C (A) personnel's situational awareness regarding national level Health Services initiatives.