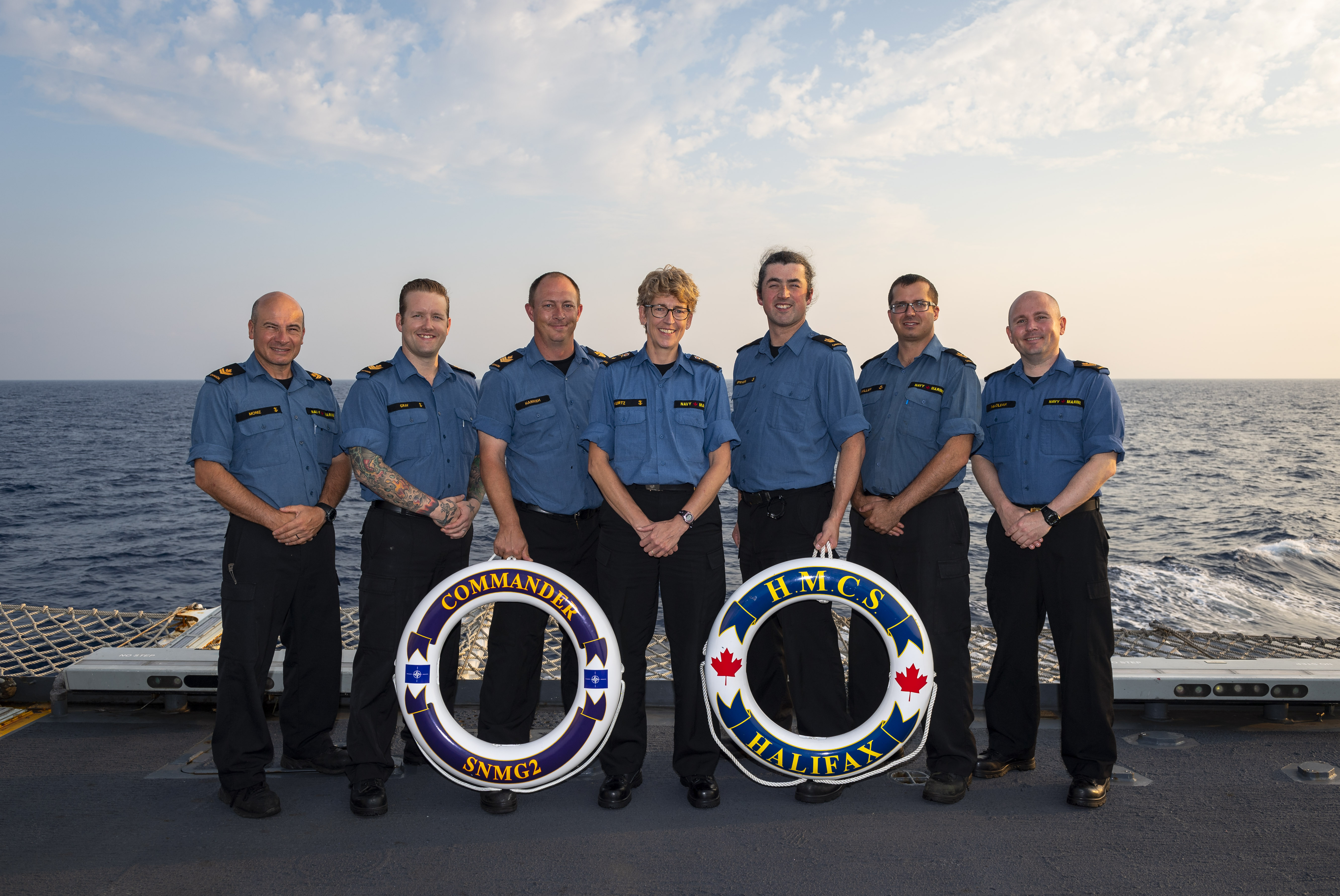 RCN community remains strong onboard HMCS Halifax
By Lt(N) Stephanie Bengle,
UPAR, HMCS Halifax
Members of the Royal Canadian Navy (RCN) often describe their service as a community. Their members have opportunities to work with each other through different stages of their careers, frequently seeing their colleagues and friends surpass multiple career milestones.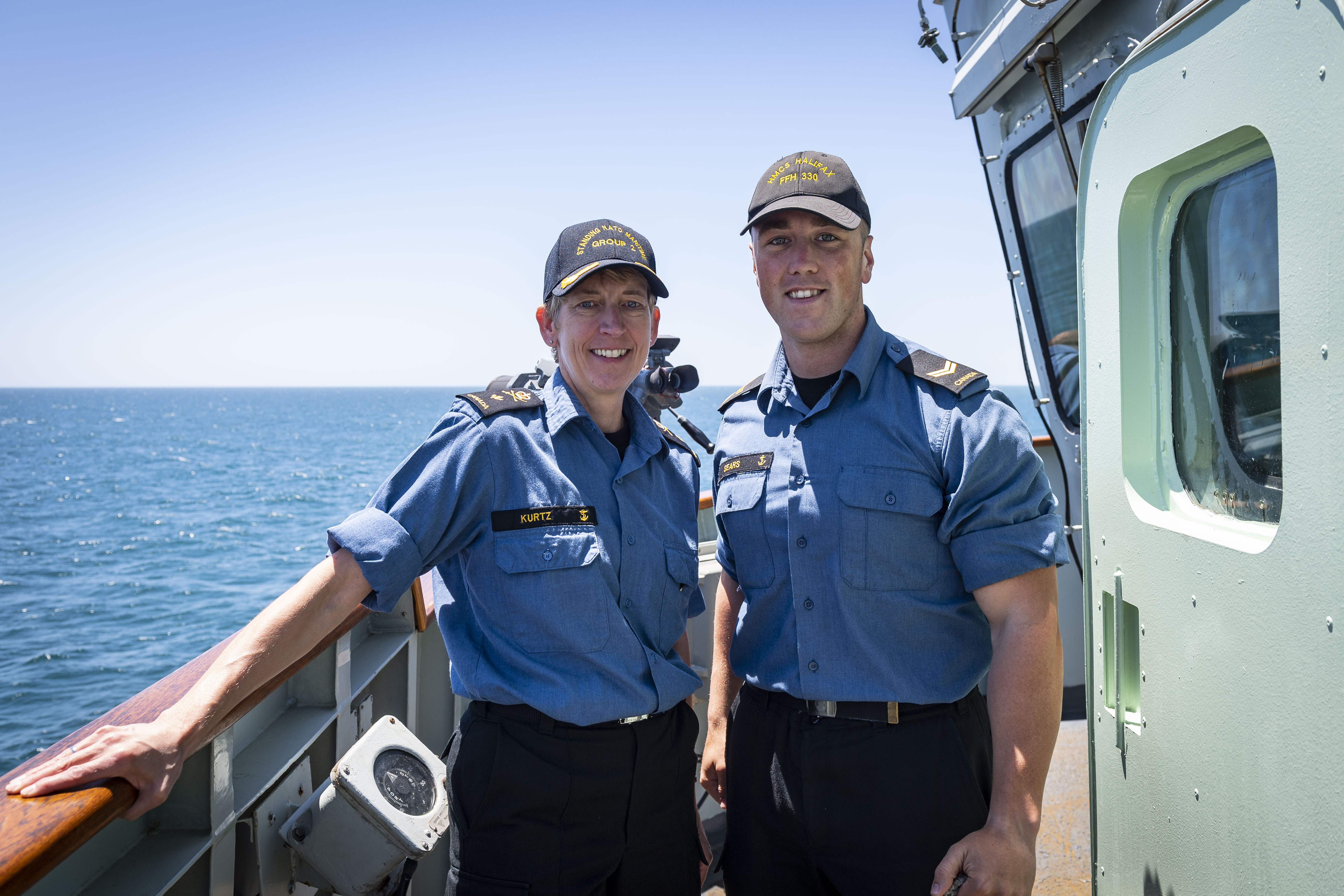 It is through this cycle of working with each other during various points in their jobs, that RCN members build a sense of community and a family dynamic – with each member proud to be part of their team. You don't need to look further than HMCS Halifax, currently deployed on ROTO 11 of Op REASSURANCE, to see a clear example of this.
In 2009, Cmdre Josée Kurtz became the first woman to command a major warship when she took command of HMCS Halifax. During this time, there were six sailors who served as part of her crew, who did not know that their paths would cross again. Ten years later, those six sailors have the chance to serve again with Cmdre Kurtz as she commands Standing NATO Maritime Group 2 (SNMG2), with HMCS Halifax operating as Flagship. For Cmdre Kurtz, another career milestone has been achieved, as this is the first time a standing NATO fleet has been commanded by a woman. The six sailors who once sailed under her command are inspired by seeing her come full circle and they are excited to be sailing with her again as they watch her achieve yet another career breakthrough.
The story goes both ways. Cmdre Kurtz has described her experience as being equally enjoyable, seeing the progression sailors have made in their trades over the past 10 years. She recalls having been their Commanding Officer when many of them were much more junior in their positions, and how rewarding it is to see them again proudly serving their country, and demonstrating their growth and expertise within their professions.
"I am always motivated by the work and contribution of sailors in a ship's company. To witness the leadership and dedication of former shipmates rewarded by their achievements and career success is even more exhilarating. I am simply delighted to have the opportunity to work together onboard Halifax again."
To build on the family dynamic, LS Joshua Sears, a Naval Electronic Sensor Operator in HMCS Halifax, recalls that his mother sailed with Cmdre Kurtz back when she had command. His mother, Susana Sears, a Master Seaman Naval Combat Information Operator at the time, has fond memories of sailing under the command of Cmdre Kurtz in 2010 which she shared with her son. "Throughout my mother's career, her favorite ship was HMCS Halifax while under the command of Cmdre Kurtz. When she spoke of Cmdre Kurtz, she admired the way she was with her crew, that she was fair, just, honest, and how every crew member was important to her. It is a privilege to have the opportunity nine years later to follow in her footsteps and to sail under her former CO that she held in such high regard."
MS Marco Moniz, a Boatswain's Mate on board Halifax, is a particularly proud member of the unique group, not only has he sailed for Cmdre Kurtz before, but he and Cmdre Kurtz hail from the same region of Lanaudière, Québec.
"It's a lot of small towns and communities where we come from, so everyone knows each other. We both enjoy supporting our local community and representing Joliette and Lanaudière in uniform. It's pretty special to be a part of the Cmdre's team again," he said.
PO1 Patrick Stevens, a Sonar Operator, remembers when Cmdre Kurtz was his Commanding Officer.
"She always emphasized the importance of the team as the foundation of our operations."
The cohesive working dynamic and sense of community within the RCN is something that many sailors are proud to be a part of. This remarkable story from HMCS Halifax about teamwork, unity, and supporting members through various stages of their careers is one to be shared. As the crew members of HMCS Halifax continue to remain focused on the tasks of Op REASSURANCE, one cannot help but admire the progression of these members and the history that has been made during this deployment.