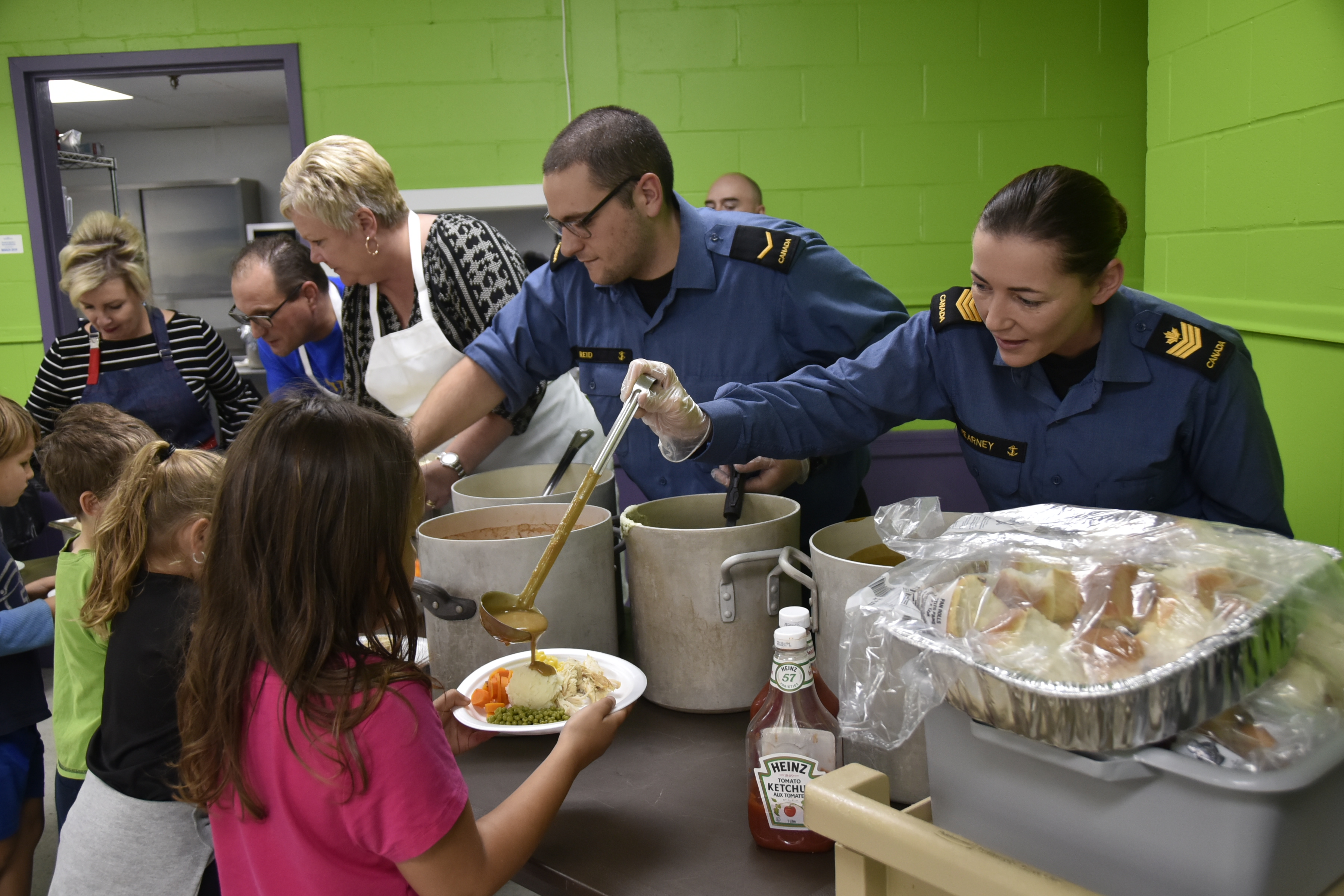 Helping those who help in our community: CFB Halifax and Ward 5
By Haley Cote,
CFB Halifax Public Affairs Student
CFB Halifax headquarters is located on its Stadacona property, in Halifax's North End neighbourhood. While much of the Base's work is done within the confines of its perimeter wall, its members are very active and engaged within the North End Halifax community. Doug Macdonald, executive director of Ward 5 Neighborhood Centre, can attest to this fact!
Ward 5 is a non-profit organization that serves the North End Halifax community in a variety of ways, with the ultimate goal of improving the quality of life for those in need by providing important resources. Since Ward 5 was founded in 1970, CFB Halifax has been connected to the organization, beginning with the non-profit using one of the Base's old mess buildings after its original headquarters burnt down in the 1970s. Over the years, CFB Halifax's connection to Ward 5 has grown and allowed for greater involvement within the community. Presently and for the past number of years, the Commanding Officer (CO) of Base Logistics (BLog) has sat on Ward 5's board of directors and members within BLog have offered their time and skills to assist the organization year-round.   
"The relationship between BLog and Ward 5 is one that our members cherish very much," explains Cdr Chalmers, BLog CO. "It's nice to be able to give back in your own community, and it's equally important for our members to see the great work that's being done by local organizations to improve the lives of our neighbours. We can't say enough about the impact Doug and his team at Ward 5 have had on people of all ages in this community, and we are honoured to be able to help them out wherever we're needed."
Many of Ward 5's programs come by way of requests, allowing them to truly meet the wants and needs of community members. The organization often hosts community events and services such as holiday dinners and block parties. They provide programs for children such as a breakfast program, a day camp program and an afterschool program. Ward 5 also provides resources for seniors, including a lunch program, a food delivery service known as Meals on Wheels and much more.
BLog personnel often provide logistical support to Ward 5, such as delivering chairs and tables to many of their events. They also provide military personnel to set up and serve during events and help with the clean-up. Moreover, CFB Halifax is known for doing odd jobs for Ward 5. Whether it's shoveling snow, building wheelchair accessible ramps or unloading pallets – anything Ward 5 needs, Defence Team members are there to help! Doug is very grateful for all of the support Ward 5 receives from CFB Halifax, expressing gratitude for their help and for their ability to work with efficiency and grace.
"We have been very blessed with military board members and a very long history of involvement from the Defence Team," explains Doug. "We feel very lucky to have them as one of the biggest resources in the community. And when we can, we certainly try to be there for them when they need us."
Ward 5 Neighborhood Centre is genuinely dedicated to serving the entire North End community and CFB Halifax, as part of that community, is always ready to help in any way possible.