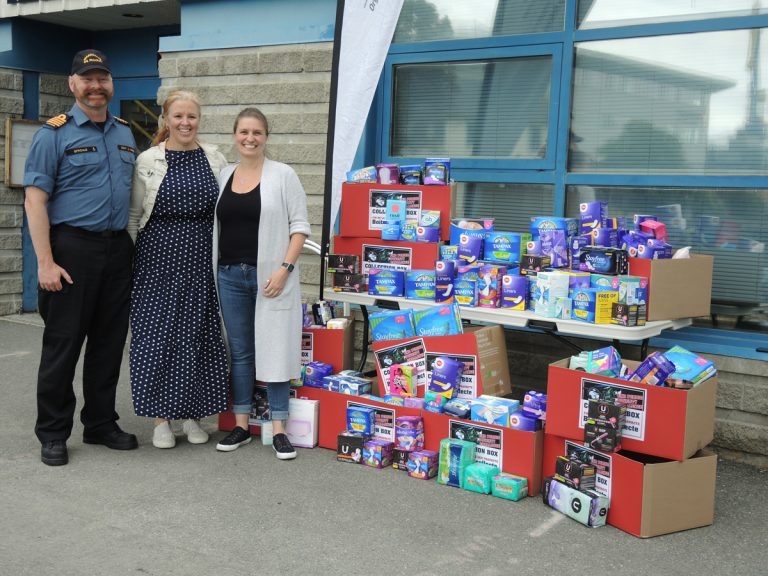 CFB Halifax comes out on top after Period Poverty challenge
By Peter Mallett,
The Lookout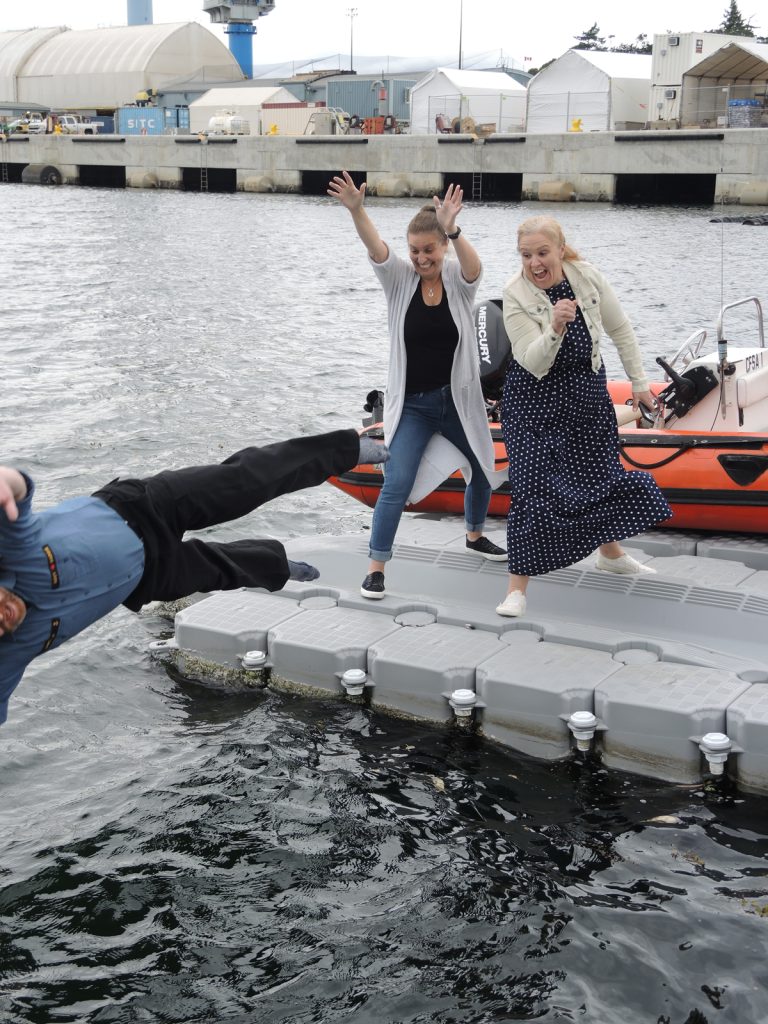 Captain (Navy) Peter Sproule was in positive spirits about being tossed into the chilly waters of Esquimalt Harbour on a cool and grey day.
The Chief of Staff for Maritime Forces Pacific (MARPAC) was in full uniform when he made his big splash into the 11℃ water from the end of the Small Boats Jetty in Naden on June 16. The salt-water soaking was to honour a bet made between local organizers of the Period Poverty charitable campaign and their rivals at CFB Halifax.
"After finding out about this campaign and how much of a positive effect it could have on women in our wider community, I was of course happy to do my part and agree to this," said Capt (N) Sproule. "At the time I volunteered, I was confident that we could beat Halifax so I really thought I would be staying dry."
Vanessa Nicholson of MARPAC and Holly Scothorn of Maritime Forces Atlantic, the Civilian Co-chairs of the Defence Women's Advisory Organizations (DWAO), made the wager in April.
After posing for a few photos, Nicholson and MARPAC DWAO Military Co-chair Capt Patricia Laing gave the big push, which landed Capt(N) Sproule in the water. As a safety precaution, the Naval Security Team members looked on from a nearby patrol boat to ensure things went smoothly. After emerging from the water briefly, Capt(N) Sproule surprised onlookers by jumping in for a second time just for fun.
The contest involved a month-long campaign during May to see which base could collect the most menstrual hygiene products. Ultimately, Halifax more than doubled the number of donations made by Esquimalt.
Nicholson, Employment Equity, Inclusion and Diversity Coordinator and Esquimalt Period Poverty campaign organizer, was upbeat about MARPAC losing the bet to Halifax.
"This is a loss but one that sits well with all involved," said Nicholson. "Together, the two bases raised 36,382 products to help our fellow Canadians and that is truly amazing."
Despite the fun of the Harbour Toss involving Capt(N) Sproule, Nicholson says the issue of period poverty remains a grave public health concern.
"When menstruators resort to unhygienic alternatives, they are vulnerable to harmful physical and mental outcomes," she said. "Products like rags, paper towels and reused pads put them at heightened risk for infections. Not having access to clean products can impact their attendance at school, work, and other social functions, resulting in feelings of isolation and shame."
While this year's Period Poverty campaign has concluded, donors are encouraged to support local food banks and donate menstrual hygiene products.
Nicholson says a rematch of this year's contest is already in the works while also issuing a stern warning to her rivals on the East Coast.
"CFB Halifax better watch out because we are coming for their title next year," she concluded.