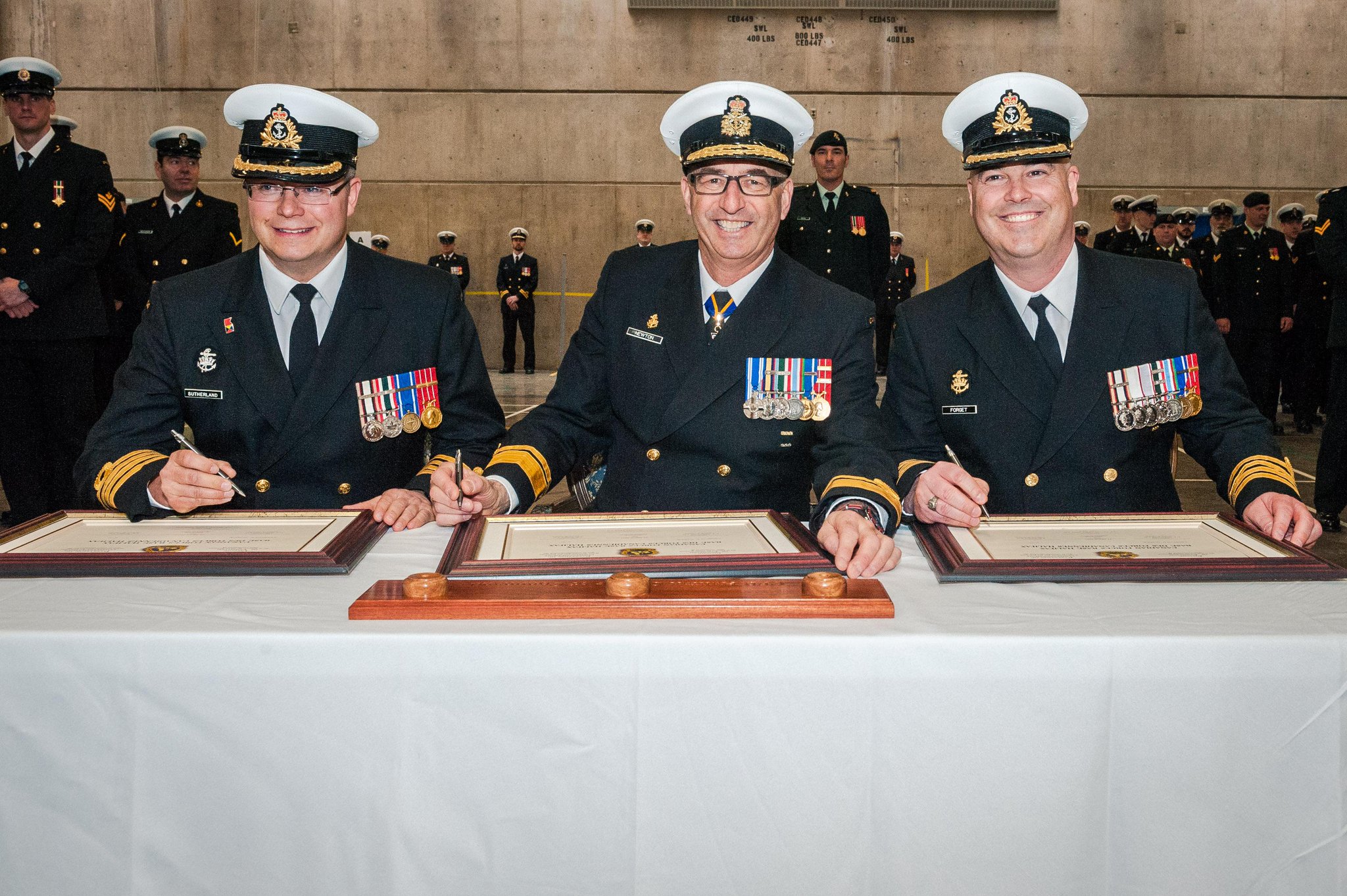 CFB Halifax welcomes Capt(N) Paul Forget as new Base Commander
By Ryan Melanson,
Trident Staff
CFB Halifax welcomed a new Base Commander on March 31, with senior leaders from across Formation Halifax, as well as representatives from local government, Halifax Regional Police and Halifax Regional Fire and Emergency, gathering at HMCS Scotian for the official Change of Command ceremony.
Command of the base was transferred from Capt(N) Chris Sutherland, who'll now be posted to Ottawa as the Career Manager for Senior Officers, to new Base Commander Capt(N) Paul Forget, who most recently served as MARLANT Chief of Staff.
In an emotional final address to the men and women of CFB Halifax, Capt(N) Sutherland recalled the feeling of returning to Halifax in 2015 as a bit of a stranger after five years away, even getting stopped by the Military Police on his first day. He compared it to the present day, where he feels at home in the city and has developed close personal connections to the many people who keep the base running smoothly from day to day.
"I remember how difficult it was when I gave up command of HMCS Montreal, it was very hard to say goodbye to 200 people who I really cared for, but today I have to say goodbye to many, many more," he said.
As someone who has been open about his past struggles with addiction and mental illness, and the importance of CAF members seeking help for such issues, Capt(N) Sutherland said he was especially proud of work focused on the physical, mental and spiritual health of base personnel. He specifically mentioned the Sentinel Program, a peer-to-peer initiative that encourages junior ranked members to support each other in dealing with mental health issues and reaching out to the many available resources. He also noted the CFB Halifax Positive Space Working Group, which was established in 2016 after being proposed by a small group of dedicated military and civilian members of the base.
"As a result of their hard work, CFB Halifax became the first Canadian Armed Forces unit to establish this incredible program, which provides support to all personnel, including LGBTQ+ DND community members," he said.
The outgoing Base Commander was also presented gifts at the ceremony, including a plaque from the Navy League of Canada for his support to Sea Cadet programs, as well as a framed Ottawa Senators jersey from the presidents of each base mess committee.
RAdm John Newton, Commander MARLANT and JTFA, lauded Capt(N) Sutherland for excelling in a difficult and demanding role, giving credit for progress made on the contentious issue of base parking, as well as his role in representing the CAF in the wider HRM community, through relations with local government and involvement with local boards, agencies and community groups.
"He had a responsibility to ensure we're a good neighbour to the city," RAdm Newton said. "The work of the base commander is not easy, and it's tough to say goodbye to someone who so gracefully did the job."
And while he knows there's a big job ahead, Capt(N) Forget called it an honour to be taking command of one of Canada's largest military bases, and indicated he's eager to get to work.
"But today, it's not about me," he said, after signing the paperwork and officially assuming command of CFB Halifax. In taking over the position from Capt(N) Sutherland, who he's known for nearly 30 years, he said he'll be building on and furthering the excellent work that's already been taking place.
"Capt(N) Sutherland's efforts at improving CFB Halifax on so many levels won't be forgotten, and I can't thank him enough for that. He was a force for positive change, and one that seemed to be omnipresent in everything going on across the base. It was fantastic to watch him work and I've got tough shoes to fill, but I'm certainly up for the challenge."