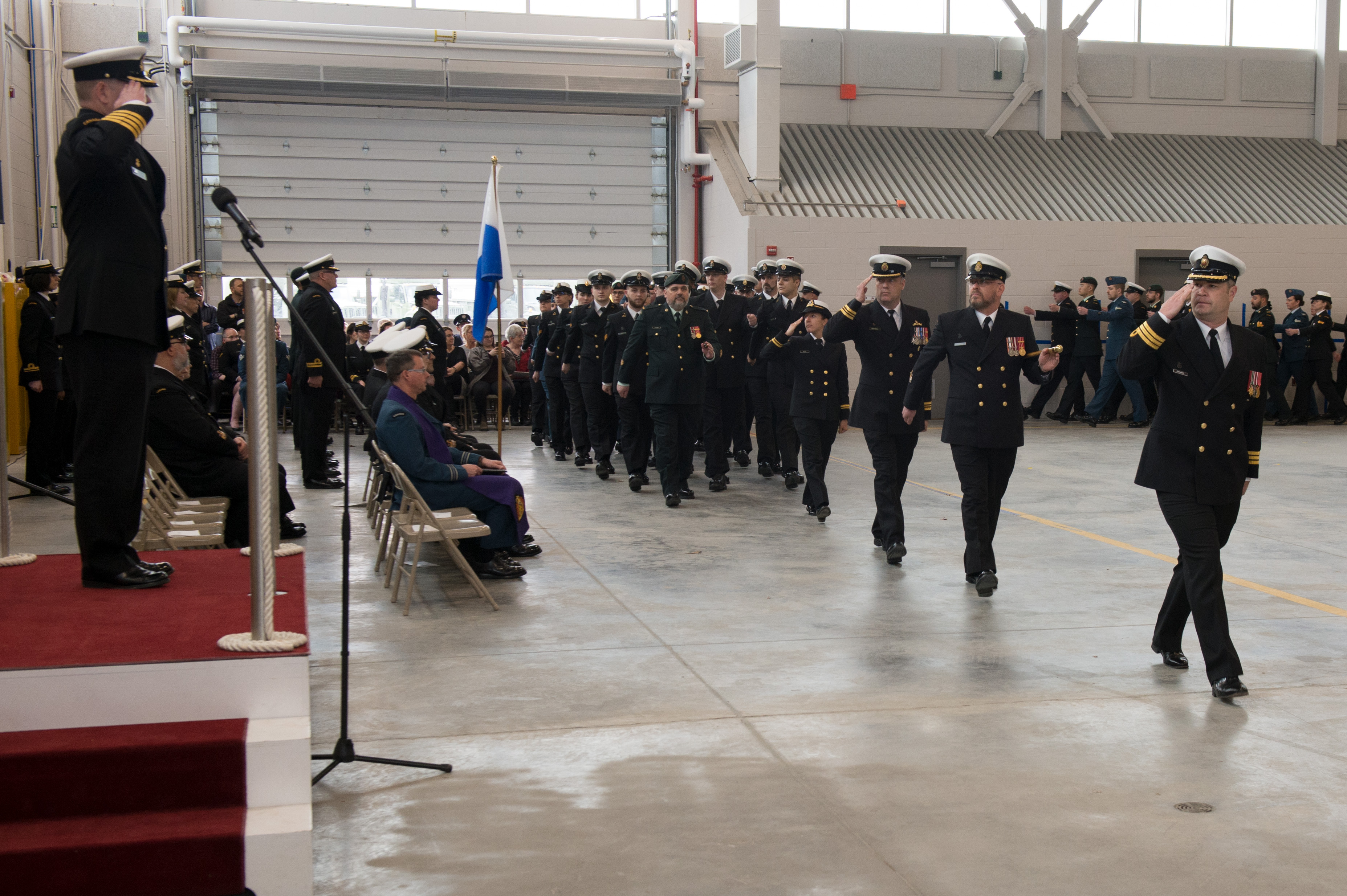 CFB Halifax gathers to celebrate success and prepare for the year ahead
By Ryan Melanson,
Trident Staff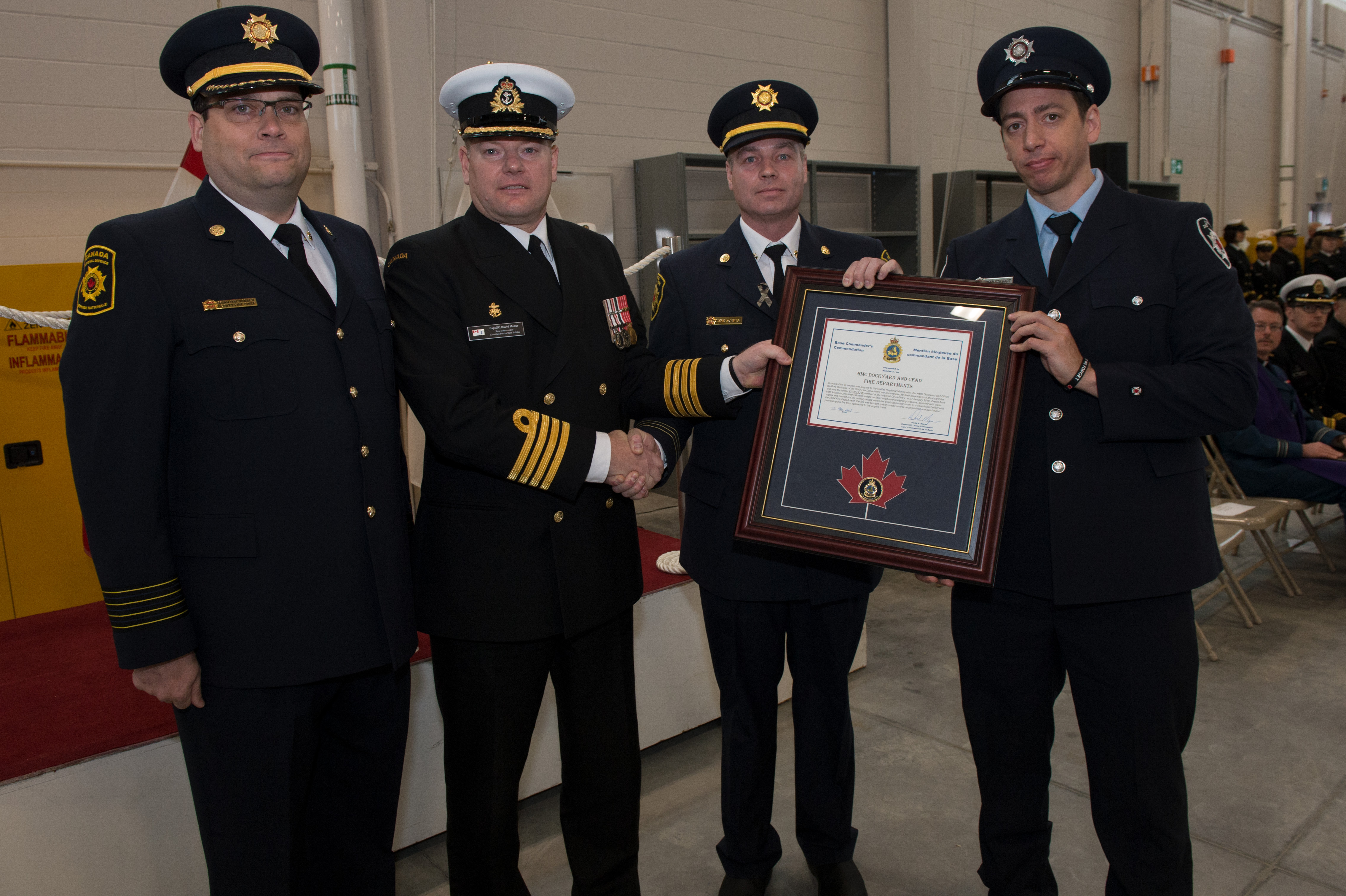 Since taking over as Base Commander of CFB Halifax nine months ago, Capt(N) David Mazur said he's found a lot to be proud of. The shore personnel of CFB Halifax have supported the deployment of seven RCN ships during that time, the base brought a new accommodations block online with Tribute Tower, and entities like BLog, BIS, BCompt, BAdm and others have all had noteworthy successes worth celebrating at the unit level.
What the Base Commander found, however, is that he had no good avenue for recognizing unit or personal accomplishments and for commending his people for the hard work they do each day. This was part of the reason for the return of Base Divisions, which haven't been held regularly at CFB Halifax in recent years. The first was held at the new Willow Park Armoury on April 17, with CAF members from all three elements on parade, and Capt(N) Mazur said Divisions will continue to be held quarterly going forward.
"The base is an extremely large organization, it's high performing and it has a diverse workforce. It's important, in my opinion, to get together every now and then to celebrate what we've achieved as a group, as well as celebrating individual achievements."
Looking ahead to his next year in command, Capt(N) Mazur mentioned some upcoming tasks that will involve the wider community, like Base involvement in the Memorial Cup, the upcoming Skills Canada National Competition in Halifax, and D-Day 75th Anniversary events in June. Navy-focused events on the horizon include the completion of Jetty NJ, the commissioning of HMCS Harry DeWolf, and upcoming NATO Exercise CUTLASS FURY, which will see 22 warships visiting the region.
With busy times ahead, the Base Commander also stressed that people need to take care of themselves, and encouraged members to find time for a bit of fun and exercise during their day.
"If you have your own ideas on how to make your workplace more fun, engage your chain of command, make recommendations, and be prepared to lead and get involved," he said.
"There's always going to be more work to do than the hours we have to do it. But we need to pace ourselves and stay healthy."
Base Divisions includes an important Honours and Awards component, and the following presentations and promotions were made while members were assembled at the Armoury:
The Canadian Forces Decoration was presented to Cdr Routledge (1st Clasp), PO2 Boulanger, Mcpl Tackaberry, and AB Jellicoe.
The Special Service Medal – NATO was presented to MS Bech (Op REASSURANCE Roto 5, 2016), LS Fougere (Op REASSURANCE Roto 7, 2017), and LS Moulaison (Op SEXTANT HMCS Iroquois, 2006)
The Base Commander's Commendation was presented to Brian MacDonald, Chris Wagner, and Ryan Steward, representing the HMC Dockyard and CFAD Fire Departments, for their response to a shipboard fire onboard the tanker KIVALLIQ W at the Imperial Oil Refinery on January 27 of this year. Crews assisted the HRM Fire Department to bring the situation under control quickly.
The 35 Brigade Commander's Commendation was presented to Cpl Jeffery Koscik for his work on Exercise GUERRIER NORDIQUE 2018.
The Public Service 35 year Long Service Award was presented to Mr. Joe Chaput and Mr. Glen McMullin, recognizing the milestone in their careers of service to Canada.
CPO1 Edwin Hardy was officially promoted to his current rank, effective as of September 21, 2018.
Further promotions included Lt Guanlao promoted to Captain, LS Labonte promoted to Acting Sub-Lieutenant, PO2 Drake promoted to Petty Officer, 1st Class, PO2 Hawco promoted to Petty Officer, 1st Class, MCpl Pye promoted to Sergeant, Cpl Charette promoted to Master Corporal, Cpl Lindsay promoted to Master Corporal, Cfn Koscik promoted to Corporal, Avr Moore promoted to Corporal, and Avr (B) LaFond promoted to Aviator Technician.