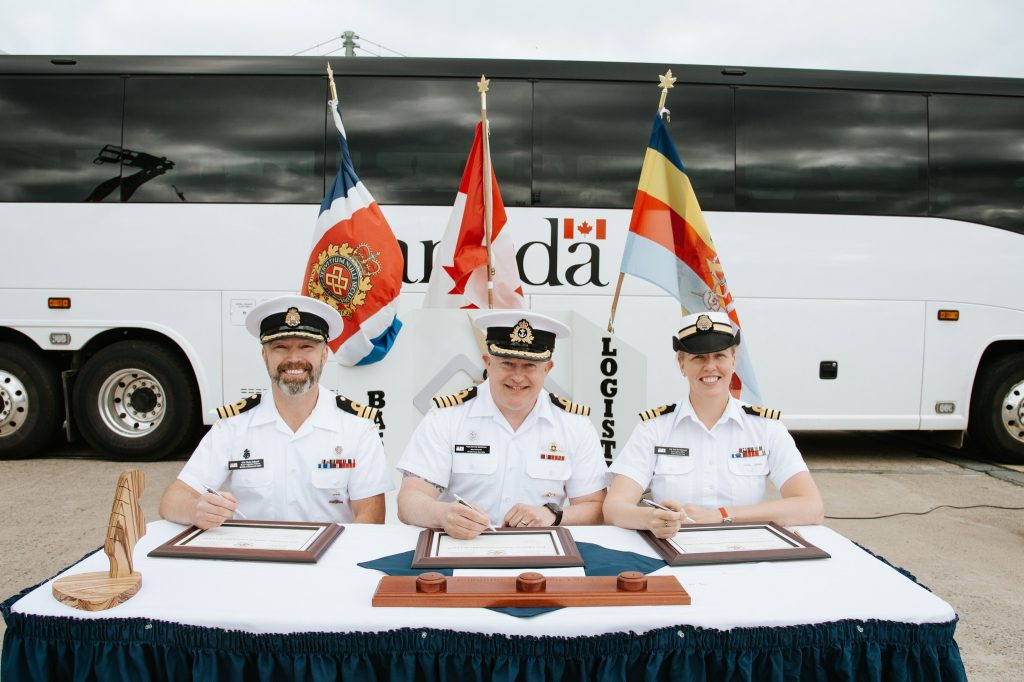 Cdr Edmonds commended for leadership at BLog Change of Command
By Ryan Melanson,
Trident Staff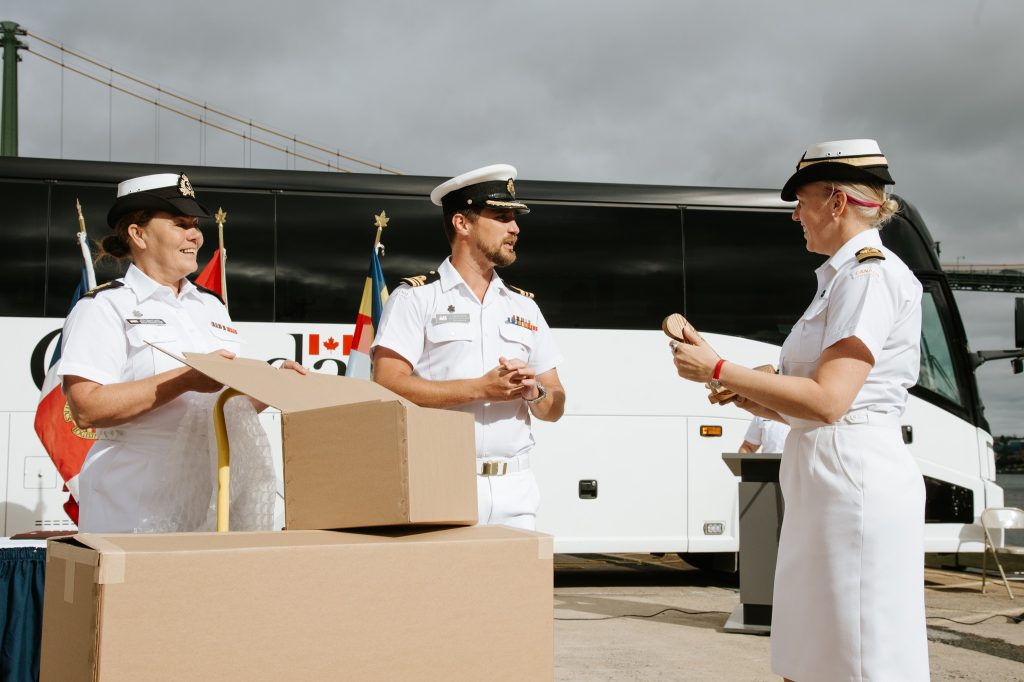 Commander Toni Bri Edmonds' tenure as Commanding Officer of CFB Halifax Base Logistics (BLog) was her very first east coast posting, but according to Captain (Navy) Andy MacKenzie, she had no trouble fitting in.
"She got along just like a maritimer, with her hard work ethic and a focus on getting the job done, but also on friendship and getting to know and support her team over the last couple of years," said Capt (N) MacKenzie, CFB Halifax Base Commander, during a BLog Change of Command ceremony held on August 10 outside along Jetty NH at HMC Dockyard. The unit said goodbye to Cdr Edmonds as she completed her appointment, and welcomed the incoming CO, Commander Chris Gabriel.
Some notable accomplishments and projects through Cdr Edmonds two years at the helm of BLog include HQ workspace upgrades, increased Delegation of Authority (DOA), modernizations of the Advance Logistics Officer Course, and organizational changes that enhanced the unit's efficiency. She added that a personal highlight for her included charity and community engagement opportunities, like overseeing the annual Dirty Hands exercise, and working with Special Olympics Nova Scotia during their provincial games.
"The chance to award medals to athletes is something that I'll cherish forever, and I can't thank Special Olympics Nova Scotia enough for the once-in-a-lifetime opportunity to support their outstanding cause," she said.
Cdr Edmonds thanked countless individuals by name during her farewell address, and focused on her appreciation for the huge group of people who worked alongside her through her command.
"To the community – the naval logistics officers of MARLANT – you are all such outstanding professionals, hardworking and amazing members of what is the best part of the service, in my opinion. I've watched you, over the last two years, support multiple ship deployments and solve problems that were both challenging and dynamic. I'm so tremendously proud of all of you and when I look at the next generation of BLog Os, I can see the future is very bright."
Her successor, Cdr Gabriel, comes to CFB Halifax BLog after most recently working with Director Naval Logistics as the DNL2 section head, responsible for Navy operational logistics policy and planning, ammo, food services and transport.
He spent three years away from Halifax, and while he said he was happy to be back, he noted the time in Ottawa was a great learning experience, particularly when it comes to the strategic level mindset.
Cdr Gabriel described his new job as being "exactly where I want to be", and he reiterated the Logistics Service's most important role: supporting RCN operations and the Atlantic Fleet. To the Logistics Officers and other staff who will now be working with him, he said he was excited to join a team that has already accomplished so much in recent years.
"They have successfully supported the Fleet in numerous deployments, as well as the Base and Formation response to hurricanes, snow storms, a global pandemic, forest fires and most recently flooding. The unflappable commitment to our organization is a testament to their resolve as a unit and the expertise of every single member," Cdr Gabriel said.