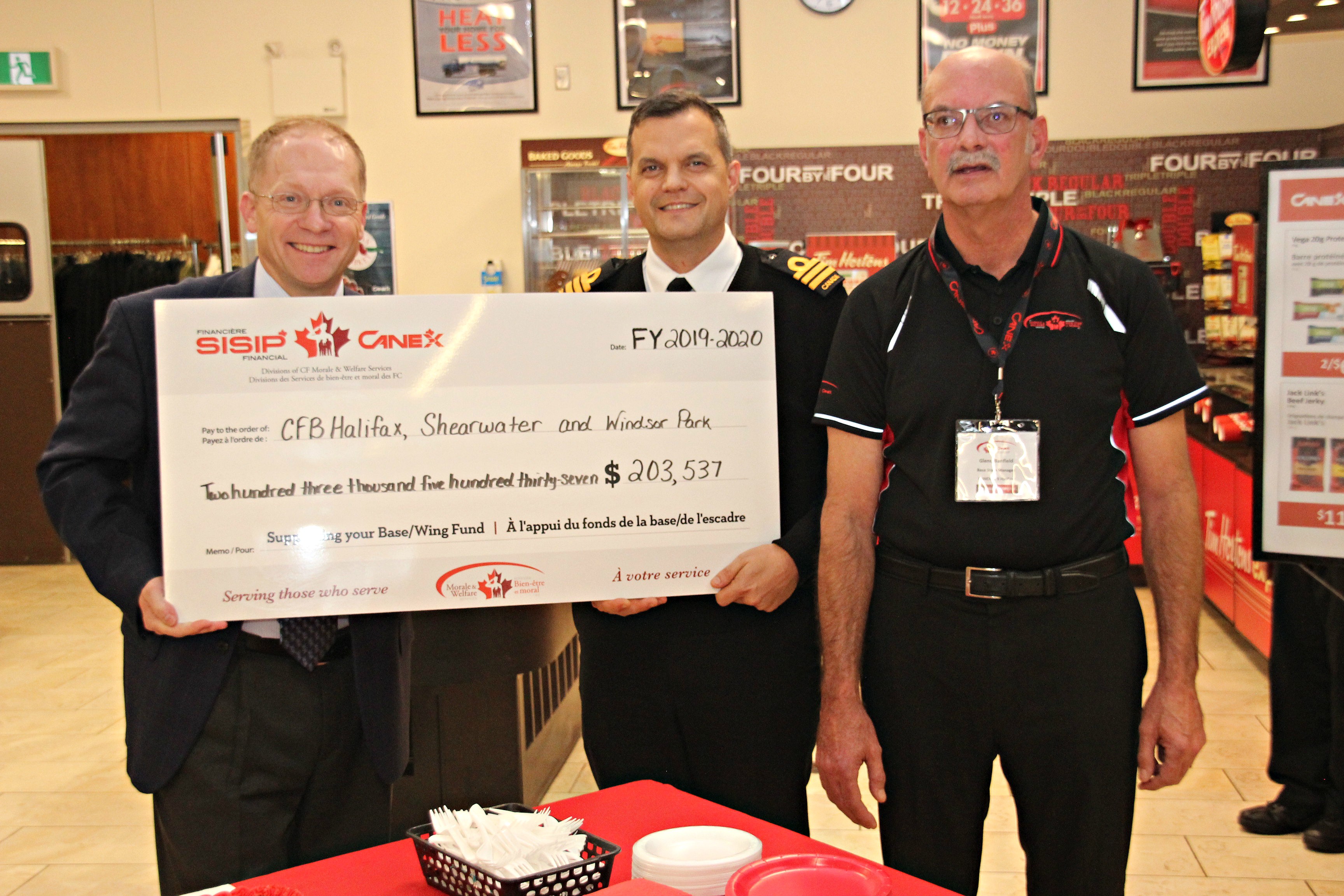 CANEX/SISIP give back to Base Fund
By Ryan Melanson,
Trident Staff
CANEX and SISIP Financial have been in operation at military bases across Canada for more than 50 years, including at CFB Halifax. As divisions of Canadian Forces Morale and Welfare Services, it's their mandate not only to offer services to CAF members, but also to give back to the wider defence community.
One of the largest ways they give back is through an annual contribution to the CFB Halifax and 12 Wing Shearwater Base Fund, which can then be used to support a variety of different events and activities throughout the year. This year's contribution totals an impressive $203,537 – an official cheque presentation was held on November 1, with Base Administration Officer Cdr Ian Bye accepting the money on behalf of CFB Halifax Base Commander Capt(N) David Mazur.
While CAF members in Halifax make frequent use of both the base CANEX store and the services offered by SISIP, it's not always clear that their business translates directly into more money for base programs. Highlighting that relationship is important.
"We want to make sure people are aware of how significant that support is, and that they know where their money is going when they spend it," Cdr Bye said, noting that the single largest injection into the Base Fund each year comes from CANEX and SISIP.
"That money goes directly to us, so it's a great help and support for some of our activities around the base every year. Of course, it's not only about the money, it's also about the great services that these folks provide to the CAF community and to our DND team."
SISIP Halifax Manager and Financial Planner Jim Boylan presented the cheque along with CANEX'sGlenn Banfield at the Stadacona CANEX location, with the store also offering complimentary coffee and cake to patrons through the morning.
Boylan said the two organizations are focused on enhancing the quality of life for CAF members, and that the financial contribution helps move that mission along.
"These funds are only possible thanks to the patronage we get at CANEX and the services that our members subscribe to at SISIP Financial. This presentation is about showcasing our strong and proud affiliation and our support of the CAF community," he added.
Boylan also invited any interested CAF members to stop into SISIP, where they can enter an ongoing 50th anniversary contest for a chance to win a $5,000 prize.