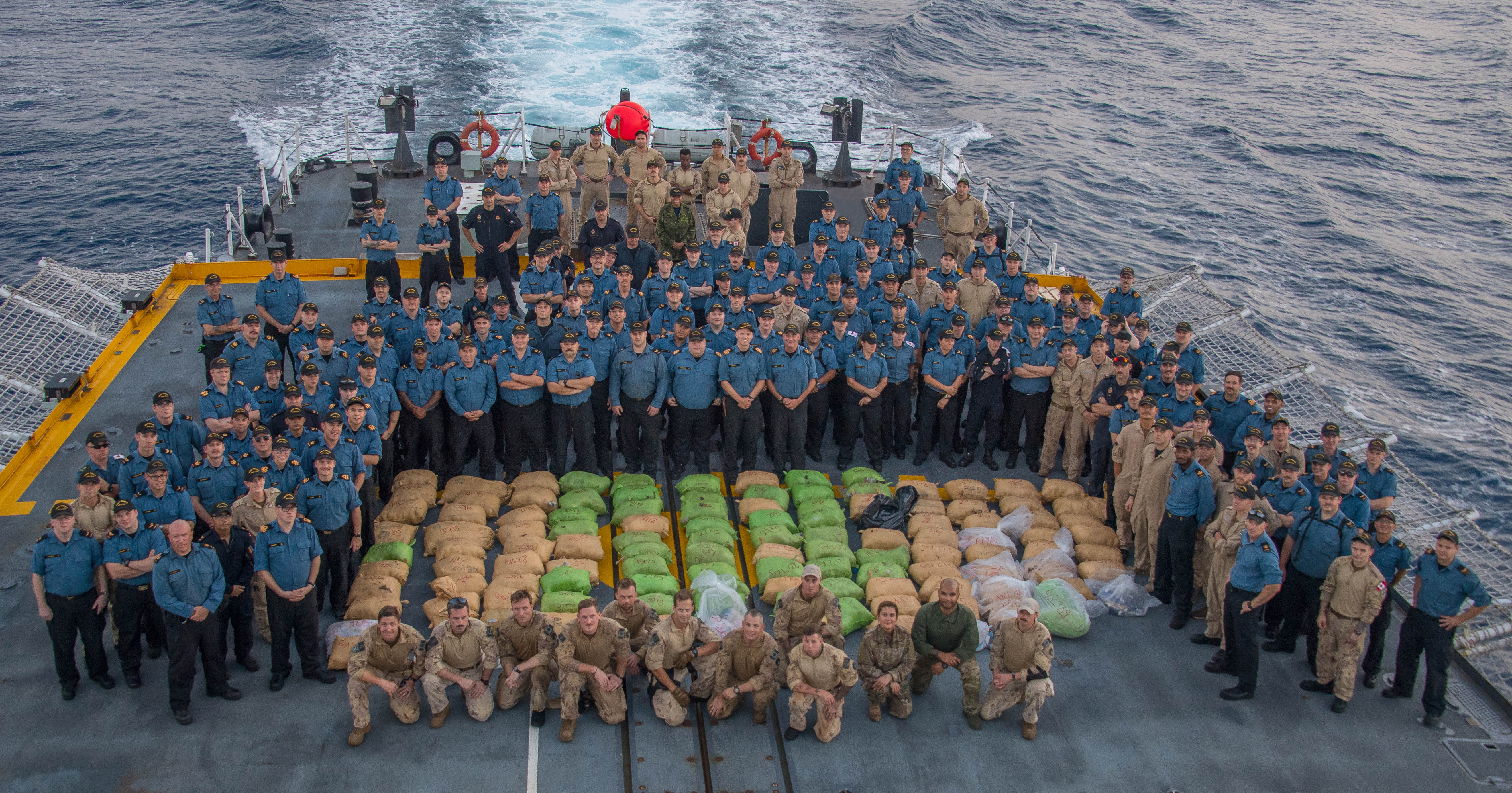 Canada concludes highly successful command of CTF 150
By Lt(N) Linda Coleman,
CTF 150 Public Affairs Officer
On April 11, 2019, Canada handed over command of Combined Task Force 150 (CTF 150) to Pakistan, completing Canada's fourth command of this multinational counter-terrorism Task Force.
Commodore Darren Garnier, Royal Canadian Navy, relinquished command to Commodore Alveer Ahmed Noor of the Pakistan Navy during a change of command ceremony held at Naval Support Activity (NSA) Bahrain. The ceremony was presided over by VAdm James Malloy, USN, Commander Combined Maritime Forces (CMF).
Through maritime security operations, regional engagements, and capacity building activities, CTF 150 and coalition partners work to deter and deny terrorist organizations any benefits from employing the high seas for smuggling illicit cargo including narcotics, UN embargoed weapons, and Somalian charcoal.
Profits from drug trafficking in the region are a known source of funding for terrorists and criminal networks. This represents a common threat to the security and prosperity of the region. Member countries that contributed to CTF 150 success during this rotation include Australia, Canada, France, Pakistan, the United Kingdom, and the United States, all working together in direct support in pursuit of CMF goals.
The Canada-led Task Force, supported by the Royal Australian Navy (RAN), completed a highly successful tour by directing 18 boardings from our coalition partners, and seizing and destroying over 33,000 kg of illegal narcotics, with a regional wholesale value of over $41 million (USD). This marks the second largest volume of illegal narcotics seized in CTF 150 history.
Notably, in December 2018, Royal Navy warship, HMS Dragon, broke a record when the ship conducted the largest drug haul in CMF history, seizing and destroying just shy of 10,000 kg of illegal narcotics from two dhows while under CTF 150 command. Also in December, RAN warship, HMAS Ballarat, seized the largest dollar value of heroin in CMF history with 766 kg.
"The successes we achieved during our deployment was a team effort with our CMF coalition partners," said Commodore Garnier. "Together, we accomplished regional cooperation and coalition interoperability, while contributing to maritime security by disrupting the use of the high seas as a pathway for illicit activities that is used to fund terrorism."
The Task Force concluded on a high note when on April 7, 2019, Canadian warship, HMCS Regina, operating under Canada-led CTF150 command, seized and destroyed 2,569 kgs of hashish in the Indian Ocean.
Regina was in the region as part of Canada's increased contribution to Operation ARTEMIS this year. Operation ARTEMIS is the Canadian Armed Forces' (CAF) ongoing contribution to counter-terrorism and maritime security operations in Middle Eastern and East African waters.  Regina, along with its embarked Cyclone helicopter, Naval Tactical Operations Group, Naval Replenishment Unit (NRU) Asterix, and a CP-140 Aurora aircraft joined CTF 150 at the end of March. At the time, this marked the CAF's third largest operation, significantly increasing the CAF's footprint in the Middle East and East Africa region.
CTF 150 successes can also be attributed to the CAF Unclassified Remote-sensing Situational Awareness (URSA) system, which allows for the download of satellite data directly from commercial satellites, providing up-to-date situational awareness of operational theatres. The system proved to be a valuable asset for CTF 150 in supporting its mission by contributing to building and maintaining situational awareness and patterns of life at sea.
Commodore Garnier also toured the region, meeting with key leaders to discuss the maritime security environment in the CTF 150 area of operations. He conducted Key Leadership Engagements in Egypt, Mozambique, Oman, Seychelles and the United Arab Emirates. Commodore Garnier stressed the same key points when he said: "deterring and denying terrorists the use of the seas as a venue for illegal activities is a team effort as no single state can shoulder this burden alone. The very nature of CTF 150 operations requires the Task Force to work closely with partners and allies in order to achieve success. Strengthening relationships with regional navies improves interoperability, and allows CTF 150 to build trust, share information, and remain engaged in regional efforts and challenges."
Commodore Garnier concluded his tour by adding: "I'm extremely proud of the hard work, dedication and professionalism demonstrated by our combined Canadian-Australian Task Force over the past five months. Leading people of this caliber is both a privilege and personally rewarding."
Canada is a member of CMF and has been contributing to CTF 150 through Royal Canadian Navy warships, Royal Canadian Air Force maritime surveillance, and/or staff to operate at CMF Headquarters since the beginning of the partnership in 2001.