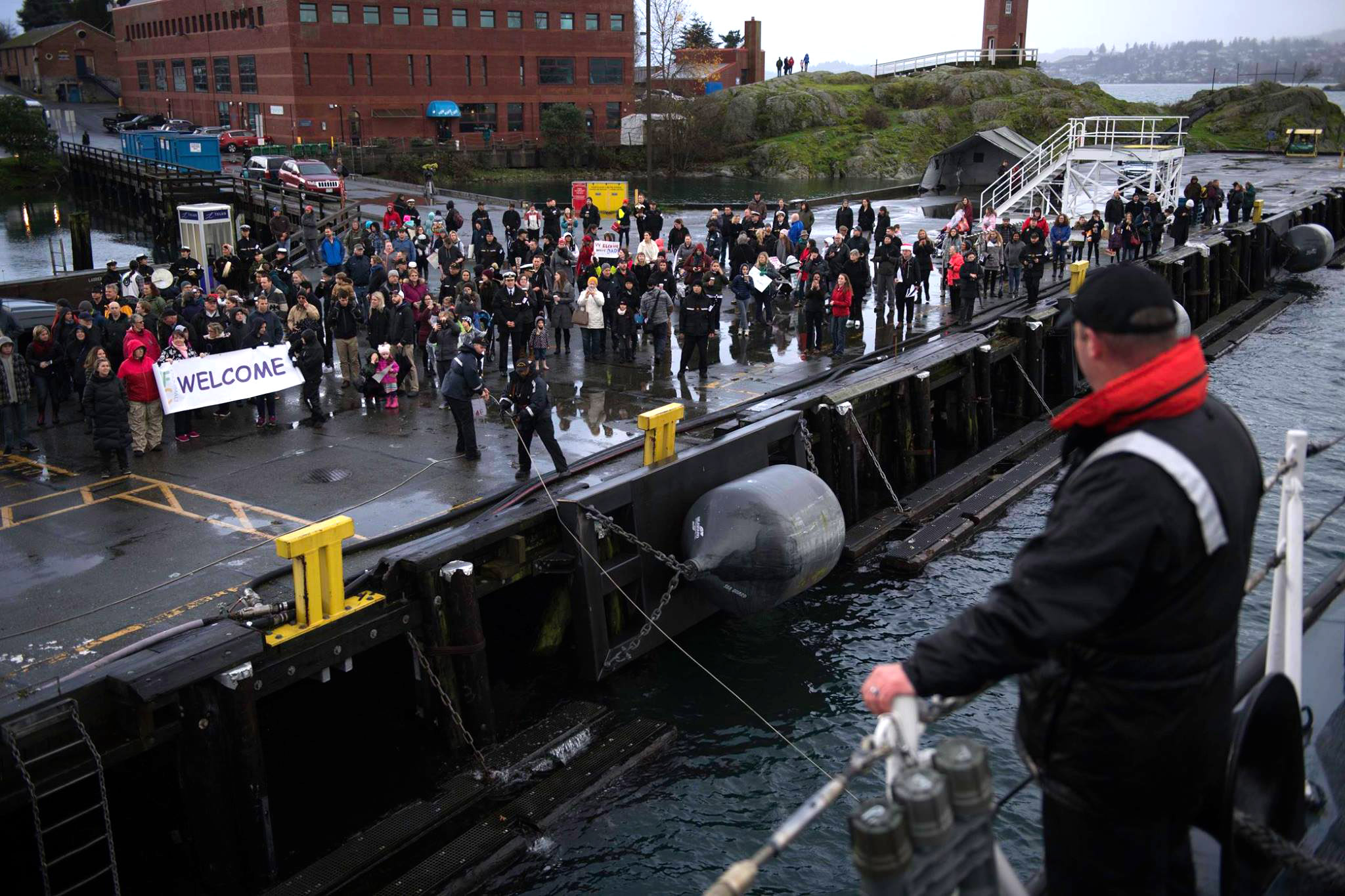 HMCS Calgary concludes Operation PROJECTION Asia-Pacific and returns to CFB Esquimalt
By RCN PA,
Her Majesty's Canadian Ship (HMCS) Calgary and Naval Replenishment Unit (NRU) Asterix recently concluded a successful five-month deployment to the Asia-Pacific region on Operation PROJECTION and returned to the ship's home port at Canadian Forces Base (CFB) Esquimalt.
The ships sailed on Operation PROJECTION from August 20 to December 18, 2018. Throughout the deployment, HMCS Calgary and NRU Asterix participated in engagements that further strengthened partner nations' abilities to effectively conduct combined maritime operations.
"The sailors of HMCS Calgary have worked tirelessly on the international stage since August 2018, demonstrating tremendous professionalism, commitment, and dedication to excellence at sea" said Rear Admiral Craig Baines, Commander Maritime Component Command.
"Working alongside our international partners in the Asia-Pacific, they were outstanding ambassadors of Canada and the Royal Canadian Navy. It is also essential to acknowledge that none of this would have been possible without the love and support of families at home. Bravo Zulu."
The ships supported operations in the region, participated in three multinational maritime engagements (KAKADU 2018 in Australia, and KEEN SWORD and KAEDEX in Japan), and HMCS Calgary was the first Halifax-class frigate to conduct operations in support of the United Nations Security Council sanctions regime related to North Korea, as part of a multinational initiative alongside partners and allies.
"HMCS Calgary deployed on Operation PROJECTION to satisfy very clear objectives for the Canadian Armed Forces, Royal Canadian Navy and ultimately the Government of Canada.  After five months of almost continuously operating with partner navies in the Asia-Pacific region, promoting interoperability through exercises off Australia and Japan, through monitoring North Korean maritime sanctions evasion contrary to UN Security Council resolutions and through widespread community engagement while alongside, I believe we have satisfied these objectives" said Commander Blair Saltel, Commanding Officer, HMCS Calgary.
"I believe we strengthened relationships for follow-on ships to continue, bolstered trust in Canadian capabilities and interest in the region, and represented our namesake city in an exciting area of the world.  I am proud of what we have accomplished and thankful to the families which supported us from home and the Military Family who are here to welcome us home today."
HMCS Calgary's deployment represents Canada's second deployment to the Asia-Pacific region under Operation PROJECTION in 2018, following the deployment of HMCS Vancouver from April to June. These deployments are tangible proof of Canada's determination to have a persistent maritime presence, and to enhance Canada's network of defence partnerships in the region.