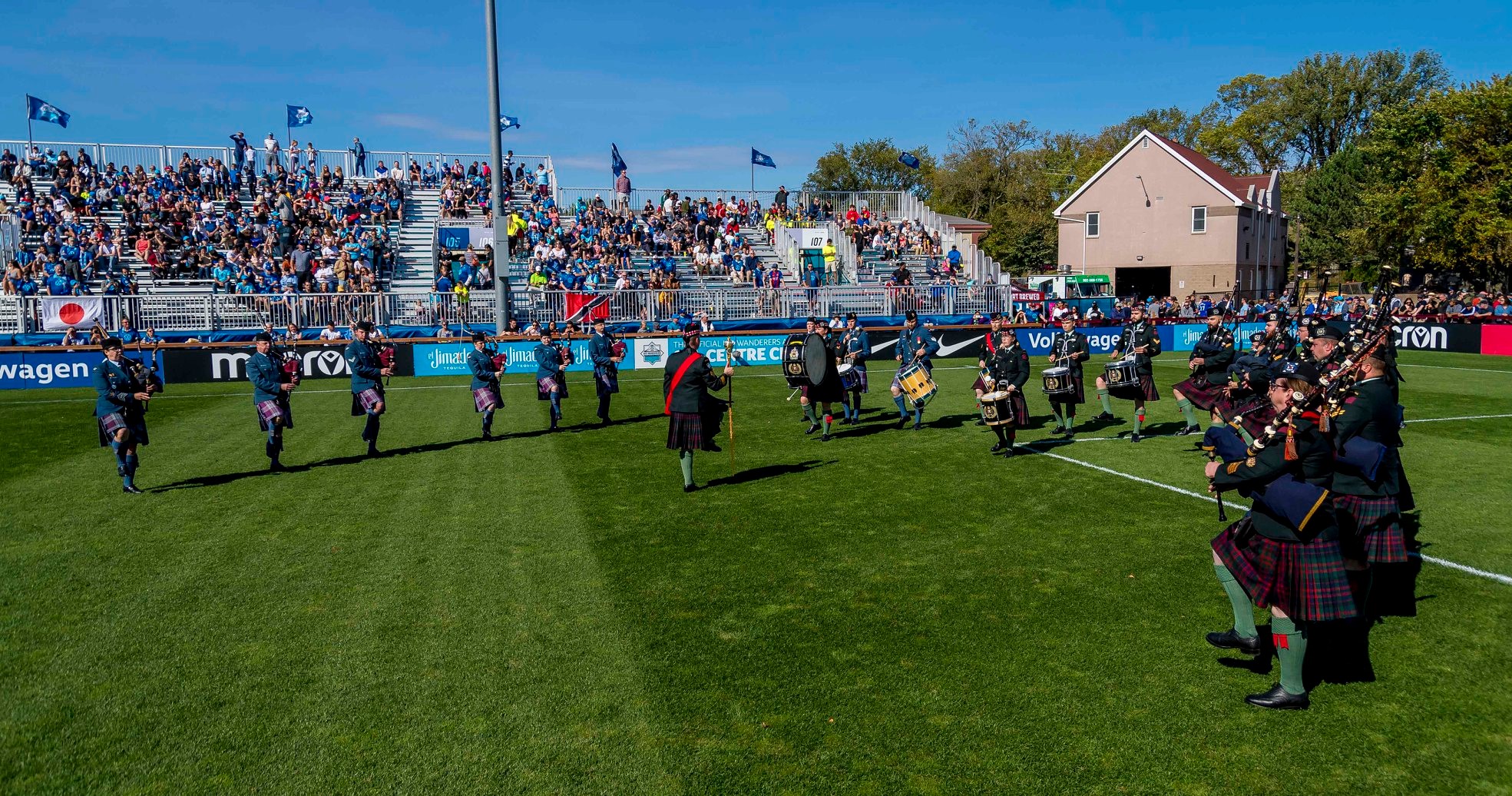 Local Defence Community has a ball at HFX Wanderers FC Match
By 2Lt Nicolas Plourde-Fleury
Nestled in the heart of downtown Halifax, you can find an expertly manicured soccer field that is home to Halifax's newest professional sports franchise, HFX Wanderers Football Club (FC). Despite the "temporary" nature of the Wanderers' stadium, the club's staff takes great pride in the work that they do and in the maintenance of the facilities at their disposal.
On a sunny afternoon on September 28, an exciting HFX Wanderers FC game day experience was had by many local Defence Team members, as the Wanderers hosted their inaugural CAF Appreciation Match.
This event was a collaboration between the HFX Wanderers FC, local Defence organizations and the Halifax & Region H&R MFRC. The fun began an hour before the 2 p.m. kick-off, when a piper from 12 Wing Pipes and Drums serenaded Wanderers fans as they entered the stadium. Meanwhile, at Rogers Square in downtown Halifax, members of 12 Wing Pipes and Drums and The Nova Scotia Highlanders Pipes and Drums were ready to lead rowdy Wanderers fans to the stadium during the March to the Match.
While fans in the "kitchen" sang, drummed and jumped to their hearts' content while waiting for the match to begin, the H&R MFRC was busy conducting a loose change drive at the stadium's main entrance and drumming up participation in a draw where two great prize baskets were up for grabs. Many of the draw prizes were graciously donated by the Wanderers themselves in the form of a signed jersey and team scarves, and the Royal Nova Scotia Tattoo Society provided a family pack of tickets for one of next year's shows.
Right before the game started, members of the audience were treated to a live performance of O Canada by the Stadacona Band of the Royal Canadian Navy. As the players and the match officials made their way onto the field, four more people joined them to take part in the ceremonial coin-toss: Capt(N) Mazur, Col Hawthorne, Col MacDonald and Mme Chambers, respectively representing the Navy, Air Force, Army and H&R MFRC. The last CAF contribution to this great day took place during halftime, when a pipes and drums ensemble made up from members of 12 Wing Shearwater and the Nova Scotia Highlanders provided musical entertainment for match-goers.
Out on the sunny field, the Wanderers played amazingly well for all to enjoy. While they tied against Edmonton FC, the team showed great promise for future seasons ahead. Local Defence team members and their families were thrilled to partake in a fun-filled inaugural CAF Appreciation Match and to be part of a growing soccer community in Halifax.