CFB Halifax, Shearwater hockey teams compete at CAF Nationals
By Ryan Melanson,
Trident Staff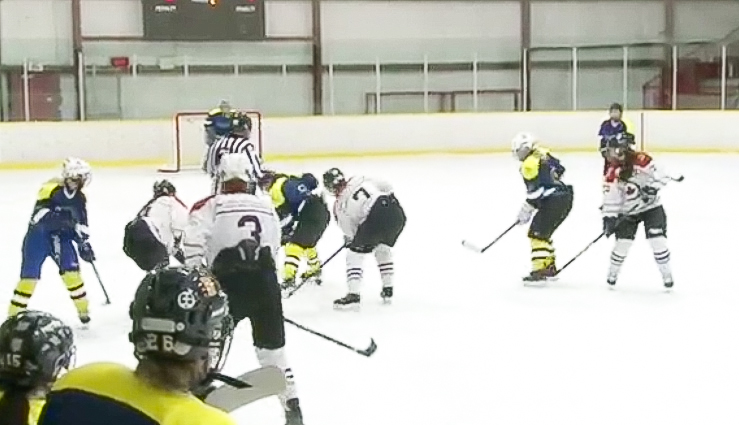 Both the CFB Halifax Mariners Women's Hockey Team and the Shearwater Flyers Old Timers' team recently had strong showings at CAF National Championships, with each placing first in the round robin portions of the tournaments. Unfortunately, both teams also lost in the semifinal rounds, preventing them from bringing home any national medals.
At the CAF Women's National Championship, hosted in Edmonton from March 02-08, Halifax scored wins over Esquimalt (6-2), Trenton (3-1) and CFSU Ottawa (1-0) in the round robin, but fell by a score of 0-1 in a second hard-fought game against Trenton in the semifinal. Game MVP awards for Halifax through the tournament went to Pte Hardie, Cpl Goble, and Lt(N) Carrat. The gold medal was eventually brought home by CFSU Ottawa, besting Trenton 4-0 in the final game.
On the Old Timers' side, held during the same time period in Edmonton, Shearwater's first place ranking in the round robin came from wins over Esquimalt (5-0), and Trenton (8-4), along with a 4-4 tie against Valcartier. Going up against Trenton again in the semi final, the Flyers lost 3-4 in another tight game. Game MVP awards for the flyers went to MWO Sutton, PO2 Noseworthy, and Maj Laaouan. The gold medal went to Valcartier in a 5-2 win over Trenton in the finals.
MWO Sutton, the captain of the Shearwater Old Timers' squad, described this year's Shearwater team as one of the best Old Timers' groups to represent the Atlantic Region in recent memory. He said they lost to a disciplined Trenton team, who scored a powerplay goal late in the third period to clinch the victory.
"When it's a one game elimination anything can happen. We got off to slow start and couldn't recover. It's been an awesome year to date even though we fell short in this year's Nationals."