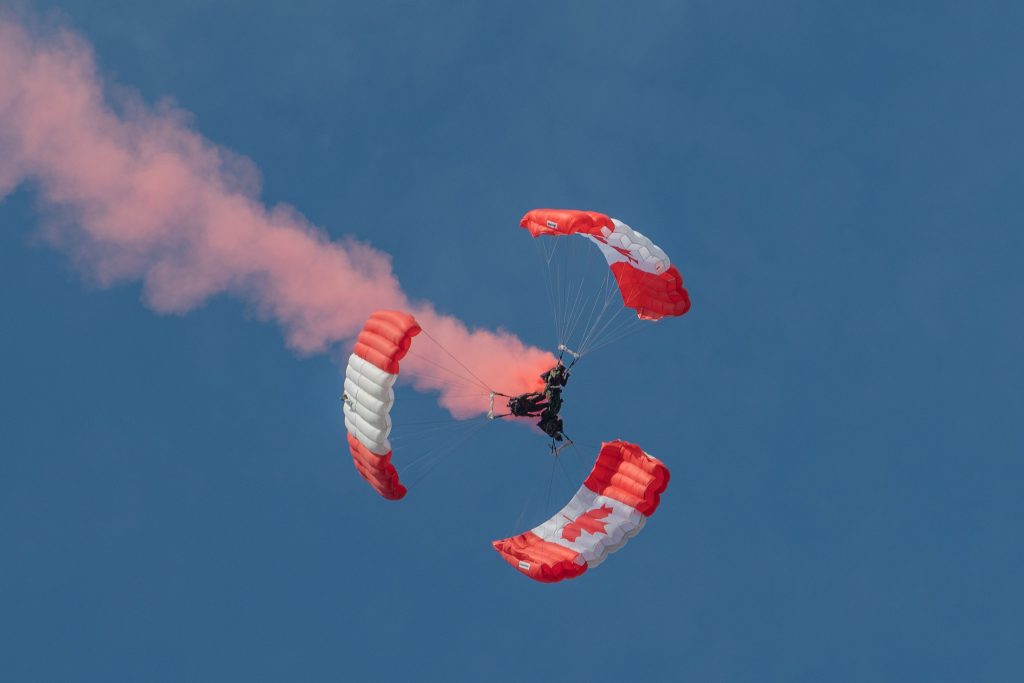 Annual augmentation to SkyHawks 2024 team
By Lieutenant Rebecca Garand,
Canadian Army Doctrine and Training Centre (CADTC)
Catch the SkyHawks live later this month! The team will be performing on Wednesday, August 23 at the Shearwater Sports Field. The aerial performance is scheduled for 7 p.m., with a Meet & Greet set for 7:30 p.m. The rain date for the performance is Thursday, August 24.
The Canadian Armed Forces Parachute Team, the SkyHawks, is seeking motivated individuals to join their ranks for the 2024 season. The SkyHawks offers an exciting opportunity for Canadian Armed Forces members to join a prestigious team of skilled parachutists. By becoming a member of the SkyHawks, you will have the chance to showcase your abilities to audiences worldwide while representing the Canadian Armed Forces. Applications are now being accepted until November 30, 2023. Canadian Armed Forces members who are interested must meet the following minimum criteria:
Qualified DP1 or Second Lieutenant in any trade or classification;

Qualified Military Freefall Parachutist or hold an "A" certificate issued by the Canadian Sport Parachuting Association with a minimum of 50 freefall jumps; and

Be recommended by their unit Commanding Officer.
The SkyHawks Parachute Team takes pride in assembling a diverse and inclusive group of individuals from the Canadian Armed Forces. Our team is made up of both Regular Force members and Reserve Force members, representing all elements and trades. If you want to learn more about joining our team, please contact The SkyHawks Administration Officer at CSN 827-2049 or 613-392-2811 Ext. 2049.