The Department of National Defence (DND) is building a Land-Based Testing Facility on a portion of DND-owned land at Hartlen Point in Eastern Passage, Nova Scotia.
---
↓ Public Update (September 19, 2023) 
Community Information Bulletin
Early site preparation work
The first phase of site preparation, brush clearing and tree removal, occurred at Hartlen Point from early March to April 2023. Work took place within this time period to ensure site preparation activities avoided the bird and bat breeding and migratory windows, as per the recommendation outlined in Canadian British Consulting Limited's (CBCL) Bird and Bat Assessment report.
The second phase of site preparation began in April 2023 and will continue until December 2023. Work will take place in cleared areas only, as per the CBCL Bird and Bat Assessment report recommendation; no additional brush clearing or tree removal will occur during this time. The second phase of site work consists of laying gravel for roadway access to the building site and rough grading (already completed), delineating of the construction zone for security and safety purposes, extension of site services (connecting to Halifax Water) and construction of a water meter building.
Construction update
Construction of the Canadian Surface Combatant Land-Based Testing Facility (LBTF) will take place at Hartlen Point in Eastern Passage, Nova Scotia between March 2024 and late summer 2027. This construction activity includes building the facility and supporting infrastructure, including security fencing, parking lot, roads, and utilities. See the most recent rendering of the LBTF below (Figure 1) for reference. While construction is expected to be complete by summer 2027, timing is subject to change based on the design and construction process.
Construction activities will take place over 50 metres away from the shoreline within the designated project area which includes the area within the future LBTF fence line as well as the roadway leading to the site. See the most recent site plan below (Figure 2) for reference.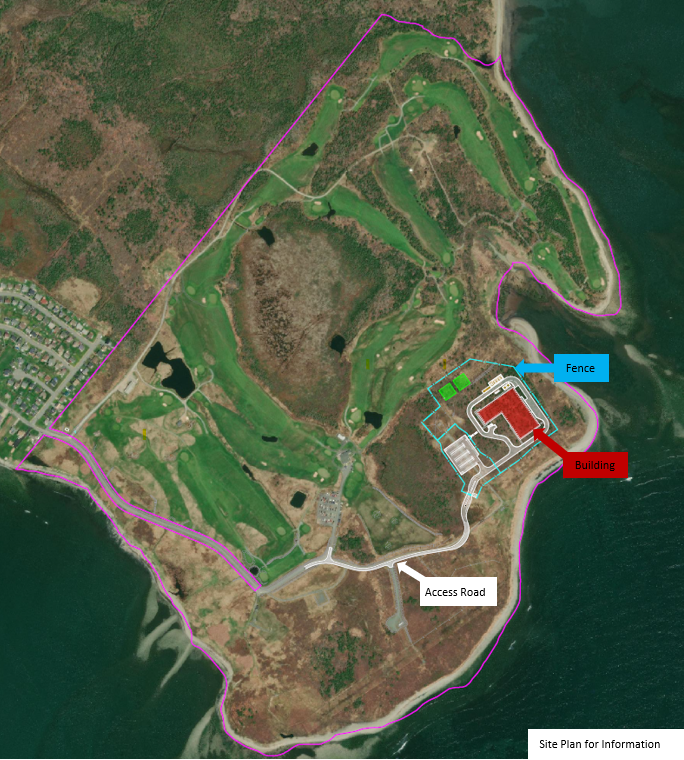 Coastal erosion and shoreline stability concerns are being reviewed by the project team. Work is underway to assess potential to stabilize both the northeast and southeast portions of the shoreline adjacent to the future LBTF fence line. Impact to water-based recreation or commercial activities is anticipated to be low, although there would likely be restricted access to the beach during the implementation of any shoreline stabilization.
What to expect during construction 
Main work hours are from Monday to Friday between 7 am and 5 pm. Exceptions may be made for after-hours work but will be limited. 

Public access and safety are a high priority.

Members of the public may continue using the Hartlen Point property and accessing the shoreline in front of the construction site for recreational activities until further notice. Public access within the designated project area/construction zone

is not permitted

to ensure the safety of community members and work crews

. 

There is some construction signage in place at Hartlen Point presently. Additional signage and construction fencing will be placed in Spring 2024 to further delineate the construction zone perimeter.

Safety and security commissionaires will monitor all activities within the designated project area/construction zone. 

There may be dust, noise, construction equipment traffic, and temporary closures to the site's access road. DND is making every effort to reduce impacts and your patience is appreciated.  
Traffic management
We recognize that there are concerns about existing road conditions and traffic in the region. We take those concerns very seriously, especially the safety of our neighbours in areas where we build and operate. As part of this project, we have undertaken a traffic study with a third-party consultant which is available in the 'Studies, reports and other documentation' section below. We also continue to work with the Halifax Regional Municipality and our consultants and contractors to implement measures to ensure the safety of the community during periods of construction, operation, and in the event of an emergency.

We continue to welcome community feedback on any concerns with traffic increases throughout the duration of the project and appreciate the community's patience during the construction period. For inquiries or to report an incident, please contact CFBHalifaxPublicAffairs@forces.gc.ca  
Environmental update 
Respect of the environment and wildlife continues to be a top priority for DND and we acknowledge and respect the thriving biodiversity and ecosystem at Hartlen Point. 
On behalf of DND, third-party, unbiased experts have conducted several environmental studies over four seasons and outlined recommended mitigation measures. The project team will proceed with application of mitigation measures, which include minimizing impacts to wetlands, site clearing outside of bird and wildlife nesting periods, and limiting work to the minimum required footprint. Work is also underway to ensure the proposed wastewater treatment system is positioned outside the boundaries of the existing wetlands to ensure no negative impact. For a copy of the complete studies and for full detail on mitigation measures, please refer to the links in the 'Studies, reports and other documentation' section below. 
In March 2023, the Minister of Environment & Climate Change Canada received a public request to designate the proposed LBTF project site under subsection 9(1) of the Impact Assessment Act. In Summer 2023, the Impact Assessment Agency of Canada, on behalf of Environment and Climate Change Canada, announced its decision that the LBTF is not a designated project. More information on this decision can be found here. 
Overall, DND will design the facility to meet green building objectives for net-zero readiness and achieve Green Globes certification. Net-zero readiness means that the building is being designed to produce zero or negative greenhouse gas emissions over the course of a typical year operating. Achieving this means reducing carbon emissions in construction materials, as well as reducing greenhouse gas emissions once the building is operational. Achieving a Green Globes certification means that the building has undergone a comprehensive assessment process that evaluates its performance in many key areas, including energy efficiency, indoor air quality, water conservation, materials selection, and site selection and development. Green Globes certification focuses on the health, comfort and well-being of building occupants, as well as the environmental performance of the building. Importantly, these aspects of the design will ensure that impacts to Hartlen Point's wetlands and wildlife are minimized.
Studies, reports and other documentation
Operational considerations
The project team continues working to advance Radio Frequency (RF) licencing in coordination with Innovation, Science and Economic Development (ISED) Canada. Safety of the local community and the environment is paramount and the project team will comply with Health Canada Safety Code 6. ISED also mandates public consultation as part of the RF licencing process and the project team will comply with the standard approach. As ship design progresses, further information on RF emissions will be available and once all required technical data is available, the RF consultation and licensing processes can formally commence; this effort must be completed before any antennae are constructed. For more information on Safety Code 6 and the licencing process, please refer to the links below. 
In parallel, the project team continues to work on determination of post-construction operational and security constraints. As more information is available, it will be shared with the public. The project team continues to strive towards minimal impact to fishing, surfing, birding, golfing, hiking, and other land and water-based activities to the extent possible. 
More information
During a public information session in January 2023, the LBTF project team committed to an additional information session ahead of construction. At this time, there is no additional information to be delivered beyond the construction updates provided above. With that said, the project team recognizes that members of the public have questions regarding various aspects of this project including the RF emissions and licensing processes and the future operation of the facility. When further information becomes available on these topics, updates will be provided.
Project inquiries
Contact us! We welcome questions on this project at: CFBHalifaxPublicAffairs@forces.gc.ca
---
About the Canadian Surface Combatant Project
The Government of Canada is procuring 15 new Canadian Surface Combatant (CSC) ships for the Royal Canadian Navy (RCN). This new fleet will upgrade and replace the capabilities of the current Halifax-class frigates and retired Iroquois-class destroyers.
The new CSC ships will be built in Halifax, Nova Scotia by Irving Shipbuilding. 
Lockheed Martin Canada will lead the team that will design the ships and integrate the combat management system.
The new CSC ships will be tested and trialed in Halifax, Nova Scotia.
---
About the Land-Based Testing Facility 
To help bring the new CSC ships into service and support them throughout their lifecycle, the Department of National Defence (DND) is building a Land-Based Testing Facility (LBTF) on a portion of DND-owned land at Hartlen Point in Eastern Passage, Nova Scotia. This project will test and integrate the ships' capability systems before being installed on the actual vessels. The LBTF is critical to ensuring the new ships are ready to support members of the Canadian Armed Forces as they protect the sovereignty and security of Canadian waters and contribute to international operations on behalf of all Canadians.
Canada is a maritime nation, and the LBTF is an important, one-of-a-kind facility that will foster innovation and support sustainable growth in Canada's marine industry. During construction and operation, the LBTF will contribute to the economy and to jobs and growth in the region. It is estimated that more than 10,000 Canadian jobs will be created or maintained throughout the 25-year construction period of the CSC ships, and the LBTF project is expected to sustain almost 350 jobs in the Halifax region throughout the various construction phases. Once complete, the facility will accommodate 120 full-time staff, including members of the RCN, DND employees and contractors.
DND is committed to doing its part to leave a healthy environment for future generations of Canadians and to meet the targets set in the Greening Government Strategy and the Defence Energy and Environment Strategy (DEES). The LBTF project at Hartlen Point will also follow DND's Green Building Directive which targets net-zero carbon emissions.
DND is committed to ensuring stakeholders and the community are kept informed about this important project as it progresses.
---
Project Schedule 
| | |
| --- | --- |
| Design-Build procurement process launched | June 2021 |
| Design contract awarded to PCL Construction | September 2021 |
| First community engagement session | March 2022 |
| Second community engagement session | January 2023 |
| Completion of environmental and traffic studies | March 2023 |
| Building design | 2022 – 2024 |
| Building construction | 2024 – 2027 |