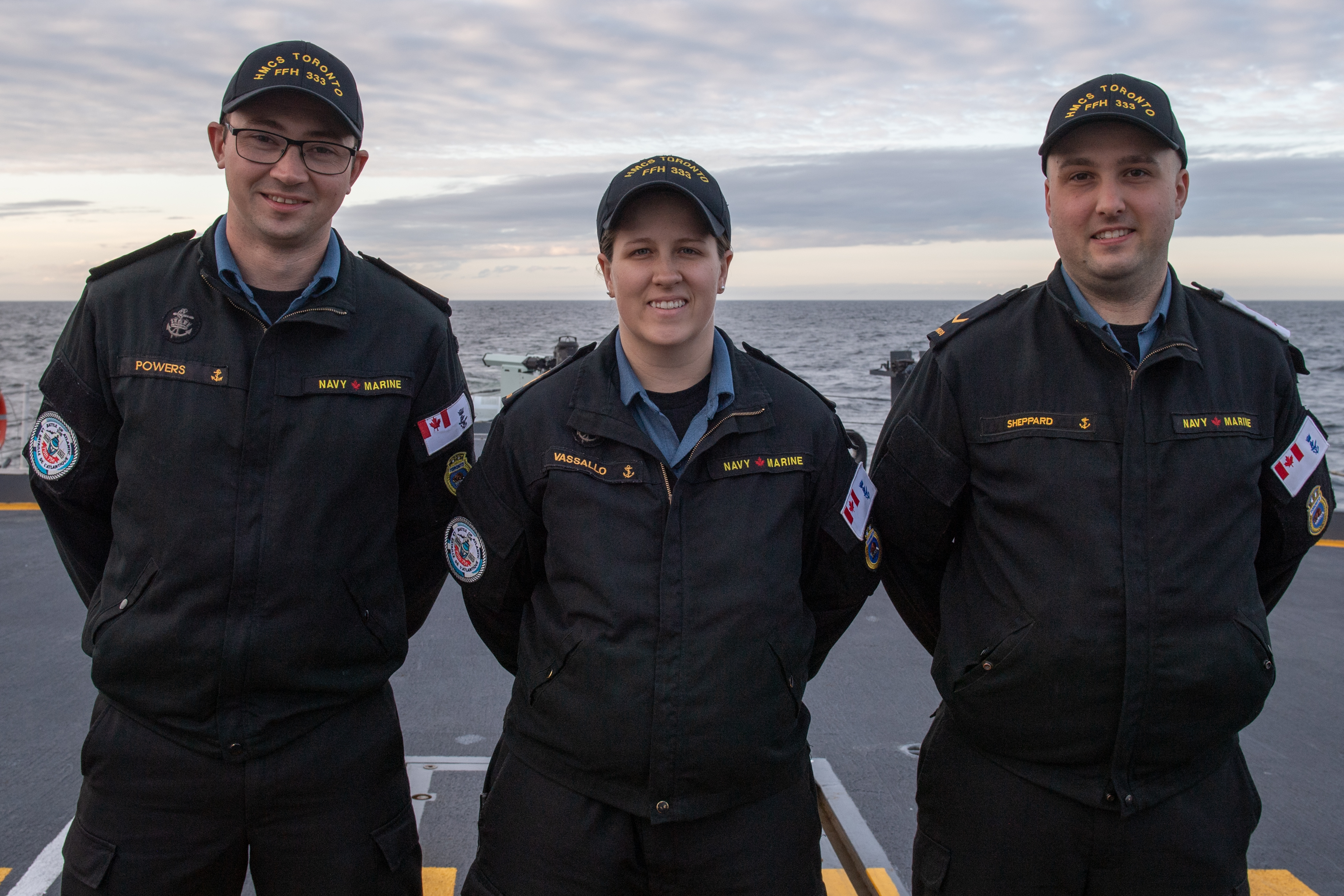 HMCS Toronto is first ship to promote sailors at sea to new RCN ranks
By Lt(N) Anders Mech,
HMCS Toronto
While at sea in the Baltic on September 4, HMCS Toronto became the first ship in the Royal Canadian Navy (RCN) with the privilege of promoting sailors at sea into the RCN's new rank titles. Our Commanding Officer, Cdr Dargavel, promoted OS Joshua Sheppard to Sailor 2nd Class, AB Michael Powers to Sailor 1st Class and LS Cara Vassallo to Master Sailor.
The new rank changes were proposed to modernize the RCN's rank structure. Through an online survey, the Royal Canadian Navy received and reviewed 18,000 comments concerning the proposed changes. The majority of the input came from the Junior Ranks themselves, who indicated that the proposed rank changes were indeed a welcome move. Within HMCS Toronto, the opportunity for individuals to provide their feedback online concerning the proposed changes also inspired a healthy dialogue within the ship about our culture, who we are and what this change, as well as others like it, mean to the RCN moving forward.
HMCS Toronto is proud to be the first unit to officially recognize the new rank titles. These new rank titles: Sailor 3rd Class, Sailor 2nd Class, Sailor 1st Class and Master Sailor speak to our commitment of embracing the diverse nature of today's Navy. These changes also have the added benefit of aligning the English rank designations with the existing ranks in French. These changes came into effect on the 4th of September. Congratulations to those promoted!