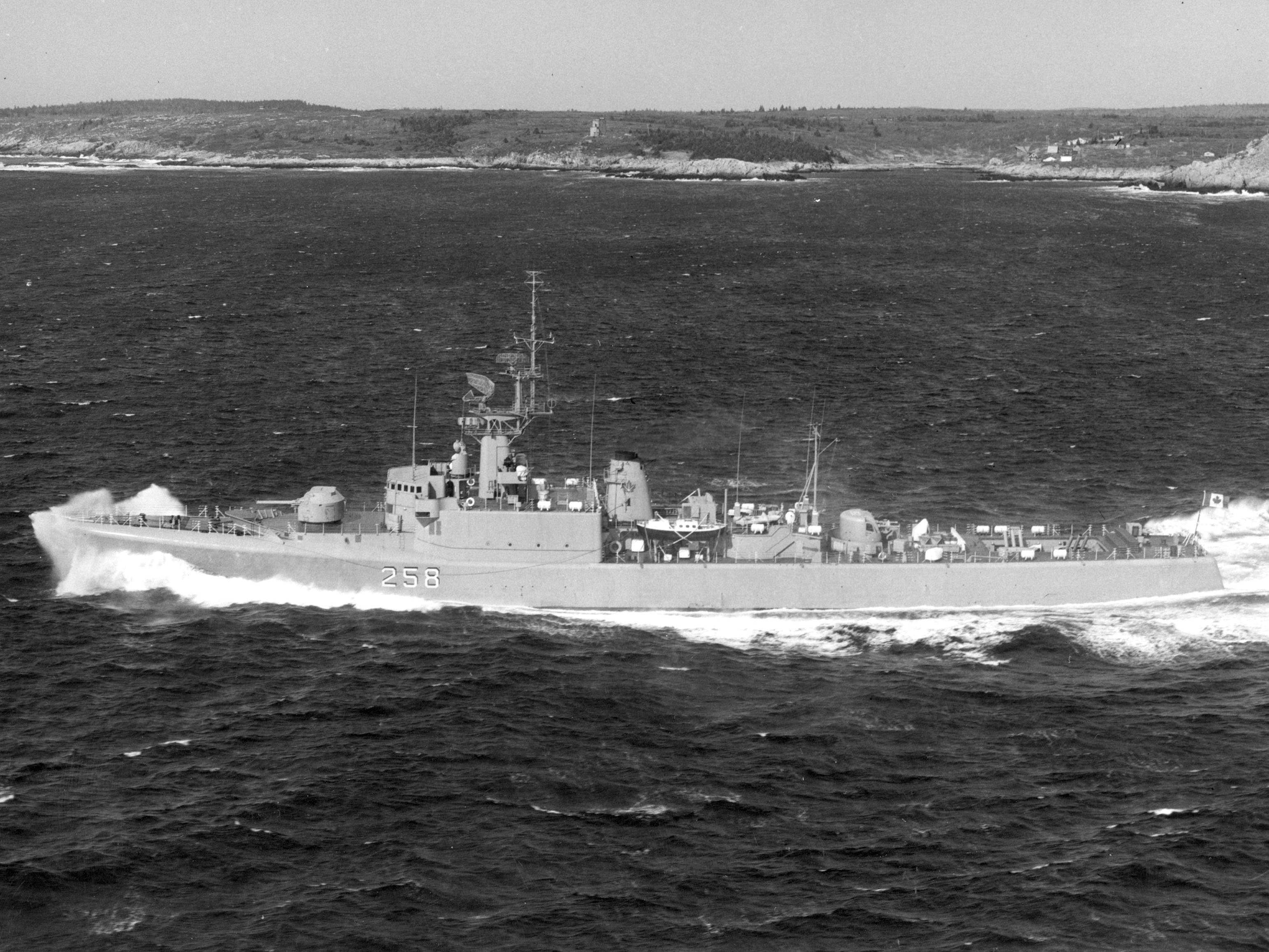 HMCS Kootenay survivors to mark 50 years since tragic explosion
By Ryan Melanson,
Trident Staff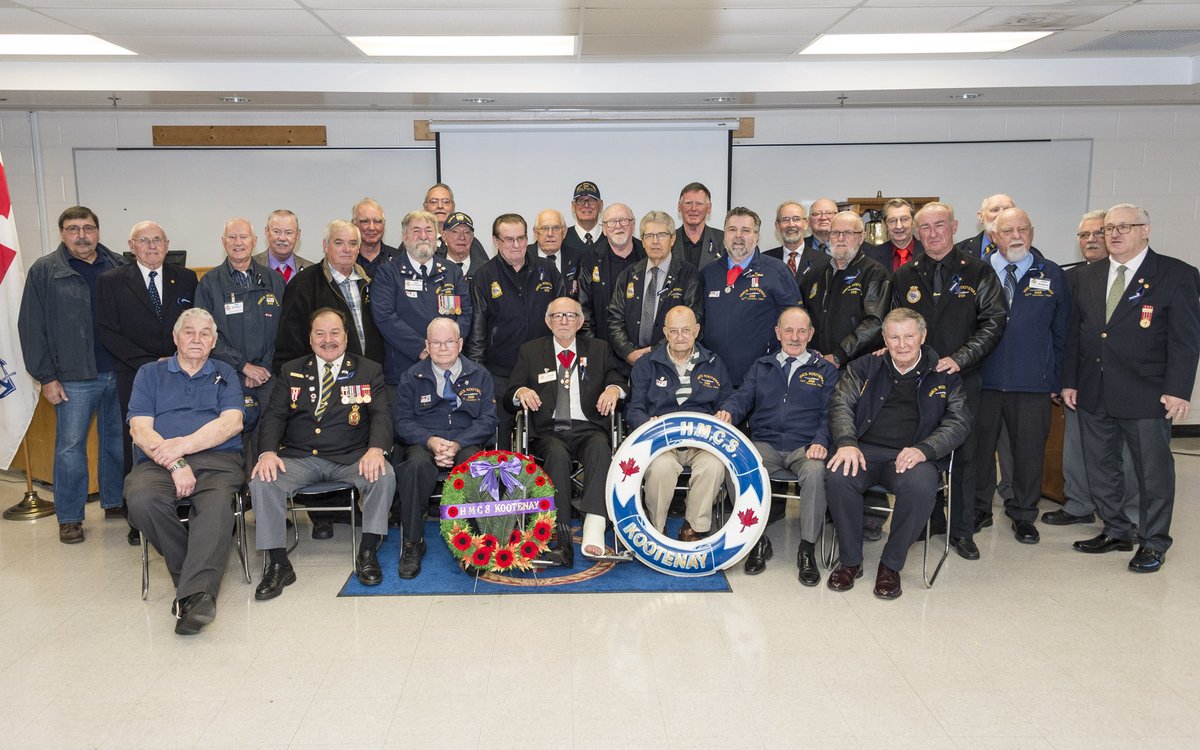 Nine sailors lost their lives when the starboard gearbox exploded in HMCS Kootenay on October 23, 1969, and LS(Ret'd) Bryan Galletly was nearly one of them.
The Restigouche-class destroyer sailed from the English Channel and broke off from its task group that morning to undergo full power trials before returning to Canada. As one of the inside roundsmen, along with shipmate LS(Ret'd) Tom Crabbe, Galletly was in the ship's engine room moments before the explosion – his rounds were complete and he was sent up to the cafeteria for a coffee break.
"Everything was good on my side, but Tom had a high bearing, so he went back to check on it," Galletly said. Moments later, he heard the blast and watched as a ball of fire rushed through the passageways. LS Crabbe didn't make it out of the engine room.
"It would have been a matter of two minutes, maybe less than that, and I wouldn't have made it. It boggles your mind the way things happen."
Memories of that tragic incident will be front and centre in the mind of Galletly and the other members of the Kootenay crew this October, as they prepare to mark 50 years since the tragedy, which remains Canada's deadliest peacetime incident at sea.
Survivors say recent years have seen the Navy and the Canadian government righting wrongs in terms of the response to the disaster – while the explosion was the catalyst for a number of procedural and safety changes onboard ships, formal ceremonies to honour the dead and recognize the survivors didn't begin until 1999. Annual gatherings now take place at the Damage Control Training Facility in Purcell's Cove, which has been renamed DCTF Kootenay.
This year's milestone ceremony will be held at the Bonaventure Anchor Memorial in Point Pleasant Park, which memorializes those who died during peacetime and features the names of the nine Kootenay members who were killed. The day will also feature a rededication of the newly repaired and refurbished memorial, with 46 additional names set to be added.
AB (Ret'd) Allan "Dinger" Bell, one of only three survivors who were inside the engine room when the gearbox blew, noted that the new HMCS Kootenay ribbon will be prominently featured this year, with RCN members permitted to wear the dark blue ribbon from the first Thursday in October until midnight on the 23rd.
Bell was also awarded a wound stripe earlier this year in Halifax for the traumatic injuries he suffered from the fire, and a similar presentation was made to his engine-room colleague Cdr(Ret'd) Al Kennedy on the west coast. While those trapped blow suffered the worst, Bell said the 50th represents an opportunity to honour the entire group for their bravery and hard work saving the ship, as well as remembering those were lost.
"It's very important to recognize crew for their sacrifices and what they went through. It's not just about me or any one individual," he added.
Along with long-term health effects from inhalation of smoke and other chemicals, some survivors have also dealt with post traumatic stress disorder, and access to professional help has allowed some to confront their memories in helpful ways.
But the date of the anniversary, which has been proclaimed "Kootenay Day" in Nova Scotia, is always a difficult occasion, said CWO (Ret'd) Denis Couvrette, who was a PO1 and senior radioman on board Kootenay in 1969.
"This will be a special year, and we now have a very appropriate ceremony to remember what happened, but it is always hard. It certainly brings back memories, and they're not necessarily pleasant ones."
Couvrette recalled a frantic rush to inform Maritime Command and other ships at sea what had occurred once the smoke cleared from his section, followed by nearly 40 straight hours of work to maintain communications. He also acted as a pallbearer during a funeral service for his shipmates held on board HMCS Saguenay five days later.
He said memories of the explosion are still vivid and troubling today, but added he was thankful that much was learned in the aftermath, leading to the development of the Kootenay hatch, the end of using aluminum ladders on board, and different locations for fire fighting equipment, among other changes.
"This led to many positives, and things being modernized for safety, not just in our navy but in navies around the world. All was not lost, but we did have nine lives that were lost, which is very unfortunate," Couvrette added.
The Kootenay 50th anniversary commemoration ceremony at Point Pleasant Park is set for 10 a.m. on October 23, and members of the public are invited to attend. A reception for survivors and family members will be held at HMCS Scotian later that evening.