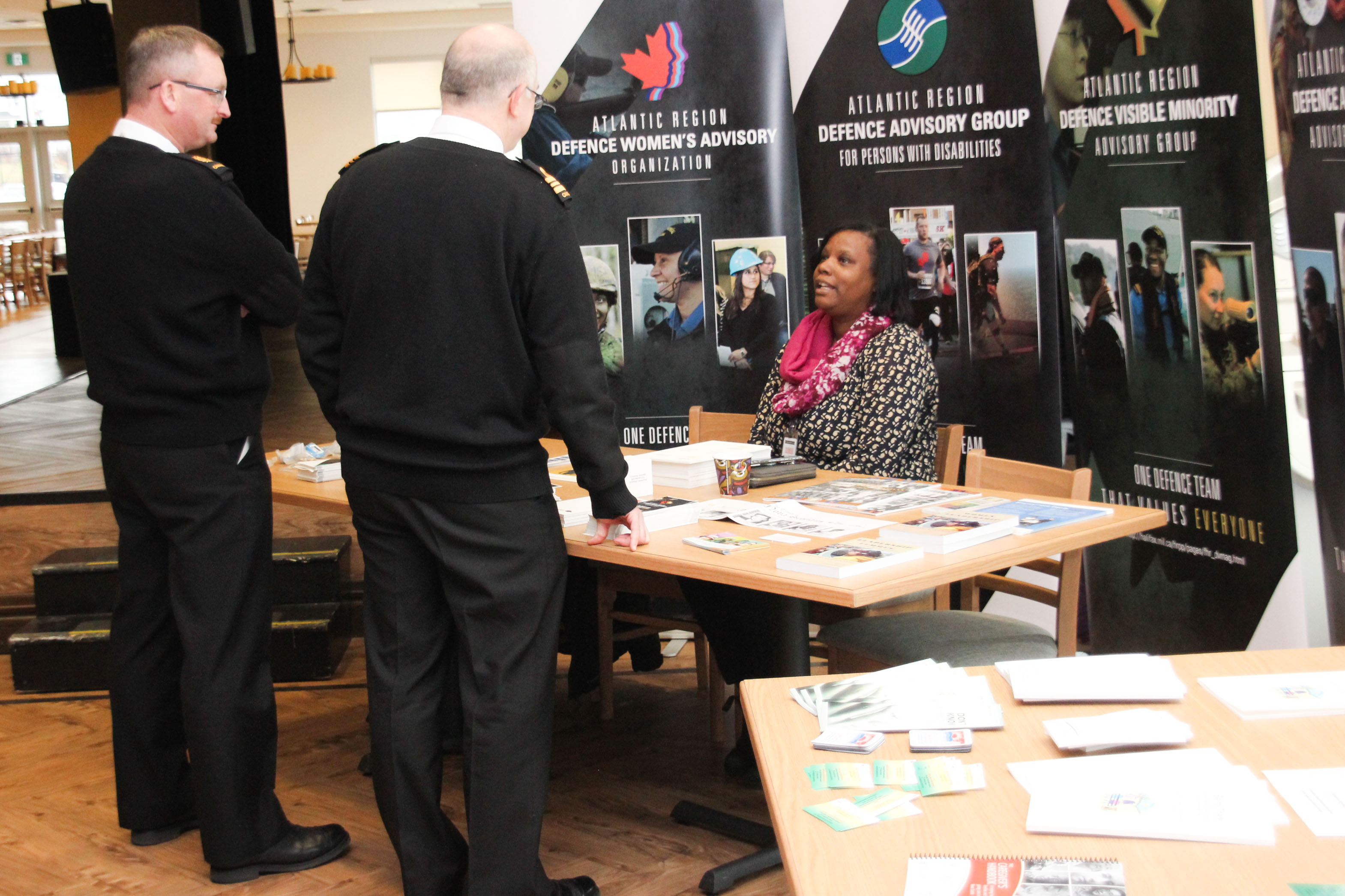 IDPWD event puts focus on accessibility
By Ryan Melanson,
Trident Staff
From finding employment opportunities for people on the autism spectrum, to eliminating societal barriers for those with physical impairments, the spotlight was on accessibility and inclusion at the MARLANT event marking the International Day for Persons with Disabilities on December 3.
Members of the Defence Advisory Group for Persons with Disabilities (DAGPWD) hosted speakers over lunch and invited outside groups and services to set up information booths inside Mr. Mac's Room in Tribute Tower for the occasion, which ran as an open house through the day and allowed people to stop in at their own convenience.
PO2 Jo Franklin, military co-hair for the DAGPWD, spoke about the importance of the Defence Advisory Groups, not just for people impacted by the various topics they focus on, but also for those who aren't impacted, to gain a better understanding of the issues faced by their friends and colleagues.
"I was hit by a car. I have a ton of hardware in my leg and I'll never sail on a ship again, it sucks. But what's even worse is the stigma that gets attached to this, and the best way to address those attitudes is through education," she said.
The DAGPWD will soon be seeking a new military co-chair, and along with looking to fill that position, PO2 Franklin encouraged anyone interested to start attending the regular meetings and events hosted by any of the four MARLANT Defence Advisory Groups.
"All of our DAGs are open to everybody, regardless of whether you identify with a particular group or issue, which is something we really need to get across to everyone," she added.
To hear about the Nova Scotia Government's new Accessibility Act and the Access by Design 2030 plan, which will develop new accessibility standards for streets, sidewalks, buildings and other shared public spaces, the group invited senior Justice Department analyst Lashauna Smith as one of the days Lunch & Learn speakers. The goal, according to the Province, is to develop communities that are inclusive and accessible to all people, and to improve public awareness and cooperation with existing and future regulations and standards.
A key change, Smith noted, is that the former Accessibility Act was administered by the provincial Department of Community Services, whereas it will now fall under the Department of Justice.
"Accessibility is about more than just social services. It needs to go beyond support for those core people with disabilities, and that's been the impetus for the change. Accessibility now falls under the same department responsible for the Human Rights Act," she said.
"We know there are obstacles that can prevent people with disabilities from fully participating in society, and there are a variety of areas outlined in the act where we need to make change."
These areas include not just the built environment, like ramps, elevators and other infrastructure, but also things like education, employment, and information services. Her presentation outlined the government's plan to implement meaningful change and new standards by 2022, as well as steps that can be taken now by individuals, workplaces, and communities to help make environments and services more accessible.
The group also welcomed back David Paterson, regional coordinator for the Federal Government's Ready, Willing and Able program, a Canada-wide initiative focused on job placements for people on the autism spectrum or with other intellectual disabilities. Nova Scotia has punched above its weight in terms of hires through the program, with strong feedback from employers and very low turnover rates. It's the second time Paterson has spoken at CFB Halifax, sharing success stories of successful placements for his pool of more than 300 job seekers in Nova Scotia.
The program is about matching employers with highly qualified workers who may have difficulty navigating the job application process or settling into a new workplace without a bit of support. Paterson said he hopes to eventually have local DND workplaces match up with potential employees through the program.
"The applicants still have to interview and compete for their jobs, and there's no pressure to make a hire, but we're working on breaking down those initial barriers, and we're having a lot of success doing that," he said.