Siblings visit grave of RCAF father 57 years after his death overseas
By Ryan Melanson,
Trident Staff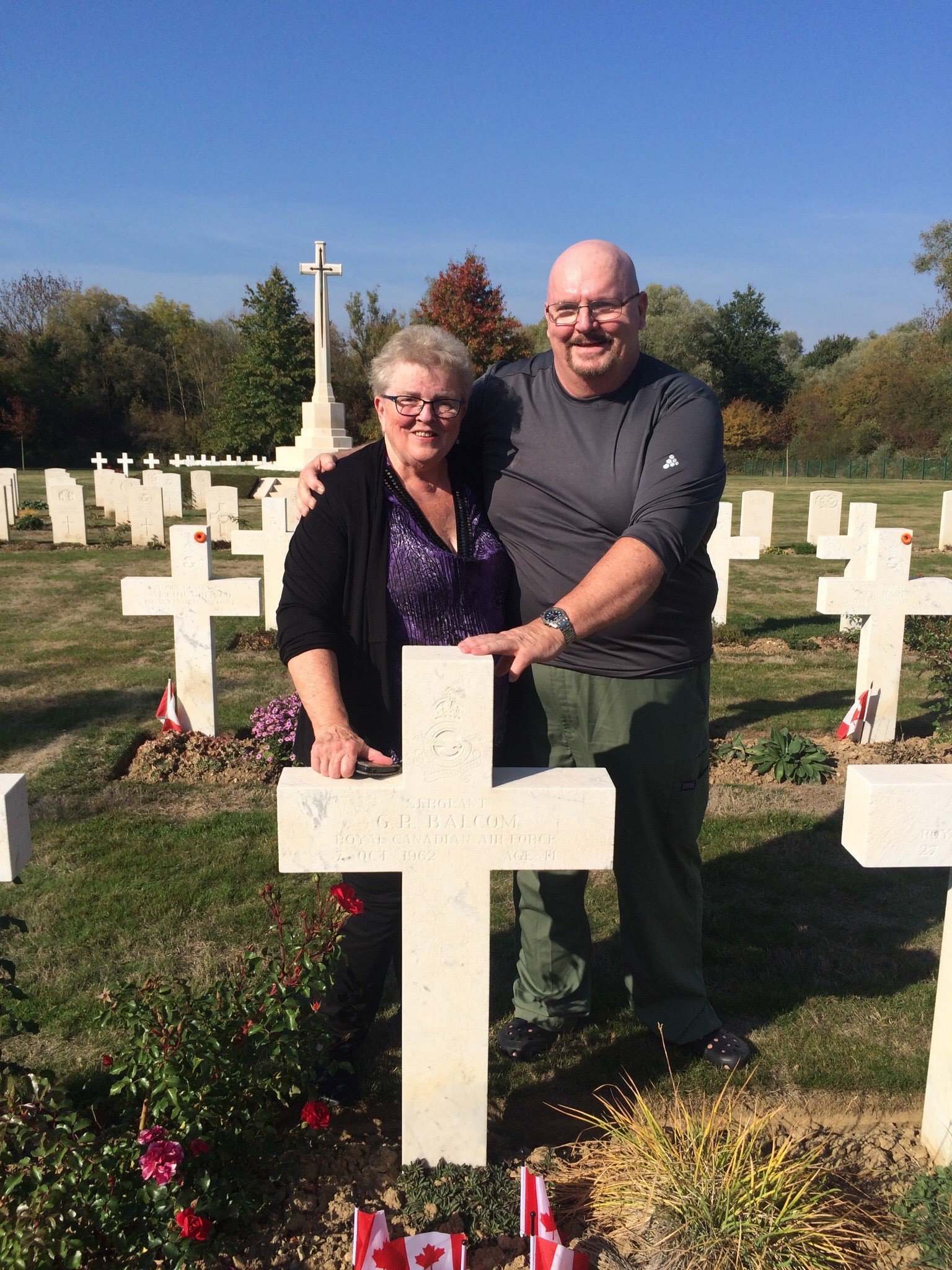 Kerry Balcom was only seven years old in 1962 when his father, Sgt Gordon Balcom, suffered a heart attack while on operations on the Mediterranean island of Sardinia with the Royal Canadian Air Force.
While his family was living on an air base in Germany at the time, Sgt Balcom was flown to France for medical care, and thought initially released, he died a short time later from complications. In the weeks that followed, Kerry Balcom and his sister Anne Marie Pearle, who was 15 at the time, were quickly moved off base with their mother, and soon left Germany for their mother's home country of England.
The siblings were not permitted to attend their father's burial, and though they had a chance to quickly visit his grave site in France a year later before returning to Canada, they've both felt a lack of closure around their father's death for decades.
"Everything just happened so quickly, we felt like we there was no closure and we never really said goodbye. We felt quite sad about it for many years," Balcom said.
They had long wished to return to their father's grave site in the French village of Choloy-Ménillot, but for financial reasons, and other obstacles, it never happened. Balcom is now 64, his sister is 72, and he said the trip to France seemed like something that would always be out of reach.
This was until Balcom connected with the charity Wish of a Lifetime Canada in 2017, shared his family's story, and after an interview process, was chosen to be a recipient of one of the life-enriching wishes the organization grants to Canadians each year. Wish of a Lifetime, along with corporate partner Astellas Pharma Canada, funded a trip to France for the siblings last fall, where they were able to visit Royal Canadian Air Force Cemetery Choloy and pay proper respects to their father, nearly 60 years after his passing.
"They were amazing, we can't thank them enough," Balcom said of the charity and their sponsorship partner.
"They made our dream come true and this was truly a life-changing moment for us."
He and his sister spent four days in the area; they visited the cemetery each day, left mementos, met with other relatives from England who were able to visit, and enjoyed reconnecting with the memory of their father.
"The day that we walked into the cemetery and through those gates was everything I could have ever imagined. It was an incredible relief and a wonderful feeling to finally be there."
The Wish of a Lifetime Canada charity focuses on granting wishes to older Canadians to create meaningful experiences and combat isolation, and they focus on wishes that involve fulfilling lifelong dreams, reconnecting loved ones, renewing and celebrating passion, and commemorating service.
Balcom said he came across the charity by chance and didn't expect his wish to be granted, so he encouraged others to visit the website at http://wishofalifetime.ca to learn more about the organization does and potentially submit a wish.