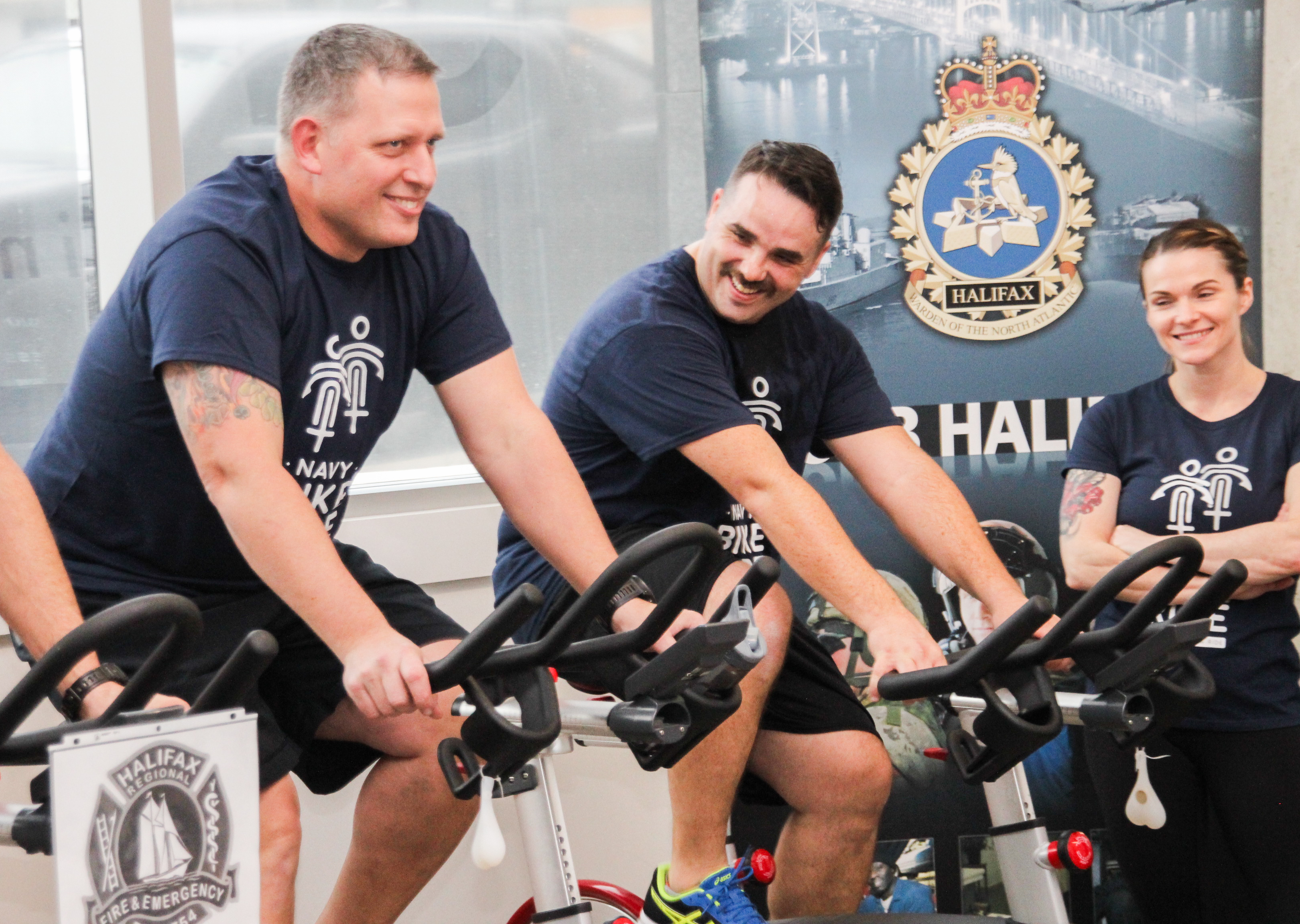 Sailors, firefighters team up for Movember spinathon
By Ryan Melanson,
Trident Staff
PO2 Rick Mamye was diagnosed with testicular cancer two years ago, and though he's now back to work and on the road to a full recovery, the experience still greatly impacted his life. In hope of helping other men who may face similar battles in the future, he's gone all in on supporting the Movember Foundation's annual campaign in support of men's health.
"Testicular cancer is one of the three main pillars of Movember, along with prostate cancer and mental health issues," PO2 Mamye said.
"This was already something I felt was worth getting behind, but being personally impacted by cancer obviously drove that home further."
This year, in addition to a number of other fundraising activities, PO2 Mamye gathered his former teammates from last summer's MARLANT Nijmegen contingent, including a couple of his HMCS Fredericton shipmates, for a 24-hour fundraising spinathon. SPINCO Halifax offered to host the event, and members of Halifax Regional Fire and Emergency (HRFE) were recruited to spin against the military team for some friendly competition. The cycling went from 2 p.m. on Friday, November 30 to the same time on December 1, and while the main teams stayed for the duration, a few guests also dropped in throughout, including Fleet Chief CPO1 Tim Blonde, who covered some distance alongside PO2 Mamye to kick things off.
In the end, the team of CAF personnel came out on top by a small margin, pedalling a total of 1,179 kilometres to the HRFE team's 1,158 km. What really mattered, however, was the $1,760 the group raised in support of the Movember foundation.
Prizes were awarded to the top spinners thanks to donations from Rodd Resorts, Nova Spinal Care, and Salvatore's Pizza, with Nova Spinal Care staff also providing recovery equipment and physio treatments for the participants.
PO2 Mamye wished to thank SPINCO and the other sponsors, the team members on both sides, and all those who made individual donations toward the spinathon and the overall Movember campaign.
"It was a great event thanks to a lot of amazing people. We hope we can do it again next year and make it an annual staple," he said.
The full CFB Halifax team roster for the spinathon included PO2 Mamye, PO2 Peter Fitzgerald of NTDC(A), PO2 Matt Reiner of the Stadacona Band, MCpl Crystal Riley of the Shearwater Dental Unit, Pte Isabelle Haazen of CFHS(A), PO2 Jon Claxton and LS Harveer Gill of HMCS Fredericton, and LS Justin D'Eon of HMCS Toronto.