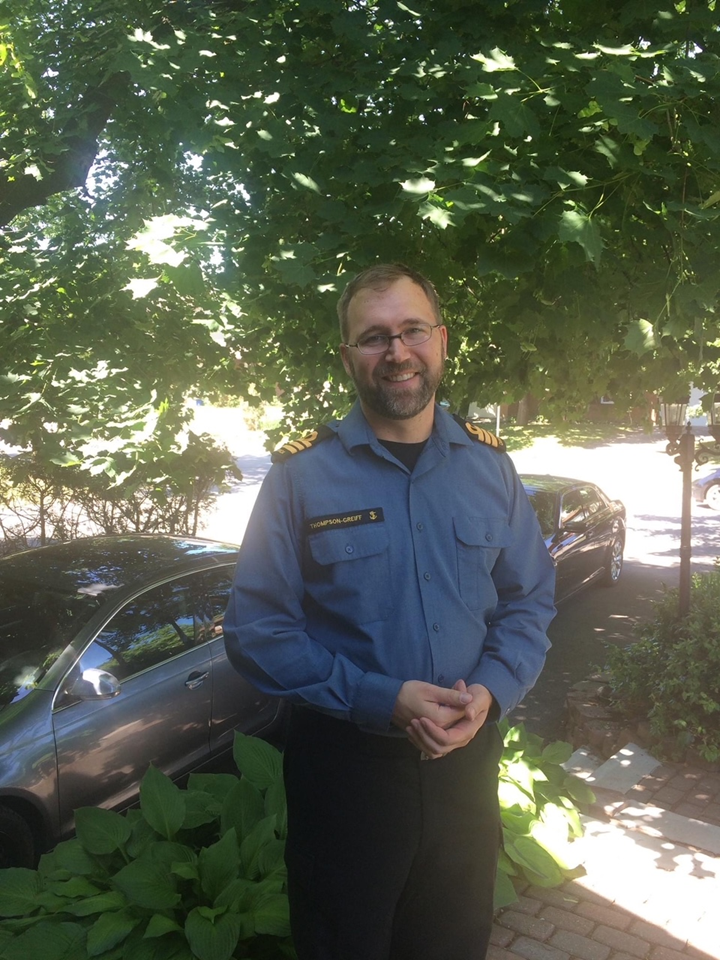 RCN Digital Leadership: Cdr Donald Thompson-Greiff
By Elizabeth Wolfe,
Business Analyst/Technical Advisor, Naval Personnel and Training Group
In this series, we showcase digital leadership across the Royal Canadian Navy (RCN) to illustrate how our enterprise solutions are successfully leveraged for the benefit of our teams.
Born and raised in Calgary, Commander (Cdr) Donald Thompson-Greiff is the RCN's Naval Personnel Manager based in Ottawa.
Before working full-time for the RCN in 2002, Cdr Thompson-Greiff was enrolled in an engineering program at the University of Calgary. The curriculum included software programming; he was also keen on maintaining connections with family and friends during military courses and taskings. The formative experiences of staying in touch with loved ones and completing an undergraduate degree while on ship and in the internet cafes of various foreign ports has led to a strong understanding of digital communications.
As Cdr Thompson-Greiff's professional responsibilities have increased, the use of technology and its applications across the CAF have also grown in complexity. In his current role, effective meeting facilitation within digital spaces is critical, as it is for many Department of National Defence personnel. D365 and cloud-based products have been key for bringing together disparate teams across multiple locations. Fostering digital fluency, particularly for online collaboration, requires both persistence and repetition of these perishable skills.
For successful digital and hybrid meetings, Cdr Thompson-Greiff recommends the following:
Share an intentional agenda (plus documentation) with attendees in advance;

Provide alternate means of attendance (PACE plan);

Rehearse meeting logistics, presentation methods, and content sequencing;

Test meeting equipment in situ (conference phone, projector, speakers, etc);

Ask for training on tools and equipment;

Engage with technical staff to support the meeting;

Use live materials that can be updated during sessions;

Pay attention to your attendees, ensuring that remote participants haven't lost connectivity;

Avoid straying from the agenda; new topics can drive the next meeting's agenda.
If you would like to improve your digital skills, you can start at the ADM(IM) D365 training page (DWAN only): http://admim-smagi.mil.ca/en/it-services/d365/index.page.