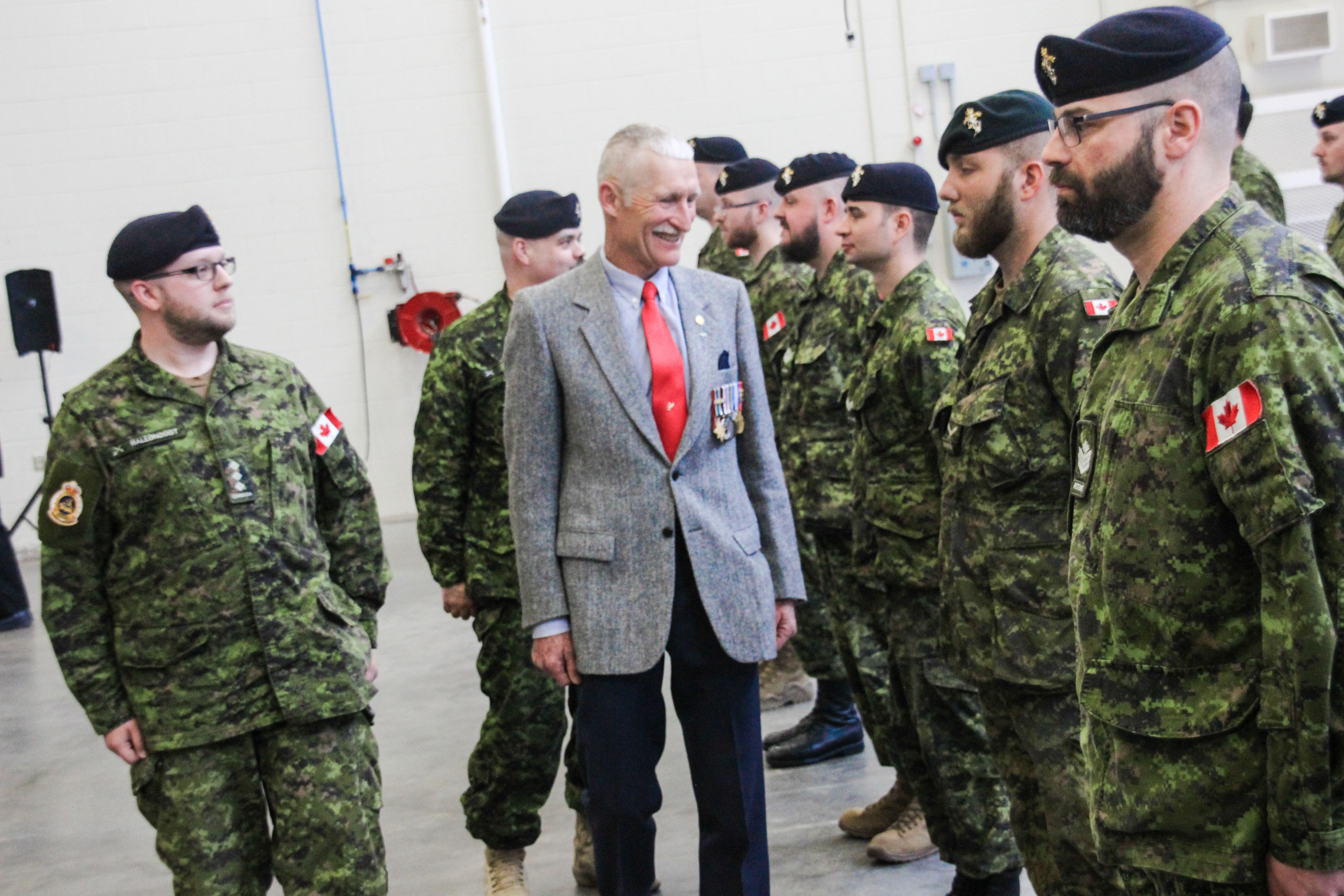 Royal Canadian Electrical and Mechanical Engineers celebrate 75th Anniversary
By Ryan Melanson,
Trident Staff
The corps of the Royal Canadian Electrical and Mechanical Engineers are celebrating their 75th Anniversary in 2019, and members in Halifax marked the occasion on May 15, RCEME Day, with a special 75th Anniversary parade at TEME's Willow Park facility.
RCEME officially came into existence in 1944, with the merging of various elements from the Royal Canadian Engineers, Royal Canadian Army Service Corps and Royal Canadian Ordnance Corps, following the model of the British Royal Electrical and Mechanical Engineers (REME).
The Second World War brought an increased reliance on mechanized equipment, and the corps was born to meet the service and maintenance needs for things like trucks, armoured vehicles, weapons, and radio as one modern, unified force. That idea continues today with TEME, which houses all transportation. electrical and mechanical engineering functions under one unit.
The parade reviewing officer was Maj (Ret'd) Bruce Barteaux, who commanded TEME in Halifax when it was born in 1996.
"Some of my fondest memories from my time at TEME are from the people, the technicians, the drivers, the operators, logistics folks and everybody across the organization. It was an interesting time developing the TEME concept and coming together as one big team," he told the members and guests in attendance.
Maj (Ret'd) Barteaux said the future of TEME as it currently exists was in doubt during his time, which makes it all the more satisfying to be marking 75 years of RCEME at TEME's newly built headquarters.
"I'm fantastically pleased to see that it remains a living, breathing, vital organization and part of the operational capability of the Navy and the Canadian Forces," he added.
The formal ceremony also included the unveiling and raising of the new RCEME Camp Flag emblazoned with the Corps' badge, which was developed to bolster esprit de corps around the anniversary. As of May 15, RCEME members are also entitled to wear the "Army Blue" berets that were the standard for the corps prior to unification in 1968, and members on parade switched to the new berets during the ceremony.
Following the anniversary parade, TEME members hosted their guests for a luncheon inside WL57, where they unveiled a new 75th Anniversary plaque, and personnel continued with a PD session in the afternoon focusing on the history and evolution of the corps.
Along with the celebration in Halifax and an RCEME sports day at 12 Wing Shearwater on May 17, RCEME members have also been marking the 75th anniversary with recent and upcoming projects and activities across Canada and around the world. This includes a 75th anniversary Home Station RCEME Ball in Borden, the formation of an RCEME team for the 2019 Nijmegen marches, hosting Exercise UNHORSED RIDER 2019, a skill at arms competition at the RCEME school, the release of a new documentary titled The RCEME Soldiers Story, 1994-2019 and more. A full schedule of 75th anniversary events can be found at http://rcemecorpsgemrc.ca.