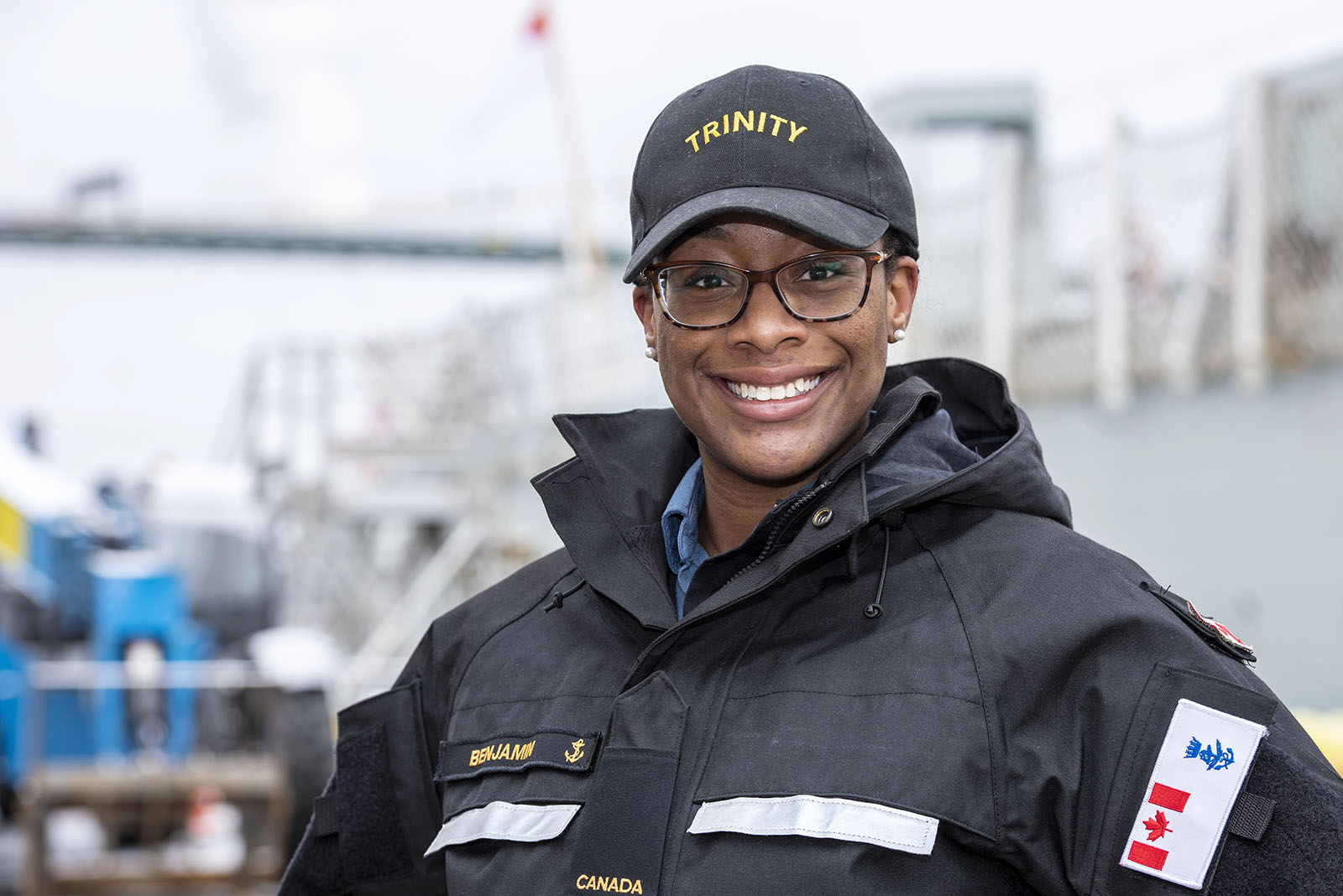 OS Benjamin's leap of faith
By RCN PA
"I joined the Royal Canadian Navy (RCN) because I wanted to challenge myself, experience new things and be a part of something great," said OS Benjamin who joined the RCN in 2016.
During her last year of university she knew she had to decide what she wanted to do with the rest of her life. She didn't know if she wanted to find a job within her degree or do something different.
"One day, I saw a commercial for the Canadian Armed Forces (CAF) and something told me to look into it more. I took a leap of faith, and here I am. I can honestly say that it was the best decision I've ever made."
OS Benjamin is an Intelligence Operator, and she is currently functioning as an Information Exploitation Operator.
"Being an Intelligence Operator, our work is time sensitive and can be very demanding at times. I had a hard time maintaining that balance between work, exercise, friends, and relationships," she recalled.
The demands started to add up and eventually she noticed she was not performing to the best of her abilities. The stress had become overwhelming and too difficult to manage.
"I overcame this challenge by reaching out for help. There are many resources available within the CAF community that are there to help better you."
This self-realization was key to addressing the challenge at hand.
"There is a stigma on mental health and reaching out for help, [but] mental resilience is just as important as physical resilience and the CAF will make sure that if you need help, you know where to go and how to find it," she said.
After reaching out for support she was able to handle her stress and maintain the balance between those important things in her life.
Plus OS Benjamin has a wonderfully supportive family at home. Being the first and only member in her family to have joined the military, her mother and family motivated her to advance in her career and take on unique challenges and opportunities.
"My siblings and I were the first generation from our family to be born in Canada. Coming from Guyana, my mother knew that she wanted the best life and opportunities for her children," she said.
"Every time I see her she says how proud she is of me and how great of a woman I have become. That inspires me and allows me to push myself to the highest potential."
For OS Benjamin, life in the RCN is not just overcoming obstacles, it's about the relationships you build with your peers and making a difference. She says the best part of being in the Royal Canadian Navy by far is the opportunity to sail around the world with peers and experience many things that the average person would not be able to.
"It is a very rewarding experience and being part of the CAF as a whole allows you to be a part of another family," she said.
Outside of her work in the RCN, OS Benjamin is an avid dancer.
"My favourite downtime activity is dancing! I danced hip hop all throughout my university years and it is something that keeps me active and healthy. Dance is an important part of my life and it is a key stress reliever for me."