A message from the MARLANT National Defence Workplace Charitable Campaign (NDWCC)  Champion
By Capt(N) Andy MacKenzie
2022 MARLANT NDWCC Champion
Base Commander, CFB Halifax
Local Defence Team,
In my new role as Base Commander, I am excited to be leading local National Defence Workplace Charitable Campaign (NDWCC) efforts as the 2022 Halifax region NDWCC Champion. Many of our colleagues have been working hard to organize this year's fall campaign and corresponding activities. It takes a considerable amount of dedication to plan NDWCC events each year, so I want to thank everyone for making it happen behind the scenes and for volunteering their time in the service of others.    
As a reminder, the NDWCC is the Department of National Defence (DND) and Canadian Armed Forces' (CAF) annual contribution to the Government of Canada Workplace Charitable Campaign (GCWCC), which is the most successful workplace fundraising campaign in Canada. The NDWCC in the Halifax region, organized in collaboration with United Way Halifax, provides our 11,000 local military and civilian Defence Team members an opportunity to donate to over 87,000 charities of which many focus on diversity awareness, help newcomers integrate into our communities, provide outreach to the less fortunate or support our military community. 
In 2021, the entire DND/CAF community raised over $2.5 million for the NDWCC nationwide, with an impressive $194,516.59 raised here by members of MARLANT, CFB Halifax, 12 Wing Shearwater, 5th Canadian Division, Fleet Maintenance Facility Cape Scott and the many lodger units who call our region home. Our members' generosity is nothing short of inspiring and I commend you for giving so much of your hard-earned dollars, time and energy – especially during these challenging times. This support shows our Defence Team's commitment to making a positive social impact in our neighbourhoods and communities.  
This year's Halifax region NDWCC will run from September 16 to December 9, 2022. During this period, local civilian and military personnel are encouraged to raise funds for, and volunteer with, charitable organizations. Historically, fundraising activities have included canvassing, lotteries, Dress with a Difference (DWAD) and other participatory events held throughout multiple units. As I have learned from previous campaigns, there is no shortage of creativity when it comes to planning NDWCC activities here; this is one of the many reasons I look forward to what fall 2022 – a campaign season themed "Stronger Together" – will bring. 
As always, strong Defence Team participation is crucial to a successful NDWCC campaign. I am sure that this year's collective efforts and continued solidarity with the non-profit community will be noteworthy. However, it is not lost on me that these are trying times and that donating (time, resources or money) is not within every Defence Team member's reach. Depending on what is available to you, I encourage you to participate in the NDWCC in whatever way makes sense. Whether you donate funds via ePledge or payroll deduction; organize or support a fundraising event; educate yourself and others on issues affecting your community and the incredible organizations working tirelessly to implement impactful solutions or simply spread the word about this year's campaign, please remember that each individual contribution matters and that together, we are indeed stronger. 
I invite you all to join in making NDWCC 2022 a memorable and meaningful campaign. There is no act of donating, volunteering or supporting too small. Whatever you give, it will make a world of difference.  
Thank you, 
Capt(N) Andy MacKenzie
CFB Halifax Base Commander

*All 2022 MARLANT National Defence Workplace Charitable Campaign (NDWCC) information can be found on www.tridentnewspaper.com/ndwcc2022. This website will be updated with news, events and resources as the campaign progresses. You can also look forward to weekly emails with consolidated news and updates. For any questions/concerns, or to know more about the NDWCC, you can email CFBHalifaxPublicAffairs@forces.gc.ca.
---
Un message du champion de la Campagne de charité en milieu de travail de la Défense nationale des FMAR(A) 
Par Capv Andy MacKenzie
Champion de la CCMTDN des FMAR(A)
Commandant de la base, BFC Halifax
Équipe de la Défense locale,
Dans mon nouveau rôle de commandant de la base, je suis très heureux de diriger les efforts déployés localement dans le cadre de la Campagne de charité en milieu de travail de la Défense nationale (CCMTDN) à titre de champion de la CCMTDN de 2022 de la région d'Halifax. Bon nombre de nos collègues ont travaillé fort pour organiser la campagne automnale de cette année ainsi que les activités connexes. La planification des activités de la CCMTDN exige un dévouement considérable chaque année. Je tiens donc à remercier tous ceux et celles qui travaillent en coulisse et qui donnent de leur temps au service des autres.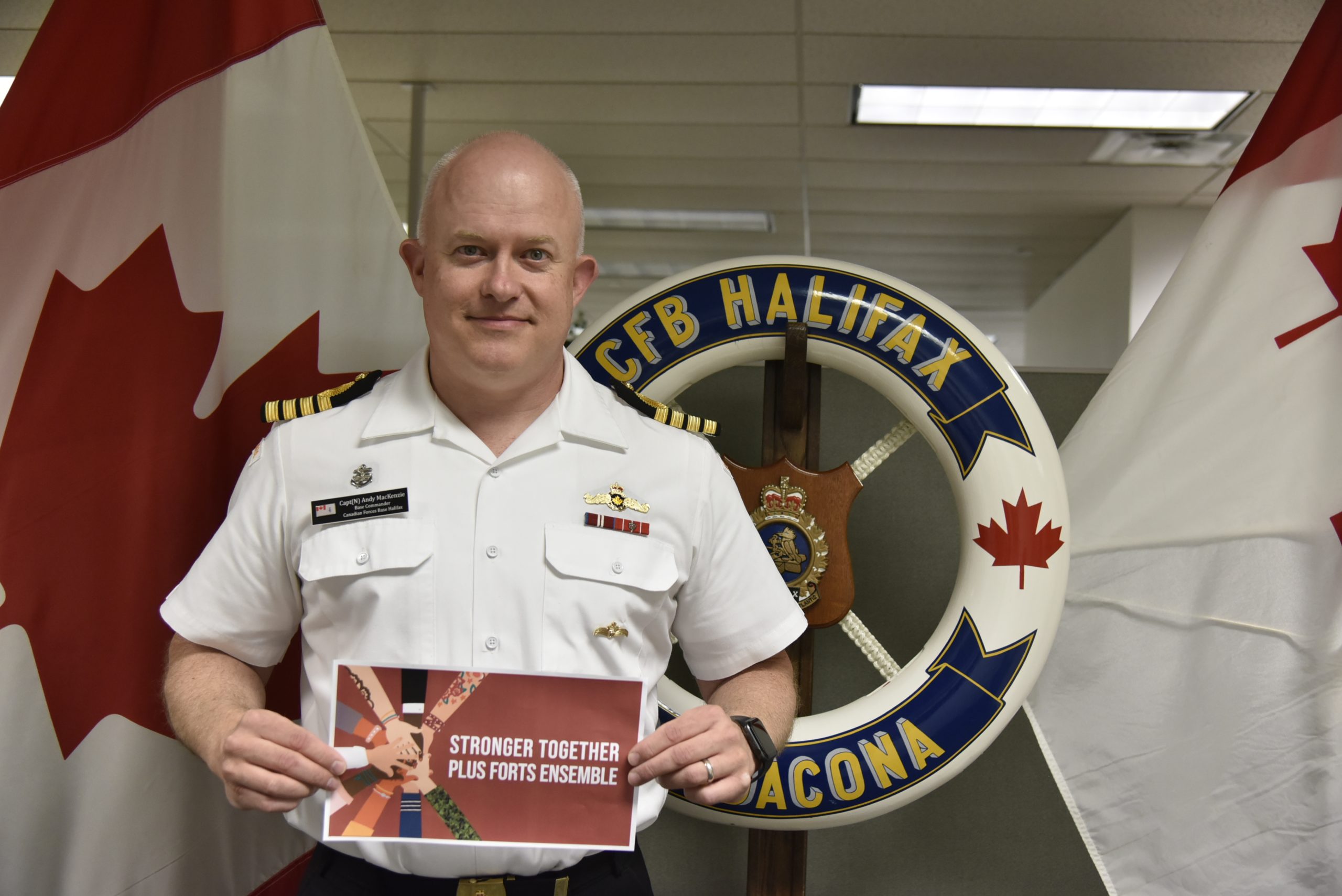 À titre de rappel, la CCMTDN est la contribution annuelle du ministère de la Défense nationale (MDN) et des Forces armées canadiennes (FAC) à la Campagne de charité en milieu de travail du gouvernement du Canada (CCMTGC), qui est la campagne de financement en milieu de travail la plus fructueuse au Canada. La CCMTD dans la région d'Halifax, organisée en collaboration avec United Way Halifax (en anglais) (Centraide Halifax), offre à nos 11 000 membres militaires et civils de l'Équipe de la Défense locale l'occasion de faire des dons à plus de 87 000 organismes de bienfaisance, dont bon nombre sont axés sur la sensibilisation à la diversité, aident les nouveaux arrivants à s'intégrer dans nos collectivités, offrent des services d'aide aux plus démunis ou soutiennent notre communauté militaire. 
En 2021, l'ensemble de la communauté du MDN et des FAC a recueilli plus de 2,5 millions de dollars pour la CCMTDN à l'échelle nationale, dont un montant impressionnant de 194 516,59 $ a été amassé ici par les membres des FMAR(A), de la BFC Halifax, de la 12e Escadre Shearwater, de la 5e Division du Canada, de l'Installation de maintenance de la Flotte Cape Scott et des nombreuses unités hébergées qui habitent notre région. La générosité de nos membres est tout simplement inspirante et je vous félicite de donner autant de votre argent durement gagné, de votre temps et de votre énergie, surtout en ces temps difficiles. Ce soutien montre l'engagement de notre Équipe de la Défense à avoir une incidence sociale positive dans nos quartiers et nos collectivités.  
Cette année, la CCMTDN de la région d'Halifax se déroule du 16 septembre au 9 décembre 2022. Au cours de cette période, nous encourageons le personnel militaire et civil local à amasser des fonds pour des organismes de bienfaisance et à faire du bénévolat auprès de ces derniers. Par le passé, les activités de collecte de fonds comprenaient de la sollicitation, des loteries, des journées en tenues décontractées (JTD) et d'autres activités participatives organisées au sein de multiples unités. Comme je l'ai appris au cours des campagnes précédentes, la créativité ne manque pas ici lorsqu'il s'agit de planifier les activités de la CCMNDN; c'est l'une des nombreuses raisons pour lesquelles j'attends avec impatience de voir ce que l'automne 2022 – dont le thème de la campagne est « Plus forts ensemble » – nous réserve. 
Comme toujours, une forte participation de l'Équipe de la Défense est essentielle à la réussite de la CCMTDN. Je suis persuadé que les efforts collectifs de cette année et la solidarité continue avec les organismes communautaires sans but lucratif seront dignes de mention. Cependant, j'ai bien conscience que nous traversons une période difficile et que les dons (en temps, en ressources ou en argent) ne sont pas à la portée de tous les membres de l'Équipe de la Défense. En fonction de ce que vous pouvez offrir, je vous encourage à participer à la CCMTDN de la manière qui vous convient le mieux. Que ce soit en faisant un don en ligne ou par retenue à la source, en organisant ou en soutenant une collecte de fonds, en vous informant et en informant les autres sur les problèmes qui touchent votre communauté et sur les organisations incroyables qui travaillent sans relâche pour mettre en œuvre des solutions efficaces, ou simplement en faisant connaître la campagne de cette année, n'oubliez pas que chaque contribution individuelle compte et qu'ensemble, nous sommes plus forts. 
Je vous invite tous à vous joindre à nous pour faire de la CCMTDN de 2022 une campagne mémorable et marquante. Aucun don, aucun soutien ou aucune aide bénévole n'est trop modeste. Quelle que soit votre contribution, elle fera toute la différence.    
Merci, 
Capv Andy MacKenzie,
commandant de la BFC Halifax 
*Tous les renseignements sur la Campagne de charité en milieu de travail de la Défense nationale de 2022 des FMAR(A) se trouvent sur le site www.tridentnewspaper.com/ndwcc2022. Ce site Web sera mis à jour avec des nouvelles, des activités et des ressources tout au long de la campagne. Vous pouvez également vous attendre à recevoir des courriels hebdomadaires contenant des nouvelles regroupées et des mises à jour. Si vous avez des questions ou des préoccupations, ou si vous désirez obtenir plus de renseignements sur la CCMTDN, vous pouvez envoyer un courriel à CFBHalifaxPublicAffairs@forces.gc.ca.