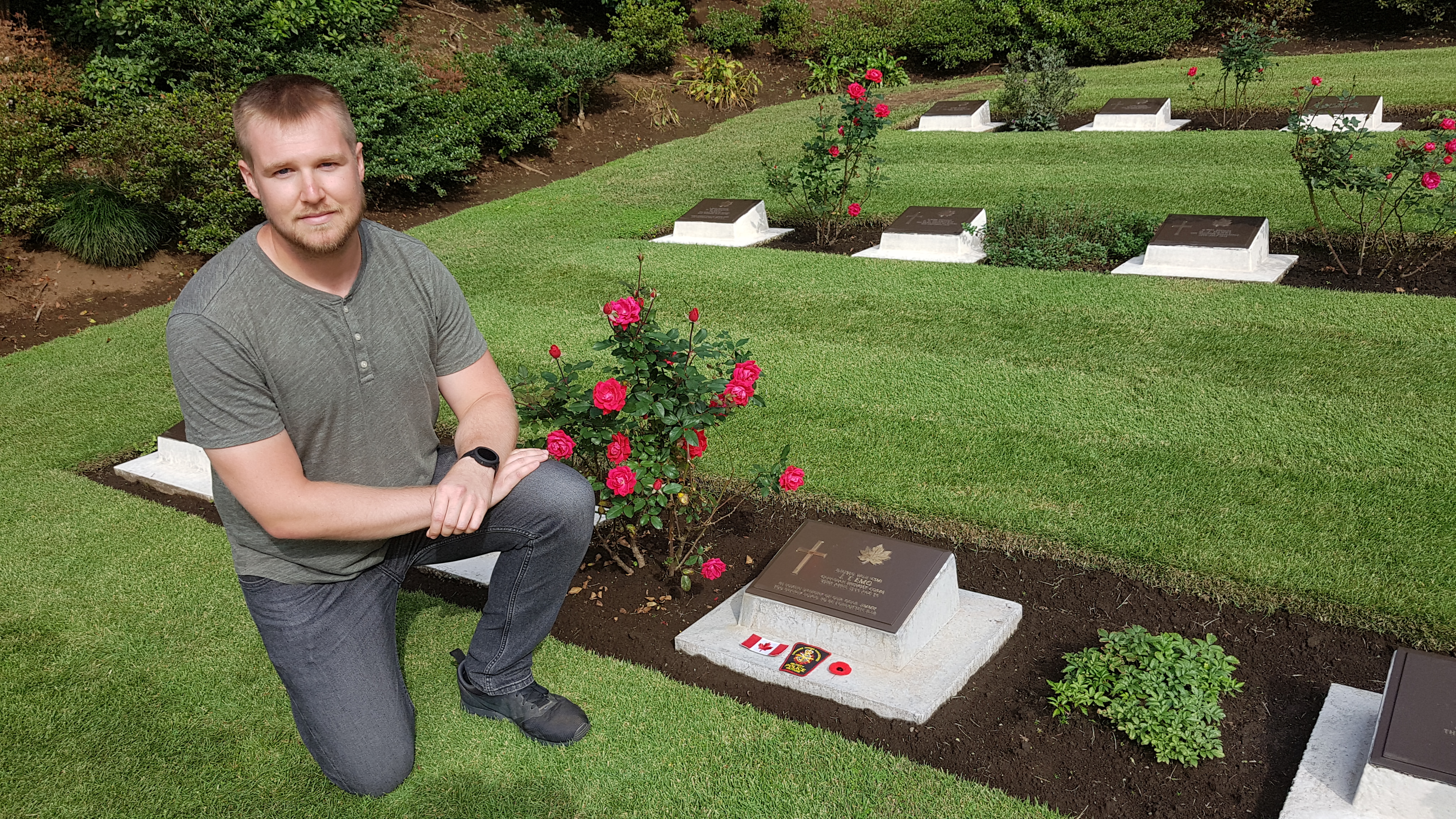 Military Policeman honours his veteran great-grandfather
By LCdr Colleen O'Brien,
NRU Asterix Executive Officer/ Logistics Officer
Cpl Nathan James Emo has spent most of his adult life researching the military service of his great grandfather, Warrant Officer James T. Emo, whose life ended in sacrifice during the Second World War.
Cpl Nemo is a Military Policeman on a six-month deployment on OPERATION CALUMET in Egypt. He orchestrated his mid-tour mission leave to include a visit to his great-grandfather's grave, which no one in his family has had the opportunity to visit, at the Yokohama War Cemetery in Japan.
His travels while on leave, included Thailand, Vietnam and, of course, Japan, but Cpl Emo says the plan revolved completely around honouring his great-grandfather in Japan on November 11.
WO Emo was a member of the Canadian Provost Corp, the predecessor to the Canadian Forces Military Police. Given this close professional connection, Cpl Emo left a Canadian Forces Military Police patch, as well as a poppy and a Canadian flag at his great-grandfather's tombstone. He also carried with him sufficient poppies to leave at each Canadian grave, as well as poppies from his New Zealand comrades on operation, to honour the New Zealand graves that are co-located with those of the Canadians at the cemetery.
Cpl Emo arrived in Tokyo late at night on November 10 and was aiming to be at the cemetery at 11 a.m. on November 11, which also marked the 100th anniversary of the end of the First World War. He did not expect to encounter an international ceremony, which included an 80-person contingent of Canadian military personnel from HMCS Calgary and Naval Replenishment Unit Asterix, both of which were in Yokosuka, Japan for a Rest and Maintenance Period during their participation in OPERATION PROJECTION. Also present were the Deputy Head of Mission in Tokyo, and the Canadian Defence Attaché for Japan, Capt(N) Hugues Canuel.
Cpl Emo was very pleased to be able to attend the formal ceremony, stating, "It was way more than I expected or planned for."