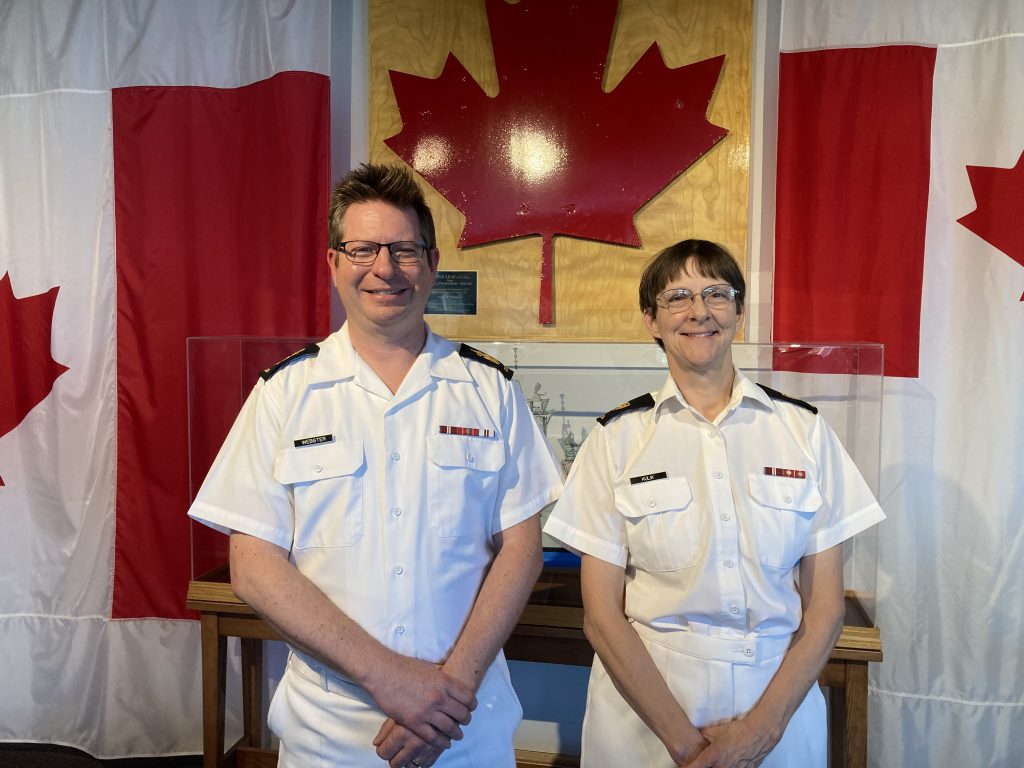 Longtime Stad band member is new unit Chief Petty Officer
By Trident staff
On August 1, the Stadacona Band of the Royal Canadian Navy called a special promotion ceremony to celebrate Petty Officer 1st Class Susan Kulik's promotion to acting Chief Petty Officer 2nd Class, as well as her appointment as the new Unit Chief Petty Officer. The band also recently marked outgoing Band Chief Chris Webster's elevation to Chief Petty Officer 1st Class, as he prepares to take on the new position of Chief of the Canadian Forces Music Branch. 
CPO2 Kulik was raised near Montreal and says she knew she wanted to pursue a musical career by the age of ten. To fuel this dream, she studied recorder, flute, piano and violin privately before graduating from Vanier College (DEC) in 1984 and McGill University (B.Mus) in 1987.
While still a university student, CPO2 Kulik auditioned for and was accepted into the Regular Forces Music Branch in 1987. This would pave the path for a lengthy career in music, travel, and camaraderie. She was posted to the Stadacona Band in 1989 as an Ordinary Seaman and was promoted to PO2 in 1991.
She was advanced to PO1 late in her career, which involved learning to conduct, and she was promoted Acting While So Employed (AWSE) CPO2 in 2023.
CPO2 Kulik is married to George Kulik who is also a musician in the Stadacona Band, and together they raised their son. 
As Chief of the Music Branch, CPO1 Chris Webster will now be the highest-ranking NCM musician in the regular force. This job normally comes with a posting to Ottawa, but CPO1 Webster will be working remotely from CFB Halifax.
The Stadacona Band of the Royal Canadian Navy is a full-time professional military band headquartered in Halifax that has represented Canada's Navy in the Atlantic region for more than 75 years. Follow the band on Facebook for regular updates and upcoming performance dates.