RAdm Baines awarded honorary doctorate from alma mater
By Ryan Melanson,
Trident Staff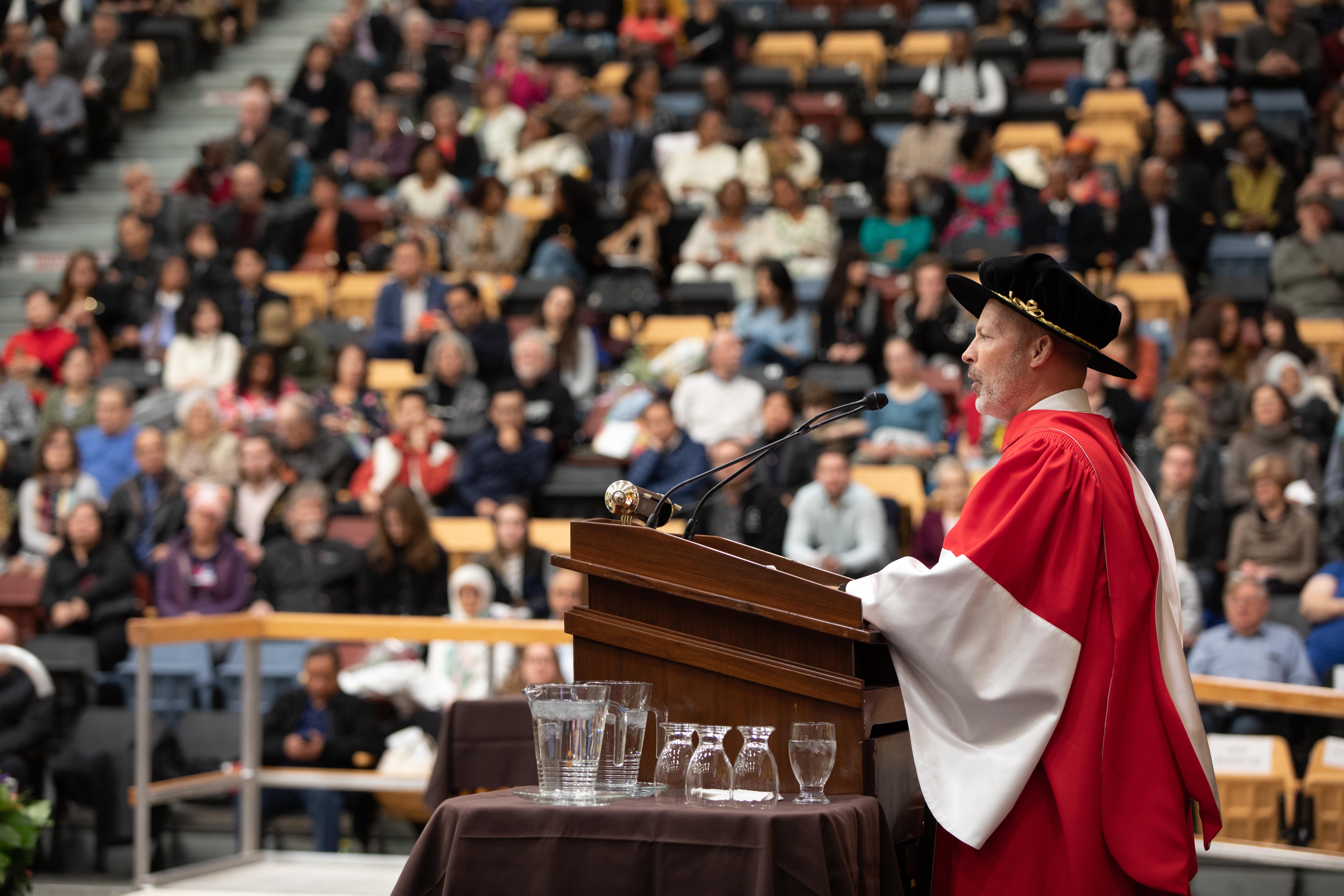 The Commander of Maritime Forces Atlantic and Joint Task Force Atlantic was recently recognized by his alma mater, the University of Manitoba, for his distinguished achievements in service to Canada.
RAdm Craig Baines was awarded an honorary Doctor of Laws (LL.D.) during a fall Convocation ceremony at the university's campus in Winnipeg on October 15. The honorary degree is described as the highest honor the University of Manitoba can confer upon an individual, awarded only to those whose achievements are widely recognized by both the public and their peers in the field of endeavour.
RAdm Baines started his post-secondary education at U of M, graduating in 1988 with a Bachelor of Arts, before going on to earn Master's level degrees in Defence Studies and Public Administration at the Royal Military College of Canada. The university has followed his military career closely since his graduation, and previously highlighted him as a notable alumni during his time in command of HMCS Winnipeg from 2009 to 2010.
"Over his 30-year career, his expertise and diplomacy in handling complex defence and security issues have inspired a generation of Navy officers dedicated to defending our nation's interests at sea," reads a statement from the university.
"Moreover, his genuine caring for colleagues show him to be a leader with integrity, a role model within and outside the military, and the kind of individual who best merits an honorary degree."
The school specifically noted RAdm Baines' experiences warding off Somali pirates in the Gulf of Aden, his focus on innovation and teamwork as Base Commander at CFB Esquimalt, and his work as special advisor to the CDS and then as Commander of the Atlantic Fleet, prior to his current appointment as Commander MARLANT and JTFA.
During his speech to graduates and attendees at the Convocation ceremony, RAdm Baines touched on the topic of leadership, and the importance of self criticism and self accountability for those in positions of power.
"There is no better substitute for inspiring people, while generating respect and admiration, then a leader who accepts responsibility, holds themselves to account, and then seeks to learn from their experience," he said.
"The ability to be self-critical and accepting of tough love from others can then become a formidable power in dealing with the complexities of modern life."
VAdm Art Mcdonald, Commander RCN, congratulated RAdm Baines on receiving his honorary degree, describing him as a longtime colleague and friend who couldn't be more deserving of the honour.
"This recognition must be celebrated. It recognizes outstanding intellect and leadership at all levels within our Navy as well as Craig's unwavering devotion and selfless commitment to our sailors and nation," VAdm McDonald said.